Sedona AZ (September 9, 2014) – Visionaries have imagined a world where creating art is not just the privy of the gifted and those of means but where every human being is given the potential to share in the joy of creation.
Well, the world has come that much closer to achieving this ideal with the opening of The Melting Point, a glass-art gallery and studio in West Sedona. The Melting Point will have renowned artists from around the world to teach and display their skills so anyone with the determination to do so can come and learn to create glass art.
On Friday, Sept. 12 at 5 p.m., The Melting Point will celebrate it's Grand Opening Party and everyone is invited to participate in welcoming this wonderful and innovative new gallery and art studio to Northern Arizona's Red Rock Country.
Owner and founder Erin McMillen, an artist in her own right, with the support of her husband Michael, relocated to Sedona from Seattle, Washington to pursue her quest of bringing glass art and the ability to create it to the community. The Melting Point is a culmination of a dream come true.
"We have been blessed with a positively charmed life," said Erin, a graphic artist and designer who also creates glass works. "We are artists for artists. This is how we think. This is how
we live. We love to support people being creative and following their passion."
Her husband Michael, a former video game artist and illustrator feels exactly the same. It's not enough to just sell glass-art in their gallery but their wish is to bring the art form to everyone who desires to learn.
"I have found so much joy working with glass art myself that I want to bring this to other people," Erin said. "We want to make people smile, entertain them and inspire them to create art."
The Melting Point is not just a gallery but rather a multi-dimensional experience for glass-art lovers and those who wish to become glass artists themselves.
The Melting Point is divided into three sections: The Hot Shop, The Torch Studio and the Main Gallery.
According to The Melting Point Manager General Manager Hank Schwartz, this creates something totally unique in Sedona, as it not only offers glass art for individuals to collect but an opportunity to learn the art form itself while enjoying watching established masters in the field of glass art demonstrating their form and techniques, in an up-close-and-personal environment.
"Sedona has never seen anything like this before," Hank said. "People can purchase glass art that includes jewelry and just about anything that can be created with glass. They can watch our guest artists working in our 'Hot Shop' where we can observe them creating art through an 11' by 5' plate-glass window and ask questions through our two-way communication system. We also have our torch-studio, where our students will each have their own work stations and receive individualized instruction from our talented staff."
e8c8a012e51c03a7864a75ce0668afb1
For the McMillens, coming to Sedona from Seattle was like leaving a black-and-white world behind and moving into one of Technicolor.
"We lived in Seattle for 20 years," Michael said. "It's always raining, always gray and overcast for nine months out of the year. Only Japan beats Seattle as the world's suicide capital. By coming here we changed our color palette from grey to sunshine, green and blue and we could not be happier.
According to Erin, she became interested in the glass art form about a decade ago and always had the dream of sharing her passion with others.
"I have found so much joy is working with glass myself that I wanted to bring this to other people," she said. "I wanted to make people smile and share the same joy I feel creating glass art."
Once the decision was made to follow her passion, it became a matter of finding the right place to launch their dream.
"We woke up one lousy morning and asked ourselves why are we still here," Michael said.
"There was nothing in Seattle that required us to be there. We considered other places like Taos in New Mexico and Santa Barbara but with Sedona it was love at first site."
They came to visit and within a week they made an offer on their home and less than two years later they were buying the property for their business.
"We saw the red rocks and we knew right away we wanted to live here," Michael said.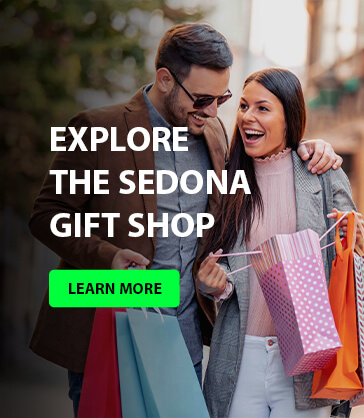 "It was the first place that felt like home to me in my entire life," Erin said. "Here, the people are friendly. They say hello. People treat each other differently."
So they packed up, took their five dogs (three Greyhounds and two Chihuahuas), their 16-year-old daughter, and moved to Sedona.
"I feel 100 times more creative in Sedona," Michael said. "Seattle was like pulling teeth to create in."
In addition to visiting glass artists from around the world being featured, there will be two to three-day classes offered during each month that will cover skills like hot-glass sandcasting; ancient masks and beads, buttons, cabochons and components; ornaments; rings and masking techniques.
In keeping with their philosophy to bring the art of art to the public, fees will be kept to a minimum.
"We are pricing our classes so that anyone can participate without breaking their wallets," Erin said. "My payback is knowing people are coming in to enjoy themselves and that I am giving them something that I love so much."
The first featured visiting artist will be Nanda Soderberg .
He has spent the last twenty years working with glass and has taught glass working at Virginia Commonwealth University, California State University at Fullerton, Pilchuck, and Haystack.
Nanda Soderberg's work has been in exhibitions at Minnestrista, Ball State University, Indiana; Heller Gallery, New York; and the American Craft Council show in Baltimore, Maryland.
According to the general manager, people will be able to observe and ask questions of Sodenberg and the other visiting artists as they work in the Hot Shop behind the glass wall. People will be able to see the art as it is being created and observe the techniques of the masters.
Hank believes the reputations of the visiting artists will draw people who love the glass art and want to learn more to Sedona
"We want to bring people here from all over the world, across the U.S. and Europe," Hank said. "People are signing up before even knowing of our grand opening. This is about getting art for the sake of art out to the public. It's going to make West Sedona as much a destination point as any other part of the city."
The history of glass art is long with deep roots in Europe and the Mid-East.
According to the Maui Glass Artists Association, archeologists have established that humans were purposefully making glass objects for utilitarian and adornment purposes for thousands of years with ancient Egypt and Mesopotamia, followed by Rome, being centers for advancement of the art.
Rudimentary glassblowing, a major advancement, was first developed in Jerusalem in the first century BC. This new technique quickly spread throughout the Roman Empire.
Glass art today is a point where art and science combine.
"The chemistry behind glass art is fascinating," Michael said. "The Melting Point is where art and science combine to create fun. Our entire business can be viewed as art itself. We are always asking ourselves how we can do it better. We are creating an environment that is inspirational…the perfect creative storm. The Melting Point is where glass, play and inspiration meet."
Be sure to come to Melting Point Grand Opening Party on Friday, Sept. 12 starting at 5 p.m.
The Melting Point is located at 1449 State Route 89A, Suite 1, Sedona, AZ 86336, right across the street from the New Frontiers shopping complex.
Visit www.the-melting-point.com for class and visiting artist information.
Send email to Erin@the-melting-point.com for additional information.