Trea Christopher Grey, Syri Hall and Rick and Carol Gandolfo
Sedona AZ (December 2, 2016) – On Thursday, December 15, 2016 from 4 – 6 p.m., the city of Sedona will host a meet and greet with local artists Trea Christopher Grey, Syri Hall, Richard Gandolfo and Carol Gandolfo, whose inspiring work is currently displayed at City Hall. A reception will begin in Council Chambers and then proceed to the other exhibits located throughout City Hall.
Passionate about color, painting has been an act of love for Grey, especially as a colorblind artist. Grey learned to trust in his imagination and intuition to feel the color instead of see the color. To feel color, the logical part of his mind has to loosen so that color relationships are formed in the heart as much as with the eye. "I believe art is an expression of a passionate heart. To begin, I intuit a tone for the work with spontaneous outpourings of liquid color. Loosely formed worlds emerge expressing the fantastic. The creative adventure is to bring those worlds into dynamic clarity," Grey explained.
Plein air painting exclusively in the Sedona area has been Hall's interest for the last several years. Recreating the mass, the unusual multi colors of the red rocks, and the play of light, shadows, and bold compositions on canvas have been her challenge, but are all integral parts of her designs. "Happiness for me is living, painting and sculpting in the beautiful red rocks of Sedona, truly one of Mother Nature's crowning achievements," said Hall.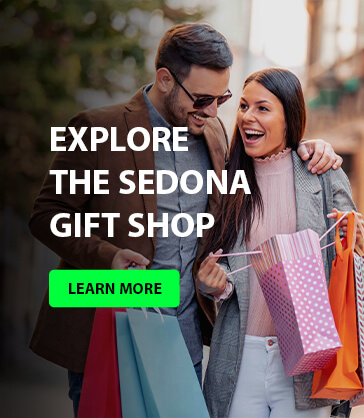 Richard Gandolfo, now retired, paints plein air landscapes with a contemporary bend. "My paintings are observations of landscapes and figurative images, and they analyze and record the dynamics of the world I see around me. Painting allows me to project my deep personal and emotional responses to my observations and translate to canvas the way I see the world. I hope my work will give my viewers a new way to discover the world around them on both a conscious and subconscious level," said Richard Gandolfo.
Photographer of "Cinnamon," an image of her cat that went viral, Carol Gandolfo had little time for art while working in the aerospace industry for over 20 years and then getting her Doctorate in Clinical Psychology in 2000. Currently she runs a company for the developmentally disabled and has moved back to the arts, where she now finds herself enjoying photography, as well as exploring sculpting, pastels, acrylics and some oils.
"Whether it's the liberating, whimsical paintings created by Trea, Syri's true gift to capture discerning detail, Rick's ability to capture our landscape's ever changing light and shadows, or Carol's passion in photographing felines, it is our pleasure to exhibit the work of these four exceptional artists," said Nancy Lattanzi, city of Sedona arts and culture coordinator.
City Hall is located at 102 Roadrunner Drive. Grey's painting are on display in the Council Chambers, Hall's work can be seen in the Vultee Conference Room and the Gandolfo's paintings and photography are exhibited in the Community Development building within the Schnebly Conference Room. For more information, please contact Lattanzi at 928-203-5078, or email NLattanzi@SedonaAZ.gov.