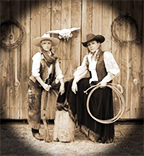 Sedona AZ (March 29, 2018) – "Hot Flashes On the Trail," a Melodrama miss-hap with a twist opens again by popular demand at the Blazin' M Ranch for a series of six Sunday evening dinner show performances throughout the Spring on April 8, 15, 22 and 29th.
This original new musical is filled with echoes of vaudeville past, lots of music, comedy, dramatic twists & turns, and some truly "perspirational" moments. Don't miss this outstanding production by the Verde Valley's popular creative and performance duo Dev Ross and Shondra Jepperson.  Ross penned the script and Jepperson wrote the songs.
In the mid 1800's a tiny troupe of actors traverse the wild, wild West performing musical melodramas for entertainment starved towns. But upon rolling in to the Blazin' M Ranch, actresses Mary Belle and Miss Missy are surprised and, alas, not pleasantly for it seems their fellow male cast mates are nowhere to be found! Yes, they're missing! Gone AWOL!  With the show about to start and with no time to search for the absentee actors nor to replace them, the ladies must face the first cardinal rule of theater, which is: "The show MUST go on!"
Along with the Blazin' M's signature chuck wagon dinner, guests can engage in pre-dinner activities that include roping, shopping, meandering, and visiting an Old West saloon.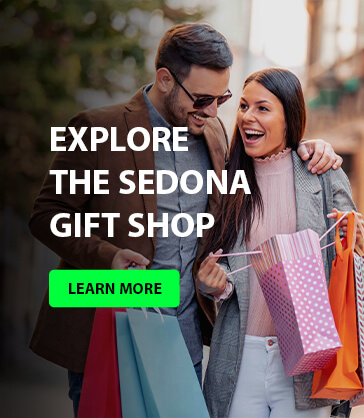 Lori Mabery, Managing Partner at the ranch, beamed with excitement when describing the show. "We're so proud and excited to showcase "Hot Flashes On the Trail, " a brand new production, one the Blazin' M Ranch is proud to bring to audiences for a second time before it gets published. From it's premiere in October 2017, this show has gone through many changes including the addition of two new songs." This show is family-fun entertainment and with the added bonus of dinner and all the regular western activities and attractions we've always offered here at the ranch!"
Gates open at 5:00PM, the dinner bell rings at 6:30PM and the show follows dinner.  For reservations and additional show dates, call the Blazin' M Ranch at 928.634.0334 or visit www.blazinm.com.