All-star casts featured in latest independent films premiering at Mary D. Fisher Theatre
Sedona AZ (March 25, 2014) – The Sedona International Film Festival is proud to present the Northern Arizona premieres of "At Middleton" and "The Jewish Cardinal" showing March 28-April 3 at the Mary D. Fisher Theatre.
AT MIDDLETON
Academy Award-nominees Andy Garcia (Ocean's 11, City Island) and Vera Farmiga (A&E's "Bates Motel", Up in the Air) star as straight-laced George and eccentric Edith, two strangers who meet on their children's campus tour at the idyllic Middleton College.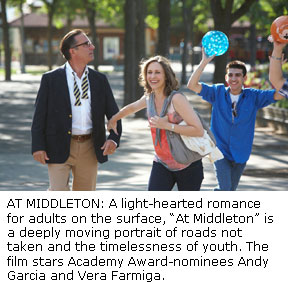 Failing comically to connect with their kids, George and Edith play hooky together, ditching the official tour for a carefree adventure reminiscent of their own college years. But what begins as an afternoon of fun soon becomes a revealing and enlightening experience that will change their lives forever.
A light-hearted romance for adults on the surface, "At Middleton" is a deeply moving portrait of roads not taken and the timelessness of youth.
Tom Skerritt, Taissa Farmiga and Spencer Lofranco also star in this story about what can happen on your first day of college — no matter who you are — at Middleton.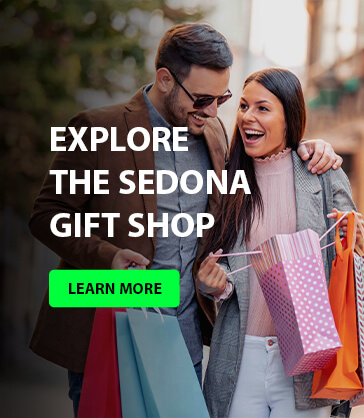 "At Middleton" will be shown at the Mary D. Fisher Theatre March 28-April 3. Showtimes will be 4 p.m. on Friday and Saturday, March 28 and 29; and 7 p.m. on Monday, Wednesday and Thursday, March 31, April 2 and 3. 
THE JEWISH CARDINAL
A Jewish-born man converts to Catholicism and joins the priesthood, all while balancing his dual identities.
"The Jewish Cardinal" tells the amazing true story of Jean-Marie Lustiger, the son of Polish-Jewish immigrants, who maintained his cultural identity as a Jew even after converting to Catholicism at a young age, and later joining the priesthood.
Quickly rising within the ranks of the Church, Lustiger was appointed Archbishop of Paris by Pope Jean Paul II — and found a new platform to celebrate his dual identity as a Catholic Jew, earning him both friends and enemies from either group. When Carmelite nuns settle down to build a convent within the cursed walls of Auschwitz, Lustiger finds himself a mediator between the two communities — and may be forced at last to choose his side.
"The Jewish Cardinal" will be shown at the Mary D. Fisher Theatre March 28 – April 2. Showtimes will be 7 p.m. on Friday and Sunday, March 28 and 30; and 4 p.m. on Monday and Wednesday, March 31 and April 2. 
Tickets are $12, or $9 for Film Festival members. For tickets and more information, please call 928-282-1177. Both the theatre and film festival office are located at 2030 W. Hwy. 89A, in West Sedona. For more information, visit: www.SedonaFilmFestival.org.