9,000 water utility ratepayers on hook for more than $31 million in bond debt & millions of dollars in interest
Cottonwood routinely used municipal revenue bonds secured by water bill revenues to finance its water utility expansion. Future generations will pay a staggering price.
By Sherry Twamley
Cottonwood AZ (July 21, 2014) – From 2004 to 2009, city officials in Cottonwood, AZ started a water utility and recklessly borrowed millions of dollars regardless of future needs, without asking voters' permission or knowing if they could sustain the debt and interest payments over the next 25 years and beyond. Between 2004-2009, Cottonwood, a central Arizona city with 10,500 population in 2004, racked up $38 million in municipal revenue bond proceeds with no restrictions and virtually no oversight to take over private water companies. The city water utility's ratepayers are indebted for these bonds until the year 2035 without regulatory supervision to safeguard them against double digit rate increases.
In 2010, the city racked up $20 million more in municipal revenue bonds to build a recreation center, and the debt is being paid by a city utility 1% tax until the year 2027. In other words, no one was watching. For decades to come, taxpayers will be paying off these bonds. For the city's 9,000 Cottonwood Municipal water utility (Cottonwood Municipal Water & Wastewater Utility CMWWU) ratepayers, that is equivalent to taking out a 30-year mortgage to buy a car and making your children — or grandchildren — pay it off, adding on millions of dollars of interest.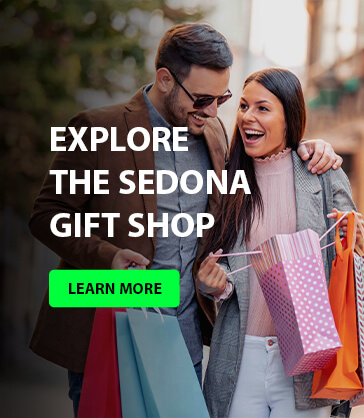 In October 2004, city officials led by mayor Ruben Juaregui, Vice-Mayor Randy Lowe; city council members Diane Joens, KaRen Pfeifer, Bob Rothrock, Clarice Shamrell, Joan Cerny and Steve Dockray; and city manager, Brian Mickelson, started a water utility company and issued a $14 million revenue bond, secured by future water bill revenues, to seize three private water companies by condemnation (eminent domain) including Clemenceau Water Company, Cordes Lakes Water Company (Cottonwood Systems), and Verde Santa Fe Water Company in Cornville, AZ in Yavapai County suburbs with no previous utility experience. Rudy Rodriguez was the city's finance director.
The city's purchases for water companies in 2004 and 2006 came from borrowed money in the total amount of $37,545,000 ($13,580,000 for Cordes Lakes, Verde Santa Fe, and Clemenceau Water Systems; $16,580,000 for the Cottonwood portion of the Cottonwood Water Works System; and $7,385,000 was loaned to the city of Clarkdale to purchase their portion of the Cottonwood Water Works System). The city also borrowed a significant sum of money to repair, maintain and upgrade the purchased water companies' infrastructure, fueling the city's debt.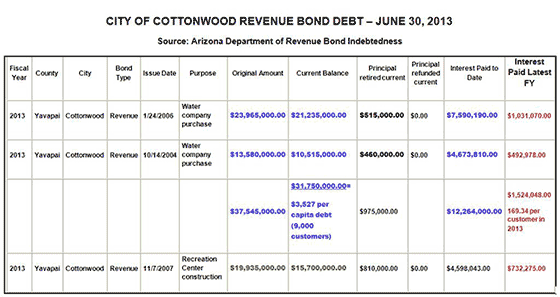 In 2014, $31,750,000 in water company purchase municipal revenue bond debt was outstanding; and $975,000 in principal payments has been made since 2004. A whopping $12,264,000 in interest payments have been made as of June 30, 2014.