Sedona AZ (August 26, 2013) – The public is invited to an evening reception for fine artist, Sedona resident Pamela Becker at the McLean Meditation Center on Friday, September 6, from 5:00 -8:00 pm. Guests will be treated to refreshments during a showing of the artist's latest hand-crafted work, which she calls Desert Lotus Altars. The reception coincides with Sedona's First Friday Gallery Tour.
Pamela Becker began skillfully crafting and joyfully creating the Desert Lotus Altars, seven years ago. Today these altars continue to bloom in an array of colors, techniques and sizes, adorned with gold, silver and copper. Pamela says, "To experience the lotus is to gaze inside oneself."
The lotus, an ancient symbol of transformation from various wisdom traditions, symbolizes awakening from ignorance to enlightenment. The lotus plant takes root in muddy pools and grows toward the surface and light, eventually blossoming into what some consider to be the most beautiful flower in existence. Like the lotus, every person has the potential to awaken to perfection.
Last year Pamela was inspired to create a new line of Sanctuary Altars, paintings which incorporate textures and tones of wood, copper and gold, with ancient stones and a custom beaded hanging feature which can create or enhance any environment for inner contemplation which are displayed at the center.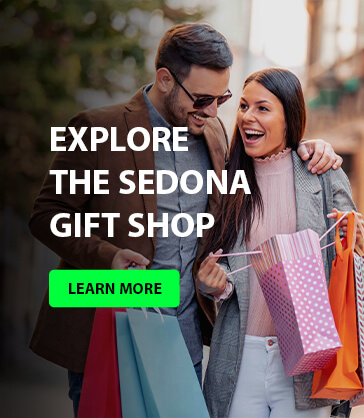 Her work is art to take refuge in. "I refer to my work as altars because they serve as a prominent point of reflection and intention within a space. I create them with a creative, meditative focus. We live so comfortably in our beliefs that I like to create art that awakens and illuminates. Art can expand our consciousness so we can clearly choose, from a more expansive perspective, who we are becoming."
A Sedona resident, Pamela has been a professional illustrator for 27 years who earned her BFA in illustration at the Rhode Island School of Design. She is the creative director of Big Vision Graphics, and a resident artist of Insight Art Gallery in Sedona. Her work is displayed internationally, hanging on the walls of corporations as well as in private homes.
The McLean Meditation Center is located in the heart of Sedona, upstairs from the Garland's Collector's Room, at 411 State Route 179, adjacent to the Oak Creek Canyon Bridge. Visitors will enjoy refreshments and the bird's eye view from the second-story windows of the red rock landscape and towering cottonwoods that line Oak Creek. For more information call (928) 204-0067 or visit www.McLeanMeditation.com