Sedona AZ (November 7, 2021) – It all began on a hike among the red rocks of Sedona. Now, six years and 7000 Kindness Charms later, SedonaKind is celebrating the anniversary of its founding mission: "Encourage acts of kindness, large and small, locally and around the world." 
It was five years ago that the City of Sedona proclaimed November 13 as the first Sedona Kindness Day, joining with World Kindness Day celebrations around the globe. The proclamation by the City Council echoes the purpose of SedonaKind to encourage all citizens to "create their own acts of kindness, pay it forward, and match the magic and transformative powers of our Red Rocks with the kindness of all the citizens who live here."
This year, SedonaKind is expanding Kindness Day to encompass a "Season of Kindness" with projects and events that span the holiday season. 
Beginning on Sunday, November 14th, in partnership with the Sedona Film Festival, SedonaKind will present the film, Mission: Joy – Finding Happiness in Troubled Times. The film will be shown at the Mary D Fisher Theater at 4 and 7 pm. Tickets are only $10 with proceeds to support several SedonaKind projects. 
The film is an award-winning documentary about His Holiness the Dali Lama and Archbishop Tutu, and how their unlikely friendship transcends religion. These two self-described "mischievous brothers" give a master class in how to create joy in a world that was never easy for them. They offer neuroscience-backed wisdom to help each of us live with more joy, despite challenging and frustrating circumstances. It is indeed a lesson and gift for our current times.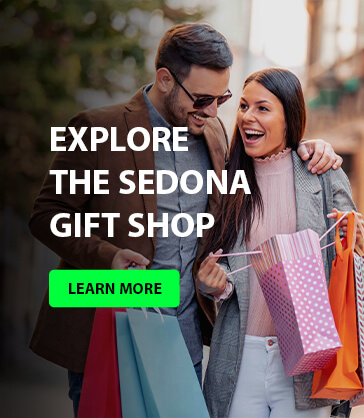 Throughout the holidays, unique and beautiful Gratitude Trees will appear in Sedona at our libraries and schools. Silver heart ornaments will be available for children and grownups to decorate the trees with their written statements of gratitude.
SedonaKind will provide Blessing Bags filled with warm socks, gloves, hats, and other necessary items to VFW Post #74000. The bags will be distributed to homeless veterans in our communities. More than 900 individually designed and knitted warm hats will be given to schoolchildren at West Sedona School, Oak Creek School and the Sedona Charter School to keep little heads warm during the winter months. 
More than 7000 Kindness Charms have been created and distributed around the world since the women of SedonaKind began the project 10 years ago. This year, SedonaKind is spreading charms throughout our town. Keep an eye out for these glittering charms that will call to you to "take me home and spread kindness."
In a world and country that is still struggling with so many divisive issues and with the pandemic still influencing our lives, SedonaKind has committed to gifting our community with kindness events and activities. After all, as the Dali Lama says, "Be kind whenever possible. It is always possible."