By Stephen DeVol, Publisher
Cottonwood AZ (September 14, 2014) – Water rates in Cottonwood and the surrounding areas are soaring. Rate payers are angry that their water bills are rising at astronomical increases: 365% in 10 years inside Cottonwood city limits; 377% in the Verde Villages and Verde Santa Fe. The reason is not that it costs more to deliver their water, but because the  City of Cottonwood acquired their water companies with 25 year revenue bonds and the rate hikes are due to the cost of the bonds used to make these acquisitions. It's the same water, coming from the same sources, delivered by the same methods. What the rate payers are paying for is the debt Cottonwood has obligated the rate payers to pay. They are making the payments  for Cottonwood to purchase your water company.
The city is trapped in a recurring cycle of debt and unsustainable rate hikes which people can't afford. 57.7% of city water utility revenues collected must pay debt service in FY 2015                                                   – FY 2015 Water Facility Fund Expenses, Pg. 257).  Very little principal is being paid down on its huge 2004 and 2006 revenue bond debts and the payments rise every year which will force annual rate increases.
The problem is, the city painted a rosy picture in its 2006 revenue bond issue to qualify to borrow millions of dollars.  Yet in reality, there is a big gap between the city's 2004 and 2006 forecasted water revenue, customer and population growth, and actual statistics.
CITY FORECASTS (2006 BOND)
* 10,357 paying customers in 2015.  Actual: city currently has approx. 9,000 water customers.
 * $8,732,989 water revenues. ACTUAL: FY 2014 $6,938,250 water revenues  (FY 2015 Budget, pg 258 forecasted $8,732,989 in FY 2014-2015 revenues).
 * 2.5% annual population growth.  ACTUAL: Est. .0875 population growth rate ("City of Cottonwood Rate Study and Long-Term Financial Forecast, June 2005").
ACTUAL RATE INCREASES:
COTTONWOOD: 2004 TO 2014 – A 365% RATE INCREASE. 
7,500 gals. of water from Cottonwood Water Works in Cottonwood in 2004 cost $16.33.  In 2015 incl. the 6% rate hike will cost  ratepayers $59.71 incl. fees & taxes, AN INCREASE OF 365%.
VERDE VILLAGE: 2005 to 2014: – A 377% RATE INCREASE.
7,500 gals. water from Cordes Lakes Water Co. in the Verde Village cost $28.40 in 2005. Including the 6% rate hike, fees & taxes, it will soon cost customers $75.72.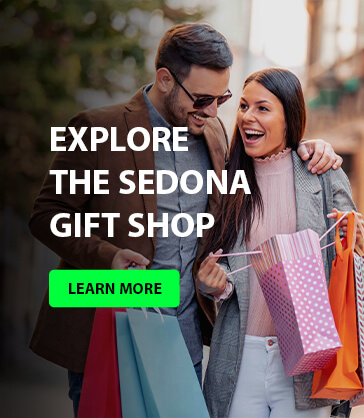 BOND DEBT REQUIREMENTS
The bond covenants require 135% of the debt service to be collected from water bills plus another
10% for the bond's debt service reserve fund, which must be added to the regular cost of keeping the
city's water flowing from the treatment plant to taps. 
The bonds also require the city utility to collect a Water Resource Development Fee of $4.00 from water bill customers each month.
It's been 10 years since the original purchases of 3 companies, and 8 years since the purchase of an additional 2 companies.
The original bonding  covenants stated that "aggressive" rate increases  would be necessary to pay the increasing debt. The Cottonwood City Council was advised these investments were risky and yet the council moved forward, ignoring the financial warnings and the will of the people who were  directly affected.  For the first few years after the acquisition Cottonwood used city reserves to make up the short fall on the payments. The debt payments increase every year , thus insuring a rate increase every year. Same water, same source, same delivery, just the debt load increases.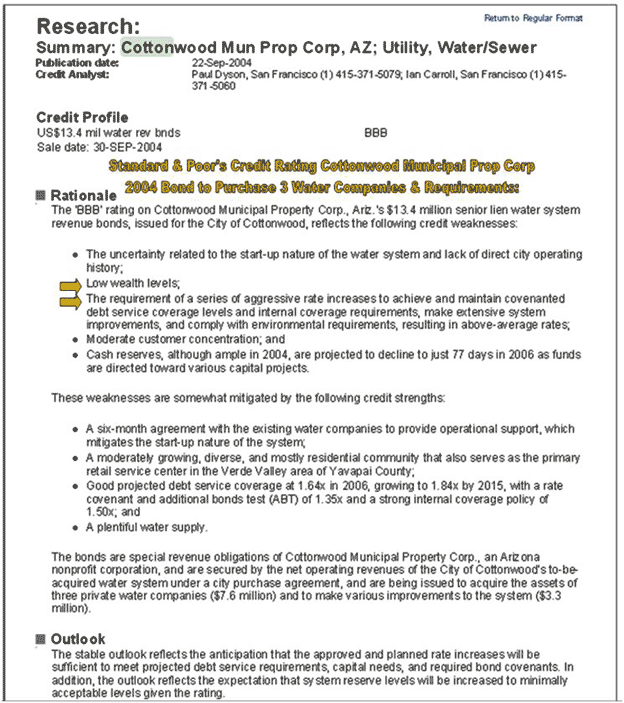 Cottonwood apparently made their risky acquisition decisions based on forecasts supplied by consultants. The future economics were based on advice that suggested Cottonwood could expect business and population increases of at least 2.5% growth per year.
As water rates increase each year, the ratepayer base decreases: people move away, population shrinks due to deaths, and as rate payers water is shut off, resulting in fewer rate payers to retire the debt. At the end of the bond term, there is a balloon payment.
What is the solution to this upward rate spiral? At this juncture there don't appear to be quick answers. The money was spent and it's time to pay up.