Sedona AZ (July 2, 2017) – Hillside Sedona's Movin' On Gallery has announced that it is under new ownership and will continue exhibiting Sedona's best and most diverse collection of artworks from local artists.  In addition, photographic artist Bill Caldwell has joined the venue as its newest resident artist and will be the featured artist during July.
The new owners are Joseph P. Anthony and Michelle Newman, both of whom are art lovers with strong track records as successful business managers.
They and Bill Caldwell will be on hand to meet the public at the venue's popular First Friday reception, 5-8PM on the evening of July 7, 2017.  Many of the gallery's other resident artists will also be present to host the evening's festivities and greet visitors and fans, and the public is cordially invited.
Joseph Anthony is an experienced retailer who previously managed and operated a multimillion dollar men's clothing business in Scottsdale.   He is also widely known as a leading psychic and professional astrologer and has been featured on countless television and radio programs.  He has been the astrologer of choice for many noted athletes, celebrities, and businesses.
Along with his wisdom of the stars and planets, Anthony enjoys and appreciates all forms of art.  "I feel honored to participate in creating more beauty in the world by working with the talented artists of Movin' On Gallery," he says.
Newman and her husband Doug moved to Sedona from Pittsburgh six years ago.  She has since worked with several non-profits in the area, promoting art shows and redesigning store interiors.  She also spent the last two years managing the Humane Society of Sedona's thrift stores.  During that time, their Paw Prints outlet was voted "Best Consignment/Bargain Store" in the Red Rock Reader's Choice Awards.
Because of her involvement with local arts events and their participating artists, she feels that Movin' On Gallery is a perfect fit for her interests.  "My focus," she notes, "is on giving the artists an outlet for their magnificent creations and connecting them with their customers through special events and promotions."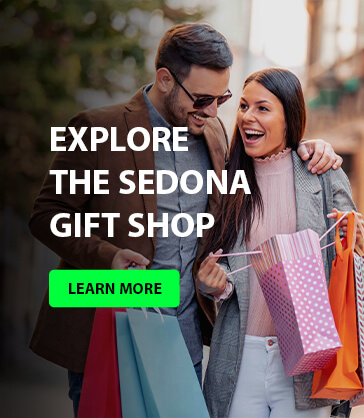 Former gallery owner Patricia Priolo and her husband Chuck have handed the venue over to the new owners so that Patricia can devote more time to creating her art works.  She will continue to exhibit in the gallery.
Originally from Southern California, Bill Caldwell earned a B.A. in Photography from the renowned Brooks Institute in Santa Barbara and while there was inspired by the seminal work of Ansel Adams and Edward Weston.  Now residing in Cottonwood, he has always been amazed by the stunning beauty of the Red Rock Country and the surrounding Southwest region.  "I feel a very strong spiritual connection to this land," he observes. "Thus, my artwork comes from a place of profound reverence and appreciation for our beautiful planet."
His photographic works are in the style and vibrant colors of a photorealistic painting.  Using a wide angle lens and advanced digital techniques, he stitches multiple images together to create huge panoramic landscapes up to 8 feet wide.  He then meticulously applies sophisticated digital tools and filters to create more artistically expressive effects.  "My aim," he says, "is always to create something beautiful and to communicate the feeling of awe and wonder that I feel when I witness the incredible beauty of the natural world."
Movin' On Gallery is located on the second level of Hillside Sedona Center at 671 State Route 179 (about ½ mile south of the "Y" in Sedona).  It is dedicated to introducing new artists and to showing recent works by some of the best-known artists working in Sedona and the Verde Valley.   
Movin' On features an impressive array of resident artists, including: Lorraine Fexas, glass art; Pat Priolo, gourds and jewelry; Sharon Hall, clay sculptures; Jodie Ball, oils; Harriet McInnis, oils; Terry Davis, wood carving; Teree Settembrino, wind chimes and painting; Rick Gandolofo, acrylics; Carol Gandlofo, photography; Jim Peterson, photography; Sandee Kinnen, fused Glass; Rachel Bulisky, mixed media on stone; Clark Sheppard, paintings; Lenore Hemingway, glass artist; Monte Voepel, ceramics; Karl Williams, ceramics and metal; Mona Knittle, jewelry; and Bill Caldwell, photographic art.
The gallery is open from 10:00 AM until 6:00 PM daily.  For more information, call (928) 589-1916 or visit www.MovinOnGallery.com  .