Sedona AZ (June 2, 2016) – Hillside Sedona's Movin' On Gallery celebrates June and the arrival of Summer this year by highlighting recent works of two Sedona artists.  Oil painter Rick Gandolfo will be showing pieces from his recent series on iconic Sedona landmarks, and mixed media artist Jared Bucey will be exhibiting a selection of his abstract paintings and collages.
The public is cordially invited to meet these artists and chat about their recent works at Movin' On's First Friday reception, 5-8PM on the evening of June 3, 2016.  Many of the venue's other artists will also be on hand to host the evening and greet visitors and fans.
Rick Gandolfo had a very promising early start to his artistic career, having been the recipient of a scholarship to the prestigious Chouinard Institute (now called the California Institute of the Arts) in Los Angeles.  He went on to earn degrees in Business and Finance from UCLA and Pepperdine University, however, and his artistic interests were then put on hold during a long and successful career in the Aerospace industry.
But his creative leanings eventually gained the upper hand, leading him to revive his study of art and to begin painting the scenes and subjects he loves in Northern Arizona.  He has now developed an impressive and well received body of work, and has successfully shown his paintings in a variety of venues and exhibits in the Sedona area.
Gandolfo's exhibit at Movin' On will feature several recent pieces from his ongoing series of Red Rocks paintings.  "My art," he notes, "allows me to express my deeply personal and emotional responses to our beautiful landscapes as they are transformed by changing light and shadow."
Jared Bucey is only 19 years old, but as a cancer survivor he has overcome bigger challenges than many people who are much older.  His outlook on life, and on what he does with his life, were forever altered – for the better, he says – by that experience.  One result is his interest in fine art.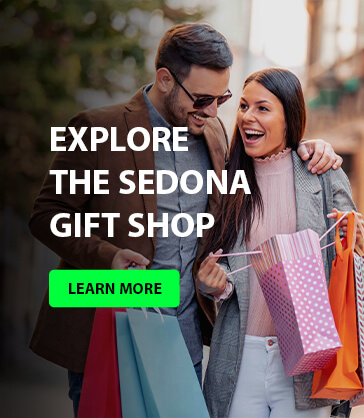 He got a running start as an artist through the Mentor Program of the Sedona Visual Artists' Coalition.  Studying under Patty Miller, the program's coordinator, he quickly developed a love of all forms of art and began creating his own pieces.
Bucey has matured rapidly as an artist, and his latest works have been characterized as experimental, elemental, lively, and personally revealing.  The abstract pieces he will be showing at Movin' On use bold colors and fluid forms as a triumphant expression of Bucey's new lease on, and appreciation for, the wonders of life.
Movin' On Gallery is located on the second level of Hillside Sedona Center at 671 State Route 179 (about ½ mile south of the "Y" in Sedona).  It is dedicated to introducing new artists and to showing recent works by some of the best-known artists working in Sedona and the Verde Valley.  
Movin' On currently features an impressive array of resident artists, including: Lorraine Fexas, glass; Andre Renard, copper & brass sculptures; Pat Priolo, gourds and jewelry; Sharon Hall, clay sculptures; Grace Sky Martinez, spiritual and Native American art; Mary Ratner, photography; Jodie Ball, oils; Patty Miller, multimedia, painting, and sculpture; Harriet McInnis, oils; Helen McLuckie, oil pastels; Terry Davis, wood carving; David Soto, recycled material sculptures; Teree Settembrino, wind chimes; Rick Gandolofo, acrylics; Carol Gandlofo, photography; Jim Peterson, photography; Sandee Kinnen, fused Glass; Karen Reed, mixed media and metal collages; Rachel Bulisky, mixed media on stone; and Judith Victorson, ceramics.
The gallery is open from 10:00 AM until 6:00 PM daily.  For more information, call (928) 282-8143 or visit www.MovinOnGallery.com  .