Sedona AZ (March 31, 2016) – Hillside Sedona's Movin' On Gallery has always been noted for introducing unusual and original forms of art to the Verde Valley, and the two artists featured during April are an excellent case in point.
Guest artist Florence Johns creates exquisite, convoluted, and delicately colored fabric sculptures, mounted on a canvas base, unlike anything previously seen in the area.  Karen Reed, who is a master artist in several mediums, fashions intricate mixed media sculptures and clocks from jewelry, found objects, vintage and antique artifacts and parts, keepsakes, and just about everything else.
The public is cordially invited to meet both artists and see their latest creations at Movin' On's First Friday reception, 5-8PM on the evening April 1, 2016.  Many of the venue's other resident artists will be on hand to host the evening and greet their fans and visitors.
Florence Johns is originally from Miami, but has lived in the Sedona area for over 25 years.  She finds this to be the ideal place in which to work.  The creative energy that she channels into her fabric sculptures has its source, she feels, in The Divine.
"I believe that when I purposefully settle in with the Creator in a framework of space and time, I receive an inspiration for the spirit of a new work to be designed," she observes.  Thus begins the process that leads to an addition to her remarkable collection of stately, graceful pieces.
Her unique sculptures float the delicate curves and textures of fine fabrics above a background of canvas, ribbon, and colored fragments.  "Each sculpture allows for freedom of interpretation, with layering, folds, and forms to ponder and wander through," she says.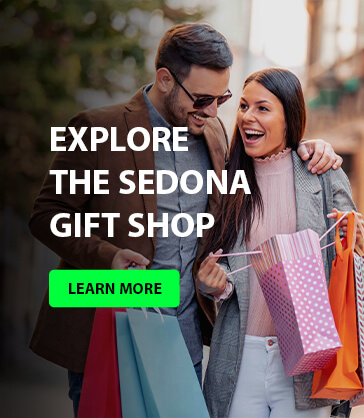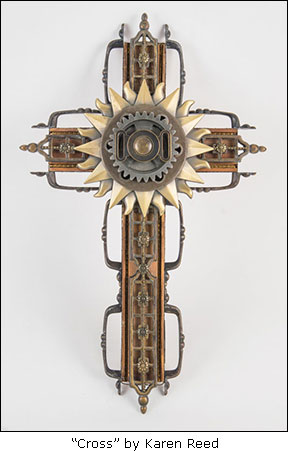 Originally from the Midwest, Karen Reed has lived in Arizona for over two decades now, and has been an artist all her life.  "I was born to a large family of artists," she says, "and I knew by the age of seven that creating art was my calling in life."
She also loves to assist and inspire others.  She often volunteers her time and donates her artwork to organizations and causes that help victims of abuse or children with life threatening diseases.  "That's where I find the greatest peace in life," she notes.
She expresses her sense of inspiration and serenity in the beautifully embellished clocks and crosses that she creates for display at Movin' On.  "I truly put my heart and soul into each one of them," she observes, "hoping to inspire those who struggle in life and to encourage them with a vision of a better world."
Movin' On Gallery is located on the second level of Hillside Sedona Center at 671 State Route 179 (about ½ mile south of the "Y" in Sedona).  It is dedicated to introducing new artists and to showing recent works by some of the best-known artists working in Sedona and the Verde Valley.  
Movin' On currently features  an impressive array of resident artists, including: Lorraine Fexas, glass; Andre Renard, copper & brass sculptures; Pat Priolo, gourds & jewelry; Sharon Hall, clay sculptures; Grace Sky Martinez, spiritual and Native American art; Mary Ratner, photography; Jodie Ball, oils; Patty Miller, pastels and mixed media; Harriet McInnis, oils; Helen McLuckie, oil pastels; Terry Davis, wood carving; David Soto, recycled material sculptures; Teree Settembrino, wind chimes; Rick Gandolofo, acrylics; Carol Gandlofo, photography; Jim Peterson, photography; Sandee Kinnen, fused Glass; and Karen Reed, mixed media and metal collages.
The gallery is open from 10:00 AM until 6:00 PM daily.  For more information, call (928) 282-8143 or visit www.MovinOnGallery.com  .