… Friday we were down at Lake Pleasant with a nice break in the weather … actual sunshine and calm winds. The lake was also up about five feet from the prior week as they have begun filling the lake with Colorado River water again … another fifteen feet or so before they begin draining it in June, 80% or so going to agriculture.
Several islands were barely islands anymore as the water rises … these are a mile or so off shore and havens for many shore birds including the avocets pictured above as they did a flyby after taking off. Later they would return to the island and we got another opportunity to get it right. With their reddish tan heads they are in full breeding plumage … even in nature, special beauty is added to creatures as they begin the mating process and species continuation.
We saw a few common loons on the lake and this one decided to play a bit and give us shots other than just swimming on the surface or diving … would have been nice to get an inflight shot, but wings stretched out was a treat!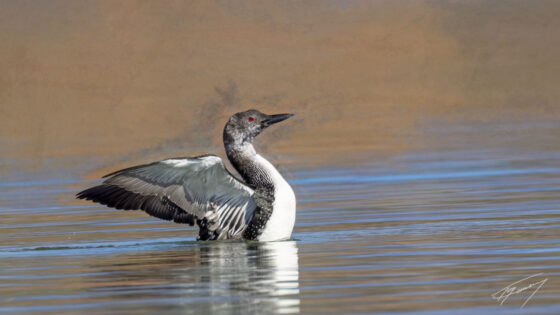 Another new week underway and as always, enjoy each day you are here … a pretty special place to be … keep breathing, smile and be kind!
Cheers,
Ted
You are a child of the universe no less than the
trees and stars; you have a right to be here.
And whether or not it is clear to you, no doubt the
universe is unfolding as it should.
Therefore be at peace with God, whatever you
conceive Him to be.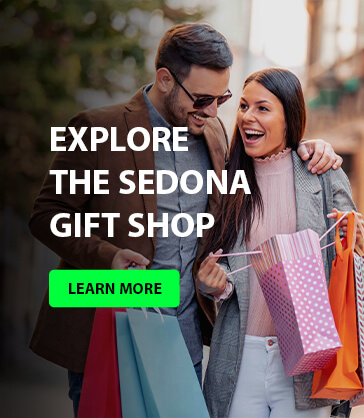 With all its sham, drudgery and broken dreams,
it is still a beautiful world. Be cheerful.
Strive to be happy.
excerpts from Desiderata by Max Ehrmann
###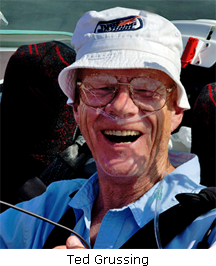 The easiest way to reach Mr. Grussing is by email: ted@tedgrussing.com
In addition to sales of photographs already taken Ted does special shoots for patrons on request and also does air-to-air photography for those who want photographs of their airplanes in flight. All special photographic sessions are billed on an hourly basis.
Ted also does one-on-one workshops for those interested in learning the techniques he uses.  By special arrangement Ted will do one-on-one aerial photography workshops which will include actual photo sessions in the air.
More about Ted Grussing …