By Ted Grussing
… we are blessed with this incredible gift … the moment … it is all we have … no more are promised or guaranteed … just this very precious moment of the present, and it is that too.
I took this shot of the bloom on an Argentine Giant Cactus a few days ago, and thanks to Eric who joined me on part of the walk as he provided the shade I needed to get this bloom out of the direct sunlight. The bloom has passed its prime, its purpose fulfilled and as it slides from the prime vital bloom it once had, there is a very special beauty and grace to it reminding us of that which was, that which is and that which will be. I walked by it again today and it is pretty much gone, but the beauty and elegance of this moment will continue.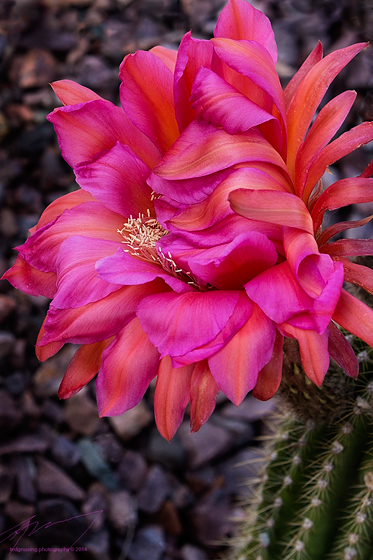 A very good day today. I finished the two pieces of blue chalcedony… almost, had a couple of nice walks and visited with friends I met … enjoyed an outing to the good Dr. Bill at Sedona Dental Arts and a walk down at the ponds before picking dinner up at the Wildflower Bakery on the way home. Not much left in the refrigerator to go bad and plan to keep it that way. I am available to be a dinner guest … will smile when properly fed and always compliment the chef :+) Also had a nice long conversation with Jon Burman today … we talked about life, Oshkosh and coffee, the later providing fuel for the first two. Jon and his family are an American success story … about ten years ago his father was laid off from his IT job and decided to start his own business forming Burman Coffee. The company has grown through selling a quality product and providing good service and pricing on a wide range of premium coffee beans. We have been roasting our own coffee for about five years now and continue to enjoy the wonderful elixir. Check them out at http://burmancoffee.com . One of the things I am enjoying in this new life I am living is having a latte when I wake around 5AM and then rolling over and getting another hour or so sleep … only three hours to go before I get the morning treat. :+)
My friend and neighbor Liz Learmont is having an exhibit in the Special Exhibition Gallery of the Sedona Arts Center beginning this Friday May 2nd through May 12th . The theme is "Be Inspired" and features forty life mask sculptures representing her thirty year creative journey as an artist doing life mask sculptures. One of the sculptures Liz did for us will be among those which she has on display and hope you will take the time to visit her exhibit. The address is 15 Art Barn Road in uptown Sedona and you can learn more about this exhibit and her work on her website at: .
Have a terrific day and enjoy the daily gift, moment by moment … and smile
Cheers
Ted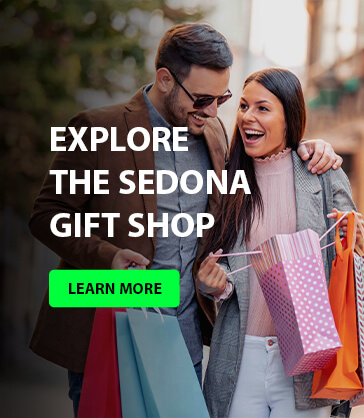 I yield myself to the thousand enchantments of sky and field and wood,
and play again like a child on the soft green of the earth.
And as the God of the universe has made thee to bloom in tenderness,
so also may my heart be made to bloom again.
— Max Ehrmann 
###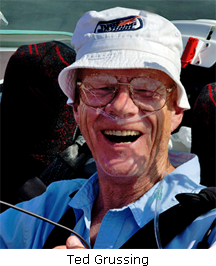 The easiest way to reach Mr. Grussing is by email: ted@tedgrussing.com
In addition to sales of photographs already taken Ted does special shoots for patrons on request and also does air-to-air photography for those who want photographs of their airplanes in flight. All special photographic sessions are billed on an hourly basis.
Ted also does one-on-one workshops for those interested in learning the techniques he uses.  By special arrangement Ted will do one-on-one aerial photography workshops which will include actual photo sessions in the air.
More about Ted Grussing …