By Ted Grussing
…so tonight we have the two fastest living creatures in North America showing us their stuff … the Peregrine Falcon clocked in excess of 200 mph and the Pronghorn clocked at almost 60 mph.
We spent most of the day last Friday on Lake Pleasant, and it was good to see more birds moving in on the migration. We started with shots of Harris's hawks perched and hunting and somewhere in the early afternoon I saw what looked like a Peregrine Falcon heading our way. Shooting the R5 with the 100-500 at 500 gave me a lot more image than I used to have and the bird eye tracking locked onto his eye and I got about 30 great shots of him. The Peregrine Falcon preys on other birds from high above them, he locks onto them and enters a stoop (dive) at speeds up to and in excess of 200 mph … that works out about 300 feet per second. They weigh in around 3 lbs and thanks to their special eyes they have a tremendous advantage over their prey.
Yesterday was just going to be a quick trip to the ponds in Page Springs, but we ended up at Dead Horse State Park and failing to find any dead horses we headed out on the kinda road to Sycamore Canyon and spent a lot of the day out there. Worth mentioning was the Harris's Hawk we saw hunting rabbits… cameras were in the cases in the back of vehicle, so we just enjoyed the show.
Further out we spotted a large herd of Pronghorns grazing on the grasses. We spent a lot of time approaching them and shooting them … it was impressive. Pronghorns can not only run fast, but can maintain high speeds. They can maintain 30 mph for about 20 miles. The photo shows part of the herd deciding to get out of dodge and the inset is of a buck that I got a good portrait of.
Then it was out to Sycamore Canyon and some shooting there. The photo below is one that Eric took of me at the trailhead for Parsons Trail. On the way back we encountered the herd of Pronghorns again and spent more time with them. Not sure what the exact number of the herd is, but likely over 50 of them. One of the Pronghorns had an ear tag and what looked like a GPS tracker on a collar … probably so that AZGF can keep track of the herd.
Another new week is underway … how great is that! Lots of adventures to enjoy and life to live. We are blessed!
Keep breathing and then a smile should automatically appear on your face, for you are alive!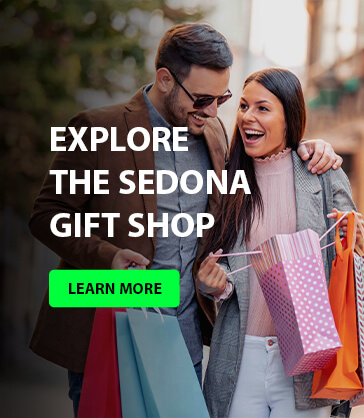 Cheers,
Ted
###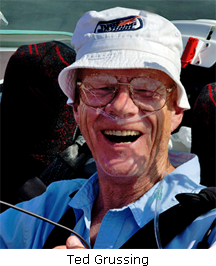 The easiest way to reach Mr. Grussing is by email: ted@tedgrussing.com
In addition to sales of photographs already taken Ted does special shoots for patrons on request and also does air-to-air photography for those who want photographs of their airplanes in flight. All special photographic sessions are billed on an hourly basis.
Ted also does one-on-one workshops for those interested in learning the techniques he uses.  By special arrangement Ted will do one-on-one aerial photography workshops which will include actual photo sessions in the air.
More about Ted Grussing …