… the Peregrine Falcon at the top of the missive is a new addition to the portfolio and I got the shot after she had taken off from the now disappeared island in Castle Hot Springs bay on the NW end of Lake Pleasant. I didn't see her or her mate on the trip down to the lake this past week, but perhaps they'll be there later this week. She was moving out at a pretty good speed when I took this shot, but nowhere near her top speed of more than 100 mph in level flight … the fastest living creature on earth reaching speeds well over 200 mph in a stoop (dive). What a privilege to spend time with her and all the other creatures we share the planet with.
The next photo is of a Red Tail Hawk leaving its perch in a pine tree near the end of the fairway we live on. This is a shot I took 11 years ago with a Canon 1-DX … what a great camera body that was, and with the 100-400mm lens it served me well for ten years. Low in pixel count compared with most modern digital cameras, it more than made up for the difference in the quality of the pixels in the sensor. Funny thing, when looking back at my inflight shots, I did just as well with the focus as I do now with the improved subject/eye tracking in the new camera bodies.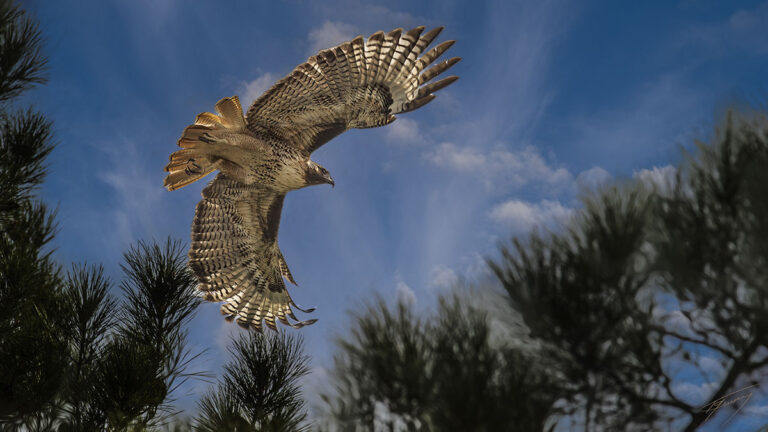 Below we have an aerial shot I took from S of the USFS station on SR 179 and it provides a beautiful view of the entire Sedona area … all the red rocks, our two real mountains … House Mountain on the left center edge and Wilson Mountain, just below and left of the San Francisco Peaks which are on the horizon center right. Both mountains are of volcanic origin, but House Mountain is what is known as a shield volcano. These are formed when the lava flow has a very low viscosity and it just flows out kinda like motor oil. House Mountain erupted approximately 13 million years ago and was part of the Colorado Plateau … with erosion over these many years, the plateau has receded nearly four miles and Sedona is in the gap that eroded away … the red rocks are remnants of the plateau that did not erode away … yet!
I will be giving a presentation of my photographic art to the Sedona Gem and Mineral Club Tuesday evening at 7PM. The meeting is open to visitors and perhaps you will get to see many fine specimens of my other love and passion … gems and minerals. The meeting is in the main Sedona Library.
It is fun to look back in time through the photos … not much changes in our lifetimes or for that matter, over the centuries. Earth has her timeline and our needs and wishes do not factor into her timeline and all the while, we are whooshing through space not knowing where we have been, where we are or where we are going … I like that!
Have a beautiful day as you start another week … smile and live in joy … only you have the power to do so!
Cheers,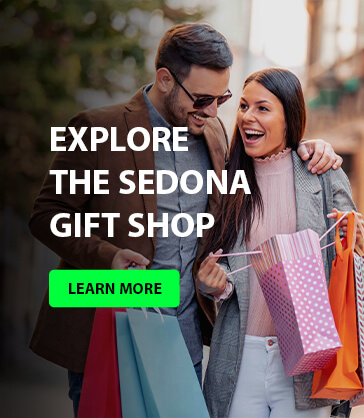 Ted
… with kindly heart and gentle hand
And smiles upon my face, let me serve them
Whose muscles ache in evening's twilight hour,
While mine in comfort still are fresh and strong.
May all these be not empty idle words,
But all the burden of my life's sweet task.
And when thou seest that my work is done,
Let me feel Thy soft evening shadows fall,
As when I climbed into my nursery bed
With childish faith, in time's old long ago;
And let the kiss of peace lie on my lips.
excerpt from An Artist's Prayer by Max Ehrmann
###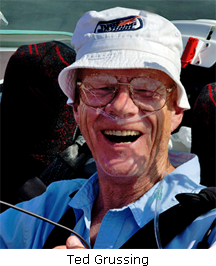 The easiest way to reach Mr. Grussing is by email: ted@tedgrussing.com
In addition to sales of photographs already taken Ted does special shoots for patrons on request and also does air-to-air photography for those who want photographs of their airplanes in flight. All special photographic sessions are billed on an hourly basis.
Ted also does one-on-one workshops for those interested in learning the techniques he uses.  By special arrangement Ted will do one-on-one aerial photography workshops which will include actual photo sessions in the air.
More about Ted Grussing …