By Ted Grussing
… I'm not sure if it is the stay at home thing or that he seemed to be overseeing three hens and 30 some young wood ducks, but this guy seemingly lost it … mom and four of her ten kids were heading out. Maybe she told him that it was one of the other drake wood ducks that was responsible for the large family. Smiles!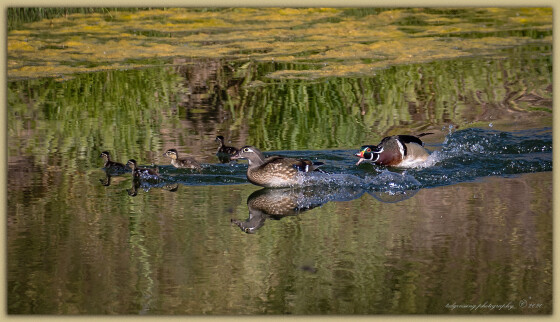 It was absolutely wonderful to see all the new life down there today. I counted four families of wood ducks, three of mallards. This is the fun time as they are all as cute as cute can be, but the reality of living on planet earth will be kicking in over the next several weeks as they continue to grow and their numbers will decrease as predators eat the near defenseless ducklings. Last year one hen mallard started with at least ten ducklings and within three weeks there was only one left … such is life on our little planet in the vast ocean of space … at least they all get a shot at life!
I didn't get a chance to work on the ironstone/boulder opal today, but will tomorrow morning and will take some photos too. One got a nice outing in this afternoon and went after something in the deep grass (taller than her), but came out empty handed … perhaps some larger creature did the same?
Have a beautiful day … everywhere and in every species there can be less than harmonious relations so smile and share it with everyone you meet and greet … we only have now!
Keep breathing and you will find the day a better one …
Cheers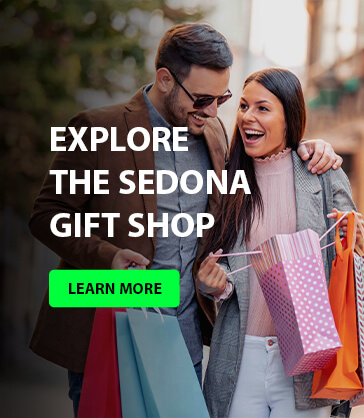 Ted
I bring but this one common thought
My life has wrought;
That from the dregs of drear despair
Still everywhere
There is a joy I yet may sip …
'Tis comradeship
With all mankind, the high and low
I know.
— Max Ehrmann
###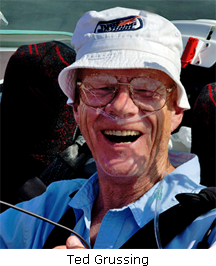 The easiest way to reach Mr. Grussing is by email: ted@tedgrussing.com
In addition to sales of photographs already taken Ted does special shoots for patrons on request and also does air-to-air photography for those who want photographs of their airplanes in flight. All special photographic sessions are billed on an hourly basis.
Ted also does one-on-one workshops for those interested in learning the techniques he uses.  By special arrangement Ted will do one-on-one aerial photography workshops which will include actual photo sessions in the air.
More about Ted Grussing …