… new insights and new dreams … new techniques and new artforms from old and new photographs. I have spent the evening going through old photographs and trying new ways of conceptualizing an end result for them … and then following new paths and techniques as I work on them. Here are two of the ones I worked up this evening.
The image above is a shot I took of a dove in a tree backlit by an almost full moon … there were numerous bluebirds in the tree with him. I already had the moon in the photograph, and it isn't much of a stretch to find other elements of the universe adding themselves into the completed image … add a little grain and subtle shading and you have this piece of photographic art. Another and more traditional iteration of this image was published in Momentum Magazine, a publication of the National Multiple Sclerosis Society about twelve years ago.
The image below is a shot of Nimbus II sniffing an Amaryllis bloom that was on our kitchen table and backlit by the light from the window just behind it. Nimbus II joined our family in the late 90's and was an amazing friend … he was only about 7 pounds but could open every door in the house (latch door handles) and was a fearsome hunter … he also was a friend of Lo our local bobcat at the time. They would both spend time relaxing in the sun on our deck whilst Corky and I would soak up sun and enjoy a beautiful morning or afternoon. Lo was as large a bobcat as Nimbus was a diminutive American short hair domestic cat. I miss them both.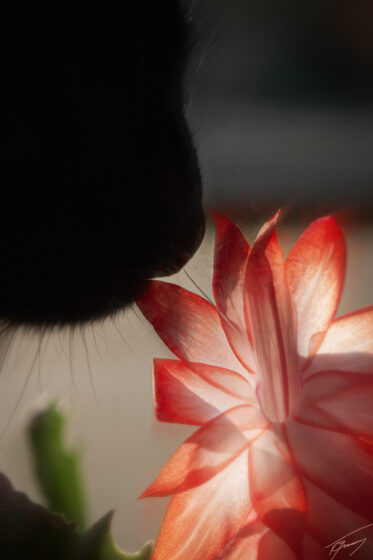 Down to Lake Pleasant in not that many hours so time to call it a night. Have a beautiful day … only you can make it so! Smile and keep breathing.
With joy,
Ted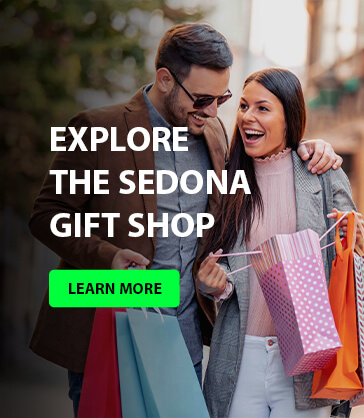 I drink deep the joy of dawn, and peace abides with me;
And though I know I again shall see
Dark fear with withered hand approach my sleep,
More sure am I when lonely night shall flee,
At dawn the sun will bring good cheer to me.
excerpt from The Dawn by Max Ehrmann
###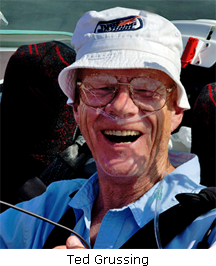 The easiest way to reach Mr. Grussing is by email: ted@tedgrussing.com
In addition to sales of photographs already taken Ted does special shoots for patrons on request and also does air-to-air photography for those who want photographs of their airplanes in flight. All special photographic sessions are billed on an hourly basis.
Ted also does one-on-one workshops for those interested in learning the techniques he uses.  By special arrangement Ted will do one-on-one aerial photography workshops which will include actual photo sessions in the air.
More about Ted Grussing …