… early morning found me up on the side of the cliff checking out our red tail hawk famly and essentially there was no action at the nest level so I back down to about 100′ above ground and one of the kids was in a pine tree checking out the neighborhood for food … you can see the intensity of his focus in the top photo. Twenty minutes later he spotted something on the other side of the tram and he took off flying directly behind me. He continued past the nest and went into an outcropping and appeared to nail something.
Keep in mind that I was now shooting a subject that is only about 18 inches tall from a distance of about 600′ or about two football fields away … even through the viewfinder it was impossible to see what was going on in any great detail. In the photo next below you can see the juvi red tail hawk mantling over his kill (pack rat) and one of the adults was flying over him … he was not giving his mom any portion of his kill … it was his and she appreciated that!
In the bottom photo our juvi has his talons firmly sunk in the pack rat and was dragging it further up the incline and out of view from others who would like a taste of his kill.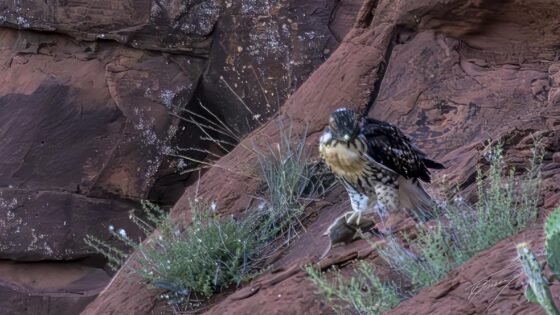 All of the kids seem to be doing well … I saw them flying over the trees well below me and the adults were in the neighborhood too. It looks like this was a very successful and well documented breeding season … so until next season when we once again see the adults engaged in courtship routines as in the photo below, we'll consider the mating season a success this year.
Have a beautiful day … keep breathing and enjoy every moment you are granted … life is a blessing.
Smiles,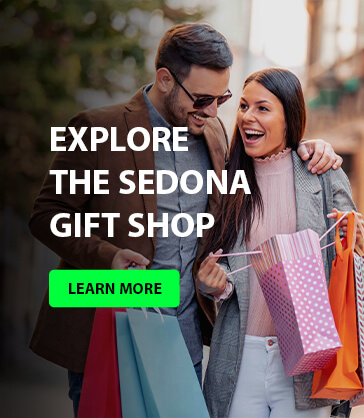 Ted
Filled with dreams and songs and love, I wander
afield.
Meditation, softened by the peaceful lands of grain and
the illimitable blue sea overhead, draws my heart to
my lips as one whose talent is in song.
I yield to the thousand felicities of this transport, like a
child led by his father's hand; and no questions darken
this day of my content.
Afield by Max Ehrmann
###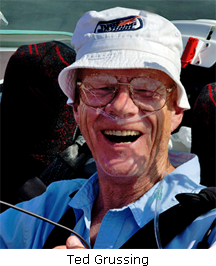 The easiest way to reach Mr. Grussing is by email: ted@tedgrussing.com
In addition to sales of photographs already taken Ted does special shoots for patrons on request and also does air-to-air photography for those who want photographs of their airplanes in flight. All special photographic sessions are billed on an hourly basis.
Ted also does one-on-one workshops for those interested in learning the techniques he uses.  By special arrangement Ted will do one-on-one aerial photography workshops which will include actual photo sessions in the air.
More about Ted Grussing …