Day after Thanksgiving Fun For Everyone!
Sedona AZ (November 14, 2012) – Family fun alert! Signaling the beginning of the 2012 Holiday season, Tlaquepaque Arts & Crafts Village is celebrating its popular Festival of Trees, fast becoming a Sedona signature event. On Friday, the day after Thanksgiving, November 23, be sure to head to Tlaquepaque's La Sala de los Milagros ballroom where you will enter a dazzling artist's fantasy world of holiday magic—50 seasonal trees decorated with artistic imagination and precise execution by local artists, businesses and non-profits. Don't miss a visit from Santa for the young and young at heart as well from 1:00 to 3:00 pm.
To benefit local charities, the 50 art-inspired trees will be available through silent auction bidding. Bids can be placed beginning Friday, November 23rd and closing on Saturday December 1st from 6:00 to 8:00 pm at the Festival of Trees cocktail and light fare reception ($20.00 per person and $35.00 per couple). In addition to excellent food, seasonal music and plenty of good cheer, exceptional raffle items— a 3-day Getaway at the Peaks in Telluride from Sedona Pines and a $500.00 gift certificate to Bennali Outdoor Gear — will put everyone in the holiday spirit. Other popular raffle items include dinner for two from the elegant Rene Restaurant; Earth Wisdom, Hummer, and Day in the West off-road adventure tours; and a variety of fun wine tastings from local wineries. Santa will also make an appearance that evening.
Funds raised from Festival of Trees will make a huge difference for the two selected charities this year: Toys for Tots sponsored by the Sedona Marine Corps League, and the Meals on Wheels program serving local residents through the Sedona Community Center. Organizer Lisa Morgan notes that, "More than ever, funds are needed for both causes. We raised over $25,000 last year and this year we hope to do even better. Tireless volunteers from both groups have been very active in making this event happen."
Some local artists have been working on their trees since mid-summer! All are sure to amaze. How about the "Harley-Harley" tree ornamented with mini motorcycles? Or a tree decorated with original art painted on small gourds, or "Holiday Barbie" with perfect Barbies, or with a western cowgirl theme, "Cowgirl Up," or a "Yo Ho Ho," cool pirate ship motif? Every year the trees get more and more creative. Be sure to check out "Hot Chili Christmas" from El Rincon Restaurante Mexicano and new entries like the Bank of America's (real) money tree and Sedona International Film Festival's tree.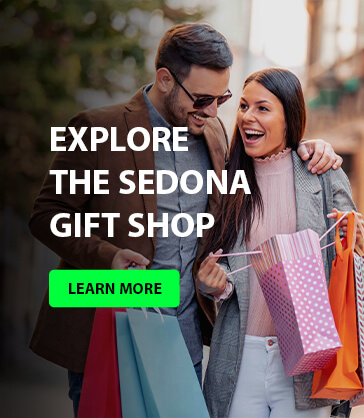 "Artist-inspired trees are a wonderful way to celebrate the holiday season year-round and to know that when you win the bid on your tree you are helping kids and seniors who are very grateful for your support. It's a perfect win-win," says Wendy Lippman, resident partner and general manager of Tlaquepaque. "Tree viewing begins on November 23rd in the La Sala de los Milagros ballroom. Everyone is encouraged to vote for his or her favorite tree." Prizes will be awarded at the reception for a "People's Choice Award," "Most Outrageous," and "Most Original Theme." And plan your Santa visits: Friday November 23rd, Saturday Nov. 24th and Saturday December 1st from 1:00 – 3:00 p.m. Everyone is warmly invited.
Home to more than 45 shops and galleries and four restaurants, Tlaquepaque, the Art and Soul of Sedona, is located at 336 State Route 179 at the Oak Creek Bridge. It is open daily at 10:00 am. For more information call (928) 282-4838, email info@tlaq.com, visit: www.tlaq.com and for your online Holiday shopping convenience anytime, www.shoptlaq.com.