Sedona AZ (November 18, 2011) – Thanksgiving in Sedona is always a cherished time for local families, friends and visitors from afar. Apart from the traditional Black Friday marking the holiday shopping season, there is fun-filled Sedona option to get in the spirit. The ever-popular Festival of Trees at Tlaquepaque Arts & Crafts Village is poised once again to kick off the artful 2011 Holiday season, starting on Friday, November 25th and concluding on Sunday, December 4th.
This Festival has grown in popularity year after year. Why? Everyone wants to see the magical creations their local favorite artists have fashioned with their three-dimensional tree canvases. And collectors of exciting, seasonal art are looking for something unexpected and beautiful to enliven their holiday decor. Bidding on the trees benefits local charities, so everyone goes home happy. 
"We are anticipating a wide range of highly creative, inventive and fun trees to be on display this year," says Wendy Lippman, partner and general manager of Tlaquepaque. "The trees will be auctioned off to the highest bidder on Sunday, the 4th.  A silent auction with fabulous offerings— just in time for the holidays is also a wonderful part of the Festival."
To that end, Festival of Trees artists have been busily preparing over 40 special Holiday trees festooned with imaginative and outrageous decorations. This year's Festival includes resident artists from a variety of Tlaquepaque galleries and shops as well as other Sedona establishments. Themes abound as local entries pour in: "Carribean Christmas" by Cocopah, "Sock Monkey Hop" from Tlaquepaque Toy Town, "Snow Bouquet" by local artist Gayle Taylor, "Christmas in Sedona" by Eclectic Image Gallery, "The Nightmare Before Christmas" by Festival coordinator Lisa Morgan, and "Jingle Hearts" by EisenArt Innovations, to name a few.
A partial list of beautifully crafted tree entries from well known Sedona artists and local businesses and organizations include: Hats Off for the Holidays, Christmas At Cocopah, Caribbean Christmas, Flight of the Fairies, Peruvian Festivity,Tree of Southwest Crosses, Rainbow Hearts of Christmas, Snow Bouquet, Desert Lights, Bling Tree, Dear Santa Paws, The Nutcracker, Blooming Christmas, A Country Christmas, Christmas Candy, Angel's Prayer, Christmas in the Valley, Pretty as a Peacock.
Fun for the whole family, the Festival has also become a significant Sedona fundraising event. Over $25,000 was raised last year for local charities. This year the recipients are Toys for Tots sponsored by the Sedona Marine Corps League, as well as Arizona Indian Living Treasures (AILTA), whose mission is to recognize and to honor lifetime achievements of Arizona Native American artists and educators. Tree viewing begins on November 25th in the La Sala de los Milagros ballroom and everyone is encouraged to vote for his or her favorite tree!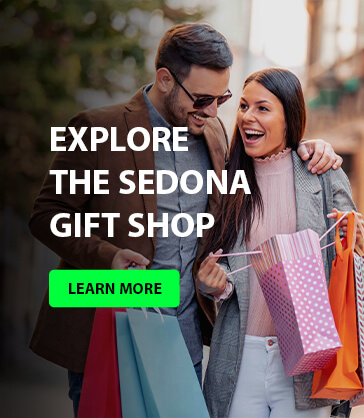 "If you love Gingerbread houses–a new category this year–be sure to check out Kuivato Gallery's glass gingerbread house and Sedona Sweet Arts' cool confection construction," says Lippman.
Santa Claus will be dropping by and making merry on Friday and Saturday, November 25th and 26th from 12 pm to 2 pm and 4 pm to 6 pm for keepsake photos. Everyone is encouraged to bring a new unwrapped toy for those children in need who may have very little to celebrate during the holidays.
Finally, don't miss the fun at Tlaquepaque's Holiday Cocktail Reception on Saturday, December 3rd from 4 pm to 6 pm! It's a wonderful time to mingle with the artists, sponsors and buyers and jump start the holiday season with delicious hors d'oeuvres, libations and traditional music and song. Tickets are $10 per person and $15 per couple (does not include drinks). Please call (928) 282-4838 to reserve your tickets today!
Home to more than 40 shops and galleries and four restaurants, Tlaquepaque, the Art and Soul of Sedona, is located at 336 State Route 179 at the Oak Creek Bridge. It is open daily at 10:00 am. For more information call (928) 282-4838, email info@tlaq.com, visit: www.tlaq.com and for your online Holiday shopping convenience anytime, www.shoptlaq.com.