Sedona AZ (November 30, 2012) – Sedona's finest art galleries invite you to enjoy an evening of openings, special guests, artists receptions and celebrations at their holiday 1st Friday Gallery Tour on December 7th from 5 – 8pm.
All guests are welcome to attend free of charge and enjoy the Sedona Trolley, which does continuous loops to all locations. Some of December's highlights include: 
ALT Gallery featuring the work of Paul-Henri Bourguignon.  Through an arrangement with his estate, a broad selection of his paintings will be on view.  Born in Brussels in 1906, Paul-Henri Bourguignon spent his life as a journalist, art critic, photographer, and painter.  Jane Hoffelt, curator of Bourguignon's estate, will be in the gallery to provide illumination about the life and work of this remarkable artist.
AZADI Fine Rugs kicks off their holiday show "Turkish Rugs: The original Magic Carpet" with a reception from 5-8pm. In many ways, the famous Turkish carpets produced in the historic region of Anatolia were the rugs that started it all and to this day they still inspire and are prized among collectors. Refreshing beverages will be served.
Goldenstein Gallery invites you to join them for their ultimate holiday show "Feel The Love."  This dynamic show features a jewelry extravaganza of distinctive pieces, exotic hard wood jewelry boxes, hand-painted silk scarves and kaleidoscopes.  Artists include Mary Fisher, Dorit Herlinger, Michael Redhawk, Sherab Khandro and Beatrice Welles.
Honshin Fine Art Gallery invites you to "Journey Into the Sanctuary of the Mystic Messenger." Hot organic Mayan chocolate served from 6-7 Join them as they celebrate the season at Honshin Fine Art! First Friday live music and poetry on the Porch at 7:30.
James Ratliff Gallery will display distinctive one of a kind jewelry pieces created by 3 talented artist/ jewelers. Sandra Den Hartog is an award winning jeweler who travels the world searching for just the right gems/artifacts to create avant-garde yet classic pieces.  Sedonan Sally Peck loves doing intricate beadwork. Fused glass is the specialty of jewelry maker Adriana Walker.  Join them and meet the artists.
JN Muir Sculpture Studio/Gallery  shares a special holiday exhibit "Reflection on The Journey Within." A haven for sculpture collectors offering a behind-the-scenes look "from starting of the clay, to the finished bronze", the gallery will showcase sculptures that share the poignant message of personal reflection.
Lanning Gallery features "Michael Grant: Master Jeweler" who remains one of only a handful of stone-bead cutters practicing the ancient craft today, Grant meticulously hand cuts each stone on a simple lapidary wheel. His necklaces, which on average contain 300 to 800 beads, can take 20 to 200 hours to complete; each one, as with the earrings, cuffs and other jewelry pieces Grant creates, is exquisite beyond compare.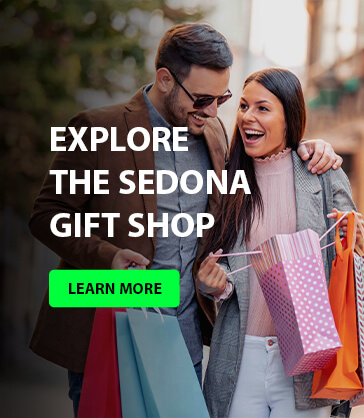 Lark Art invites you to join them as they celebrate "Glad Tidings. . . The Angelic Ornaments of Maureen White."  Whether it be a large angel heralding the season or a small dog angel barking for joy, Maureen's creations are sure to bring delight.   Please join them as they raise a cup of cheer to her new works.
Mountain Trails Gallery presents a collection of "Small Treasures," this exhibition gathers together a collection of small paintings, sculpture, and jewelry for the holidays.  These award-winning artists have all directed their creative energy into a special collection of art-work that captures all the spell-binding details, expressive subjects, and compelling stories of their larger works. 
Passion For Place features Greg Lawson imagery focused on face-to-face encounters with creatures now expanded to include images from all seven continents of earth.  Greg will be present at the gallery this month and looks forward to welcoming friends face to face! 
Rowe Fine Art Gallery features one of Rowe Gallery's newest artists, Navajo stone sculptor Alvin Marshall, during Stones with Stories, who has traveled from New Mexico for the show. Alvin's figurative sculptures are crafted out of Utah alabaster and inspired by his friends and family living on the Navajo Reservation.
Sedona Arts Center –Find everything you are looking for in our much-anticipated holiday exhibition, "The Joy of Giving." So much more than just ornaments – great art can make great gifts! Oil paintings, photographs, sculptures, jewelry, glass works and so much more.
Turquoise Tortoise Gallery offers its Annual Holiday Gift Show, this year featuring the work of artist Newy Fagan. Fagan produces kiln-formed glass horses and ponies that stand from 8 inches to 10 inches high – in a variety of festive colors. The gallery is filled with a variety of similarly unique Southwestern and Native American gift ideas – in a wide variety of price ranges.
A whirlwind of mesmerizing talent, intoxicating images and entertainment, the Sedona Gallery Association tour is one of Sedona's "things to see". Recently Sedona was named the "Number Seven Small Town Art Destination"by American Style Magazine.  Sedona has been in the top 10 small town destinations for the past 6 years.
For more information on the Sedona Gallery Association please visit www.SedonaGalleryAssociation.com where you can find a complete listing of galleries and a printable map to all locations or you can also find them on facebook.