By Anne Marie Mackler, Development Director
Sedona AZ (December 16, 2016) – Recently, when I asked a friend to direct his end-of-year philanthropy to Sedona Public Library, he said, "I don't use the Library." I was perplexed as I am a lifelong library user, and he's an avid reader. When I asked why, he answered, "I buy the books I read." Then he rushed off leaving me to murmur to his disappearing back.
I wanted to tell him that Sedona Public Library is not just a storehouse for books; it's a thriving community center.
Tell him that when you first walk into the doors of the Library, you quickly gather that you haven't entered a book rental warehouse. Granted, after being awestruck by the beauty and strength of the structure with its red rocks and sandstone pillars, the sparkling walls of stained glass, and the sky-high ceilings and windows, you will see lots of books. There are 63,645 available on our shelves.
Beyond the books, you'll see magazines, newspapers, DVDs, CDs, reference volumes, maps, computers, copy and fax machines, gardens, and artwork, and you won't have even stepped beyond the circulation desk or tapped into the 1.3 million items available in our shared Yavapai Library Network.
Depending on the month, you'll view a quilt show, weaving exhibit, or photograph display. Depending on the season, you'll see a holiday giving tree, a Veterans tribute, or our resident dinosaur dressed as "Tina Rex" for Halloween. You never know what you'll find beyond the books because at Sedona Public Library there are hundreds of events, shows, movies, presentations, meetings, and more, every year. Local organizations and the Library offer opportunities to meet, greet, decide, listen, learn, share, network, and play.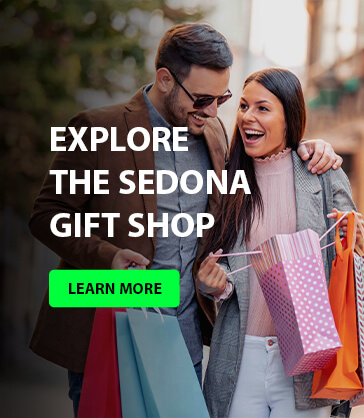 And there's more. When you walk into the Library, you'll hear whispering, discussing, giggling, or singing. People come seeking quiet time, or less quiet time, as the Library is a place to research, study, teach, and, of course, read. You'll connect with staff, volunteers, friends, neighbors, colleagues, and family. Or you'll find a quiet place to sit alone and use our free Wifi, download one of the thousands of e-books we have online, or just catch up on the daily news. This is Sedona's place to ask questions, get answers, seek insight, and find inspiration or solitude.
People come to the library, in person or online, in West Sedona or Bell Rock Plaza, looking for something. Be it a book, a discovery, a story, or an answer, Sedona Public Library has it, or will find it with a smile, and  for free. People come because a town isn't a community without a library. And Sedona has an amazing one.
As you think about your end of year philanthropy for 2016, please think of Sedona Public Library. Whether you buy your books, like my friend, or borrow them; pay for movies, or come to Monday's Flicker Shack movie, we are here for you. Forty-eight hours a week, 313 days a year, with 120 active volunteers, 12 board members, and 21 staff members, at your service in facilities created by you, and for you. And we're there for you 24/7 at sedonalibrary.org.
While we do it for you, we couldn't do it without you. Your tax-deductible gifts fill a 20% budget gap after funding from the City of Sedona, Coconino and Yavapai Counties, and Friends of Sedona Library. We need and appreciate your support. Come by, or go to www.sedonalibrary.org where you can give online. And when I see that friend of mine, I'll be sure to let him know all that he's missing.
Thanks, and happy holidays from everyone at Sedona Public Library, more than your neighborhood book depot.