By Holly Epright, Executive Director
Sedona Main Street Program
Sedona AZ (March 7, 2015) – Come celebrate the 45th Annual St. Patrick's Parade & Festival along Jordan Road on Saturday, March 14th. Both are free to attend and offer a wide variety of free activities from 10:30 am to 3 pm.
The Parade will begin at 10:30 am and make its way down Jordan Road starting at Jordan Historical Park to Mesquite Avenue. Bring your own chairs and set up along Jordan Road. Master of Ceremonies, John Conway is lending his skill for announcing the Parade entries from the judging stand on Jordan Road near the end of the parade route. A free Parade & Festival Event Program will be distributed that morning along the parade route and will also be available at the Festival.
Our Grand Marshals this year will be in honor of the Wildland Fire Management Team who worked on the Slide Fire last year, with two of our very own representatives: Nicole Branton, USFS Red Rock District Ranger, and Sedona Police Chief Raymond Cota.  The Camp Verde Calvary will be an equestrian Color Guard. Parade entries include dignitaries, color guards, bagpipers, bands, dancers, animals, plus a variety of vehicles and walking troupes. This year's Parade entrants will be reviewed by our volunteer judges; who will choose the winning entries based on their self-selected award categories. Volunteer judges for the 2015 Parade include: Steve Conrad- Executive Director for the Boys & Girls Club of Flagstaff, Glorice Pavey- Assistant Director of Community Events for Flagstaff Recreation Services, and Darcie Flanders- Special Events Coordinator for Coconino County Parks and Recreation.Winners will be announced and awarded at the Festival after the Parade.
The Festival begins immediately following the Parade until 3 pm on Apple Avenue between Jordan Road and Cedar Street and in the parking lots of 350 Jordan Road and Sedona Meditation Center. Master of Ceremonies, John Conway will announce the Festival activities and Parade award winners from the stage at the corner of Jordan Road and Apple Avenue.Enjoy free fun family and children's activities!A Festival opening ceremonial song will be performed by Pipe Major Michael Donelson and Bagpiper Martha Shideler, both from Southwest Skye Pipes and Drums. Meet and greet our top event sponsors. Festival food features Cowboy Club/Barking Frog Grille with sweet treats by Sedona Fudge Company for delectable decadence.
Free family fun and games include a Ki Gong demonstration by Sedona Meditation Center, dance lesson by Light Body Fitness and hula hoop lessons, bean bag and ring tosses, table hockey and fishing challenge games, and free-standing speed bag trainers. Make your mark with the Paint 'N Play, community coloring murals and chalk art mandalas. Bring your camera for photo opportunities with Ditzy Glitzy and Hula Hoopsy clowns, Smokey the Bear, and a couple of leprechaun cut-outs. Get your face painted by Olivia Morris of Natty Faces or Carol Hofford. Of course there are inflatables for various ages including a Bouncy Castle, Jousting Ring and new this year, an Obstacle Course.  
Free parking is available in the Sedona Public Parking Lot in Uptown on Schnebly Road, which will be accessible only from SR 89A and Apple Avenue. Additional parking is also available in public parking on Forest Road, at Sedona Red Rock News parking lot on Van Deren Road on weekends, and other designated public parking areas. Just follow the free public parking signs. Park once and enjoy the Parade & Festival as well as shopping, dining and entertainment all day and night throughout the Sedona Main Street District.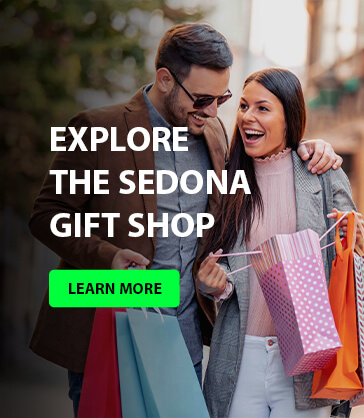 The Parade & Festival are made possible by the generous financial support of many businesses and organizations. This year's sponsors include: Presenting Sponsors – Aspey, Watkins & Diesel and Cowboy Club/Barking Frog Grille; Over the Rainbow Sponsors – Sedona Fudge Company & Sedona Pines Resort; Pot O' Gold Sponsors – Crystal Gratitude and PATRIOT Disposal, Inc.; Celtic Club Sponsors – Sterling Financial Services, LLC & Zainey's Frozen Yogurt; Irish Green Club Sponsors – Arroyo Roble Resort, Best Western Plus Arroyo Roble Resort, Greenscape of Arizona and Matterhorn Inn; Shamrock Club Sponsors – Don E. Nelms Farmers Insurance Group, Johnson Insurance Services and Oaxaca Restaurante.
Please join us in giving thanks to them and to the many additional businesses and organizations including the City of Sedona, Larson Newspapers, Waste Management, Sedona Fire District, Sedona Voiceovers, Bill Lyons, Verve Events & Tents, Sedona Meditation Center, 350 Jordan Road, DiBattista Construction, Greenscape of Arizona, Wendy Phenom, Red Rock Magic Trolley, Schoolhouse Restaurant, Creative Printing & Copy Too, Whole Foods Natural Marketplace, Starbucks at Hyatt Pinon Pointe, Sedona Chamber of Commerce and several others who contribute or discount services to keep this traditional event alive. We are very grateful to our many volunteers who lend their time and talent to help make it all possible!
Come enjoy this celebration of our cultural heritage. This free community event is presented by Sedona Main Street Program, NAU Parks & Recreation Management Program. Visit www.sedonamainstreetprogram.com for information and photos after the event.
2015 Parade Dignitaries (as of 3/4)
Parade Grand Marshals representing Slide Fire Team
Sedona Police Chief, Raymond Cota
USFS Red Rock District Ranger, Nicole Branton
Sedona Mayor Sandy Moriarty
Sedona Vice-Mayor, Mark DiNunzio
Sedona City Council, Angela LeFevre
Sedona City Council, John Martinez
Sedona City Council, Scott Jablow
Coconino County Board of Supervisors District 3, Matt Ryan
Yavapai County Board of Supervisors District 2, Tom Thurman
Cottonwood Mayor Diane Joens
Camp Verde Mayor Charles German
2015 Parade Entrants (as of 3/5)
Arizona State Parks
Beth Messiah Messianic Congregation
Bootleggers Saloon
Camp Verde Cavalry
Center for the New Age
Chino Valley High School Cougar Band
City of Sedona Volunteer Park Rangers
Classic Treasures Car Club
Creative Printing & Copy Too
Dennis Knill for President
Flagstaff Kennel Club – K-9 Drill Team
Greater Sedona Substance Abuse Committee
Humane Society of Sedona
Kirkpatrick for Arizona
National Day of the Cowboy
NAU Parks & Recreation
Northern AZ Celtic Heritage Society
Northern AZ Veteran's Military Honor Color Guard
Oak Creek Chapter, National Society of Daughters of the American Revolution
Patriot Disposal, Inc.
PFLAG – Sedona-Verde Valley
Pink Jeep Tours
Potter's Hand Productions
Red Rock Western Jeep Tours/A Day in the West
Rio Verde Roverettes
Second Chance Center for Animals
Sedona Car Club
Sedona Center for Positive Living Sedona
Sedona Cub Scouts
Sedona Fire District
Sedona Fudge Company
Sedona Girl Scouts Arizona Cactus Pine
Sedona Heritage Museum
Sedona Main Street Program
Sedona Meditation Center
Sedona Pines Resort
Sedona Red Rock Newspaper
Sedona United.com
Sedona Verde Valley Pride
Solid Rock Church International Ministries
Southwest Skye Pipes & Drums
Sterling Financial Services, LLC
SummitLIFE
Sun Signs
Trinity Tan
Two Sister Clowns with the Pot of Gold
Verde Valley Habitat for Humanity
Yavapai Apache Royalty Court
Young Life
Zainey's Frozen Yogurt