Sedona Film Festival hosts big screen debut of celebration from Stratford-Upon-Avon
Sedona AZ (July 19, 2016) – The Royal Shakespeare Company celebrates the life and work of William Shakespeare on the 400th Anniversary of his death with a star-studded event featuring the "who's who" of British theatre from stage and screen with "Shakespeare Live!" The Sedona International Film Festival hosts the big screen premiere of the gala celebration at its Mary D. Fisher Theatre. There will be two shows: Saturday, July 30 at 4:00 p.m. and Sunday, July 31 at 1:00 p.m.
"Shakespeare Live!" features performances of some of the greatest dramatic scenes ever written, played by some of our greatest actors, as well as songs, comedy, dances and music celebrating Shakespeare's legacy.
Hosted by David Tennant and Catherine Tate, this star-studded show from the BBC and the Royal Shakespeare Company celebrates Shakespeare's plays and their enduring influence on music, dance, opera, musical theatre and comedy.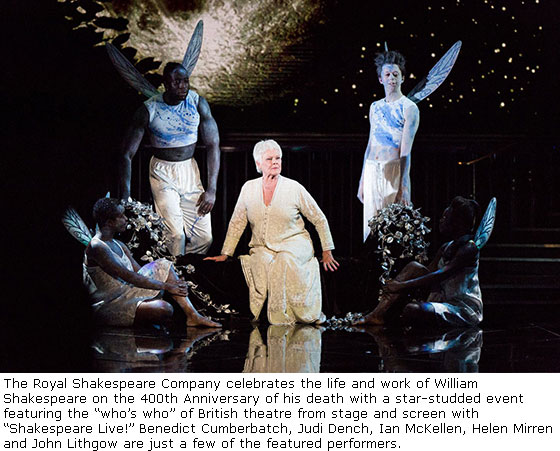 Captured live from Stratford-Upon-Avon on the 400th anniversary of Shakespeare's death, RSC Artistic Director Gregory Doran has assembled an astonishing once-in-a-lifetime cast, including Dame Judi Dench, Sir Ian McKellen, Dame Helen Mirren, Benedict Cumberbatch, Tim Minchin, Rufus Wainwright, John Lithgow, David Suchet, Rory Kinnear, Joseph Fiennes, the cast of Horrible Histories, The Royal Ballet, English National Opera (ENO), Birmingham Royal Ballet, and many more, to perform in a unique tribute to the genius and influence of the world's greatest playwright and storyteller.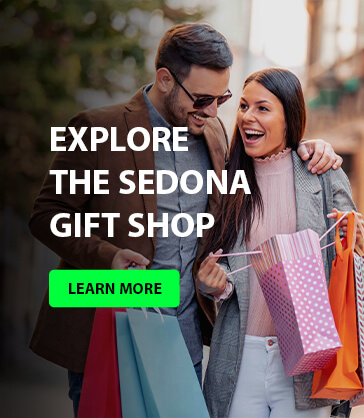 "Shakespeare Live!" will feature numerous theatrical performances, as well as Shakespeare-inspired works spanning the musical genres, including musical theatre, blues, jazz, opera and classical music. This unique gala event will immerse you in the excitement, the drama, the laughter, the tears, the constant reinvention and the utter timelessness of the works of William Shakespeare.
This unique event takes place in the presence of Their Royal Highnesses the Prince of Wales and the Duchess of Cornwall, and celebrates Shakespeare's extraordinary legacy and his enduring influence on all performance art forms — from opera to jazz, dance to musicals.
"Shakespeare Live!" will be shown at the Mary D. Fisher Theatre on Saturday, July 30 at 4:00 p.m. and on Sunday, July 31 at 1:00 p.m. Tickets are $15, or $12.50 for Film Festival members. Tickets are available in advance at the Sedona International Film Festival office or by calling 928-282-1177. Both the theatre and film festival office are located at 2030 W. Hwy. 89A, in West Sedona. For more information, visit: www.SedonaFilmFestival.org.