A Sharing with Barbara Mayer

Sedona AZ (October 16, 2011) –  People from all over the world visit Sedona to experience various forms of healing, yet in this month of October it is the City of Sedona herself which needs a very immediate and very gentle yet powerful form of healing.
The Proposition 410 Referendum which will come up for a vote when Sedona voters receive their ballots around Oct. 18 — and need to fill in and mail prior to Nov. 8 – has caused a tremendous split in our city's very fabric. While many feel this referendum is about voting for 108 continuous additional lights on SR 89A in West Sedona – or against 108 additional continuous lights on 89A – this is not the real issue.
The main issue of this vote on Proposition 410 is a matter of power and vision for not only the Sedona of today, but the Sedona of years to come. Your YES vote on Prop 410 agrees with the recent Sedona City Council to take ADOT's offer of local ownership of SR 89A in West Sedona. It also supports this council's decision NOT to install 108 additional continuous lights along 89A. Your NO vote instead agrees to let ADOT keep control and install 108 additional continuous 35 ft. tall street lights over the two miles of West Sedona from Airport Rd. to Dry Creek Road.
What is at the heart of this issue — and this vote — is not the matter of lights, as many Sedonans think. It is the much deeper issue of where the power base lies in the Sedona of today and the Sedona of tomorrow. Those supporting the NO vote and who name themselves Let The People Vote already asked ADOT to install the lights a few months ago without considering the upcoming vote they actually demanded with this referendum. Those supporting the YES vote on Prop 410 support local control and NOT installing 108 additional continuous lights on SR 89A in West Sedona.
Bottom Line? Those supporting additional lights and a NO vote on 410 are basically the old political guard of Sedona Past. They have been in power for many years as Sedona grew from its sleepy town status to the vibrant city it is becoming today. That group is comprised generally of former mayors and politicians as well as some powerful realtors and Old Guard Power of what Sedona has been. They have done many good things for Sedona over the years, yet this very referendum was caused by them when they very decisively lost their power in the last Sedona City Council election. The bottom line for them is not the lights. It's a matter of getting their power back. The lights may be the topic but power is the issue.
Those supporting Voice for Choice for 89A are basically the same people who voted against installing 108 additional continuous lights on 89A in West Sedona and who voted to accept local control of the highway along with the 15 million dollar package offered to the city by the Arizona Department of Transportation.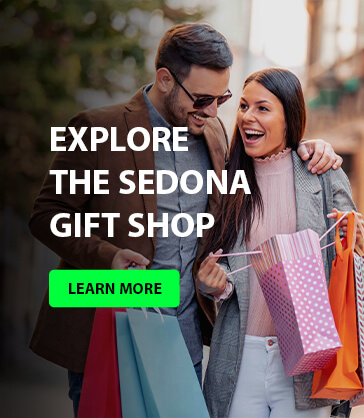 That's the issue. And that's the challenge of choice which the referendum of Proposition 410 is all about. If you don't want 108 additional and continuous lighting on 89A and you understand the benefits of local control and owning the road for which Sedona already pays half the cost of maintaining– vote YES on Prop 410. If you want 108 additional continuous lights installed over a year of construction in the West Sedona corridor and letting ADOT keep the road until they decide to put their money elsewhere and force Sedona's local control of the road anyway, vote NO on Prop 410.
And here's where the great need for healing comes in. As an InterFaith/InterSpiritual minister, spiritual teacher and author, and former editor-in-chief of a midwestern newspaper with over ten times the circulation of the Red Rock News, I appeal to all religious, spiritual and metaphysical clergy and healers in our Sedona Community. This issue is tearing the fabric of Sedona apart, and our gentle city does not deserve the dissent, personal attacks and hateful messages now circulated by some people who should know better. It does not deserve the misleading tactics of unsubstantiated fear-based advertising and campaigning. Sedonans deserve facts, not fear and fiction.
To all ministers, healers, Reiki Masters, and spiritual leaders of our Sedona area, I send this request. Please help in any way you can to make this month of October a time for healing rather than hate, dialogue rather than rampant dissension, and a growing sense of community rather than the cancerous division we now see beginning to spread its poison in this very special city which we love, and where we are privileged to make our homes. Modern spirituality today goes beyond the pulpit and the prayer book. It becomes most alive in the compassionate caring and uplifting involvement of spiritual leaders who champion the personal and civic growth of the communities in which they minister. And, my sisters and brothers, we need your wisdom and the courage of your healing energies now, most specially.
Today's Sedona Scene is neither healthy, spiritually positive, nor pretty. And that is affecting the Sedona Soul. This October is a time of choice and challenge. Let it also be a time of compassion, caring, healing and hope. That is what the Sedona Soul deserves.
Barbara Mayer is an InterFaith/Interspiritual minister, teacher and author residing in Sedona, Arizona.