Sedona AZ (March 14, 2020) – The Sedona Renegades Artist Group is once again offering a dazzling Spring Art Show!  Representing a wide range of artistic backgrounds, this select group of local artists exhibits superb ceramic sculptures, oil, encaustic and watercolor paintings, wood art, fine art photography, textile art and weavings, jewelry, and decorated gourds.  And every sale will benefit the Verde Valley Caregivers Coalition, an award-winning charity that assists older adults in maintaining their independence and quality of life!
The exhibit will be in the Special Exhibition Gallery at the Sedona Arts Center.  It opens Saturday, March 21 at 10:00 AM and continues daily 10:00 AM to 5:00 PM through March 26, 2020. Everyone is cordially invited!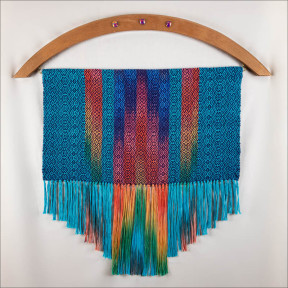 The Sedona Renegades bring a remarkable diversity of life experiences and backgrounds to their artistic endeavors.  Wendy Bialek, for example, is a master weaver with over four decades of experience fashioning one-of-a-kind works of textile art for use in interior design, plus lavish wearable fabric or woven creations. Her exquisite pieces have graced dozens of homes, public spaces, and exhibits across the United States.  "Hand woven products create a singular possibility for adding color, texture, and pattern to any residential or commercial setting," she says.
Betty Dion's ever-evolving painting style creates a lively pageant of colorful and inventive works depicting elements of the Southwest.  In harmony with her exuberance for life and adventure, she delights in combining the freshness of energetic brush strokes with the geometric complexities of light and shadow.  Using painterly styles of wet-on-wet watercolors, fresh acrylics, or blended pastels, Betty conveys a unique interpretation of life. She is inspired by visions of the American Southwest, the luminous landscapes of the Saguaros, and the magic of Sedona.  She is a member of Arts Morin Heights, the founder of the Sedona Plein Air Network, and a member of the Sedona Arts Center and the Federation of Canadian Artists.
Judy Feldman is known primarily as a black and white photographer.  However, after decades of working in the darkroom and with the digital images, she discovered that jewelry art using glass beads works much like pixels.  She now creates abstracts, repeating patterns, and complex designs in glass using a loom and a color palette notably different from a camera's. Multiple styles of weaving allow her to create many distinctive visuals and textures.  Her beads are mostly of Japanese or Czech glass, with a few from other countries occasionally included. Some of her more elaborate creations have as many as 3500 beads.
Carol Gandolfo is a painter, a photographer, and a Clinical Psychologist.  After a very successful career in the defense industry, she now operates a busy practice helping the developmentally disabled.  She also volunteers extensively and is the President of The Verde Valley Coalition Against Human Trafficking. Her abiding interest in people and animals (especially cats) has considerable influence on her art, helping her capture fleeting moments that reveal her subjects' inner moods in her striking portraits.
Rick Gandolfo is one of those artists who reminds us that those who create are generally ahead of their time.  The bold colors and brushstrokes of his paintings allow him to reflect deep, personal, and emotional responses to his surroundings.  Thus, his viewers discover new ways to look at the world on both a conscious and unconscious level.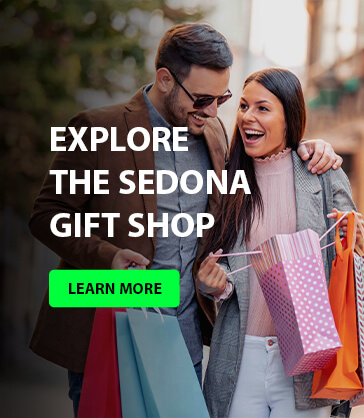 Cindi Horste has explored the Fine Arts widely, with an emphasis on clay, jewelry, and woodworking.  Her work often reflects tribal stories and rock art. She uses a variety of methods to achieve deep textures in each piece, combining metal oxides, alcohol inks, and aniline dyes for coloring clay and wood surfaces and applying a "repousse" technique to emboss metals.  She is now experimenting with what she calls "Tesla Spark Art", applying a 2,000 volt electric charge to create unique burn patterns that she then embellishes with stones, Japanese paper, crystals, beads and hand carved clay stamps. The lure of red rock country and its intrinsic life textures and native cultures inspires her artistic heart.
Karen O'Donnell received college training in art but then moved to a long career in the insurance industry.  Relatively new to Sedona, she embraces a wide variety of subject matter for her paintings, from beautiful sweeping landscapes and architecture to human and animal portraiture. All are unique and stamped with her own imaginative style.
John Warren Oakes' elegant paintings been exhibited nationally and internationally.  He earned an MFA from the University of Iowa and a CAA from Harvard University. While living in Glastonbury, England in 2008, he began creating captivating encaustics, a painting technique using bee's wax and pigment. A retired Art professor, he is the author of Art Sources for Picasso's Work, Minimal Aperture Photography, Action Amiga: Computer Graphics, Animation and Video Production Guide, All I Know About Painting, and Meditations on the Holy Cross. He is listed in Sedona's Best Artists by Louise Sheldon MacDonald and Sedona Verde Valley Art: A History from Red Rocks to Plein-Air by Lili DeBarbieri.
Award winning photographer Jim Peterson is inspired by the stunning landscapes of the Southwest, where he grew up and first snapped a shutter.  He earned a B.A. in Music and a PhD in Biochemistry from the University of Chicago, and then went on to a long and successful career in the tech industry.  After retirement, he reenergized his longstanding passion for photography, and has more recently explored new expressive dimensions by embracing infrared photography.  His highly original works have received numerous awards and honors in juried shows and international competitions and have been acquired by collectors worldwide.
Pat Priolo comes from a long and rewarding career as a social worker and social services manager. She is still in the business of making the lives of people better, now achieving that as a masterful gourd and jewelry artist.  She often incorporates Southwestern and Native American themes into her works, always with an intense and energizing inventiveness guaranteeing that no two pieces will ever be alike.
Beverly Kievman Copen is an entrepreneur, author, and award-winning photographer with more than 45 years of experience in marketing, sales, writing and consulting.  She has published four photography books, and was awarded the 2011 Grand Prize by Arizona Highways magazine for her image Sunset of The Century. She has had several exhibits at the Herberger Theater Center Art Gallery in Phoenix, as well as many galleries in Sedona and beyond.
Visit the show in the Special Exhibition Gallery on the lower level of the Sedona Arts Center, 15 Art Barn Road, Sedona AZ 86336.  For additional information, contact Jim Peterson at 928-554-4340 or jdp3az@yahoo.com .