Sedona Lit is a series by Dr. Elizabeth Oakes, an award winning poet and former Shakespeare professor. A Sedonian of three years, she will highlight the literature, written or performed, of Sedona, past and present.
By Elizabeth Oakes
(April 4, 2016)
Shortly after I wrote about Dorothea Tanning in my second column, Randall D. Reynolds contacted me. He is the author of a book on Jack and Helen Frye, who were close friends with Max Ernst and Tanning in their Sedona years. Randall's book about the Fryes and the website he maintains are important historical documents in their own right. However, in his research he ran across information about Ernst and Tanning that he generously shared with me, with permission to pass it on.
Randall's interest in the Fryes came from volunteering in the Red Rock State Park Visitor Center in 2003 and 2008. Jack Frye, a pioneer in aviation, founded TWA and was on a level with presidents and movie stars. He was equal to Howard Hughes, though not as eccentric. Helen was a glamorous, larger-than-life woman who thrived on adventure.
Since then, Randall has contacted any Frye associate he could find, a by-product of which is some first-hand information about Ernst and Tanning. For example, the son of the Fryes' housekeeper and chauffeur at their mansion in Washington, D. C, recalled that as a small child he visited the Frye ranch many times in the summers of the late 40s and early 50s with his parents. Dorothea, who was often there, would babysit him, he said, and she was "the most beautiful babysitter I ever had." He added, "I never forgot."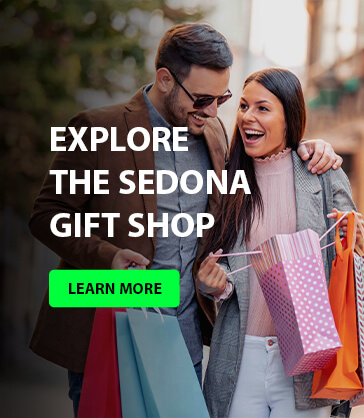 Randall certainly revised my idea of Sedona during Ernst's and Tanning's time here. In her two memoirs, Tanning recounts the famous friends who visited them in Sedona and the locals with whom they interacted. However, she says little about the rich and high-living Fryes and their social circle, with whom she and Ernst spent much time.
Randall also alerted me to a lithograph, "Hommage à Max Ernst," which Dorothea did in 1976 after Max died. Here is Randall's interpretation:
"The elephant is Max, the two nudes are Dorothea and Helen, the twin engine plane is Jack arriving at the Sedona ranch. Helen is waving. Helen, Jack, and Dorothea were all naturists, a practice which generated much gossip locally. I say, good for them being such free spirits – and to hell with the locals!"
Sometimes a little information about an artist's life, perhaps especially a Surrealist, makes a big difference in the interpretation of a work!
I
f we think Sedona is full of colorful characters now, well, we have no idea! I heartily recommend Randall's book and his website. The Fryes would be good subjects for a film!
Randall is a memoirist, biographer, and historian whose book about the Fryes and the Camelot Years of TWA is available on Amazon. His website is www.sedonalegendhelenfrye.com.