Sedona Lit is a series by Dr. Elizabeth Oakes, an award winning poet and former Shakespeare professor. A Sedonian of three years, she will highlight the literature, written or performed, of Sedona, past and present.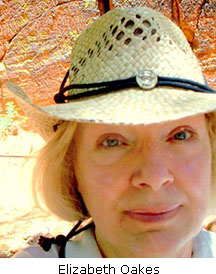 By Elizabeth Oakes
(February 1, 2016)
It's hard to write about Mary Heyborne. She's a poet, a potter, and a playwright, and an award winner in all three, so there's a lot to say. Moreover, she makes it hard to pick only a few poems. As I read again through her four books, I wanted to include every poem. Since I couldn't, I urge you to run, not walk, to the Sedona Arts Center where you'll find Who'll Pick the Morning Rose, Words and Other Lovers, Ephemerons, and her most recent one, Connections.
When I was looking through these four books for this column, I was overwhelmingly struck by her range: she can be spiritual, she can be erudite, she can make you cry, and she can make you laugh, sometimes all in the same poem!
Her full life springs up from the poems. Much is said about poetry of place, of rooting oneself in a particular environment and writing from there. Mary does that, but, more than that, she draws on her experience; she is completely emotionally open. Her poems, if put into chronological order, would comprise an autobiography. She is honest about loss, and she is exuberant about love in all its forms: for Sedona, for art, for writing, for travel, for others. Hers could be said to be a creative life in every way. I believe the last stanza of "No Spectator, I" sums up her philosophy of living:
No spectator, I –
I choose to live
with all my senses
consciously
vulnerably
viscerally
tasting all there is
experiencing newness
making fresh footprints.
Mary moved to Sedona in 1984 with her husband Lester and, like many of us, fell instantly in love, as she paints with words in "Sedona, Early Morning":
On early morning walks
mid red rock sentinels,
responding
to gravity
and expanse,
my form elongates –
beyond the summons of shadow –
feet drawn to the earth
and head to the sky
near aerified.
From infinite silence
with acuity beyond myself
I hear callings of birds,
buzzings of a fly,
as from another age
or the distance of another planet.
The sandstone forms surrounding me
breathe out
breathe in
and murmur.
By the way, I urge you to read her poems aloud, as the music of the language and word choice can't really be experienced silently.
Mary responds to art in the same way she lives – full blast. She does more than respond: she incorporates it into her life. On Bernini's "The Rape of Persephone," she begins, "That September when I saw Bernini's / stone Persephone in the ravisher's grasp, . . / my sensibilities were ripped from their roots / and flung into chaos." Later, back in Sedona and in her own life, she merges with Persephone in her sadness when she recalls that at the base of the statue there was a
warning of the shortness of life –
barely noticed then, but remembered now
along with sweet fields of narcissuses,
the forbidden taste of pomegranate,
and her tears – Persephone's marble tears.
In addition to viewing art all over the world and supporting the arts in Sedona, Mary says, "I have had clay under my fingernails ever since I saw a pot being thrown for the first time." She spends "satisfying hours" in her pot shop and competes in professional shows. When she and her husband lived in Quebec, Mary taught ceramics to French-speaking adults and represented the province in Montreal at the "Man and His World" event with her pottery.
Inevitably, given Mary's instinct to combine all her passions, she verbalizes what she expresses visually, as in "Mnemosyne Pot," a photo of which is on the cover of Ephemerons:
The muses,
daughters of Mnemosyne,
run barefoot through my brain
then are captured
in a hollow
sphere of clay.
Nine sisters,
representing all the arts,
consort and commune –
inflate the air inside
to near explosion.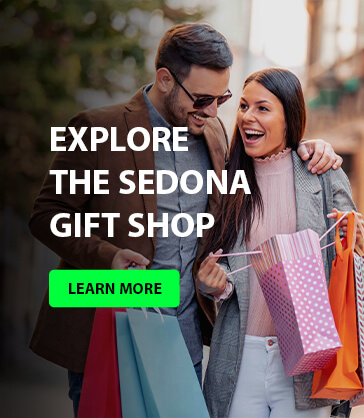 My fingers grant a slow escape –
make openings for each.
Each muse,
though stirred by this commingling,
emits her essence purely – and with joy.
Mary wrote poetry as a child; when she was going through her mother's mementos, she says, she was "struck" to find that her cards to her had been poems since the first grade. She was an early playwright, too: "I have loved theater since childhood, when I conscripted neighbor children to take part in plays at neighborhood venues—under my direction, of course. I went on to write and perform in plays in high school, college and—later—in community theater." In the past several years she has had her own short plays presented in Scottsdale, Mesa and at Sedona's Pumphouse Poetry and Prose Project and has traveled to New York to see the best on Broadway and off-Broadway.
Mary has given much to Sedona with her poetry, her art, her plays, and, actually, her very presence. However, it does not stop there. One of her major accomplishments was Poets Corner at the Sedona Arts Center, until recently the only venue in Sedona where one could regularly hear poets and writers read their own work.. As she tells it, "I had been a longtime member and volunteer at Sedona Arts Center, running up and down the steps through their outdoor sculpture garden thousands of times when one day, in 2006, I had an epiphany: 'This has to be a Poets Corner.'" And she made it happen! When my husband and I began to spend Christmases and summers in Sedona in 2008, it was one of the highlights, and it still is!
Just for such endeavors the Pumphouse Poetry and Prose Project awarded her its first Christopher Lane award in 2012. As a member of the board, I can say that her name immediately came to everyone's mind, even mine, although at the time I had lived full time in Sedona only a few months.
Despite her range of interests and talents, poetry, she says, is her "first love. It has followed me all my life and continues to allow me to express myself about its wonders." I have alluded to Mary's range in this column, and I will close with three poems. The first is "At the Great Wall," about taking her late husband's ashes to China. After describing finding a place away from the crowds and removing the lid, she eulogizes:
The ashes barely flew.
An updraft from the chasm
brought them back,
covering me in gentleness
and love.
With coated glasses
I saw the wall through his eyes –
for him, as intended.
I knew the sifted ashes on my shirt
were from his arms.
I knew –
I felt his arms around me.
And now, in another vein, since Valentine's Day is coming up, Mary's poem "To Mine Valentine":
Oh, how I love thee,
Valentine –
thy noble form and face.
Thine angel voice
bestirs my heart –
thy touch, my nether place.
My love for thee
doth circumscribe
thine all, with all thy quirks.
Forsooth, I love thee
as thou art –
but
don't
get
any
worse!
In another poem, "How Long Is Too Long To Be Alone," she mixes the tragic and the comic, much like the masks of tragedy and comedy in her beloved theater:
Too long has my bed been half full –
too long my hours erratic –
I stand by the sink to eat my meals –
alone, I've become autocratic.
How long is too long to be alone?
How long? – is a question I posit.
Just when I acknowledge there's room in my bed
I find there's no room in my closet.
Mary's four books can be found on bookshelves and nightstands around the world, but you can find them as easily as going to the Sedona Arts Center. In this coming year, I'm sure, she will be reading her poems and having her plays produced and showing her pottery, and I'll be there, as will many others.