Sedona AZ (November 3, 2013) – "Everyone who visits Sedona takes home memories of the beautiful red rocks," states Cottonwood polymer clay jewelry and ornament artist, Anita Brandon, who is both designer and owner of MelodyODesigns. Being surrounded by this natural beauty has inspired her to add a new faux red rock and turquoise Sedona/Arizona themed collection to her line. Anita adds, "I even include a little bit of magical Sedona red rock dirt in the designs." This enables visitors to literally take a tiny piece of Sedona back home with them.
Headlining the ornament portion of her Sedona/Arizona Collection is a charming Native American/Mexican angel. She has a heavenly smile, golden wings and halo, and is wearing in a turquoise fringed serape decorated with tiny hearts and flowers.
Also included in the ornament portion are a Kokopelli, a saguaro cactus decorated for Christmas, a smiling angel cat, and miniature discs that feature tiny colorful raised appliques of iconic Arizona images. Many are decorated with vibrant geometric shapes made from polymer clay canes. "Caning is a labor-intensive construction technique where colored rods of clay are laid horizontally forming a complex pattern from which a thin slice is cut allowing the pattern to be seen. It's borrowed from the glassmaking technique used to create millefiori beads."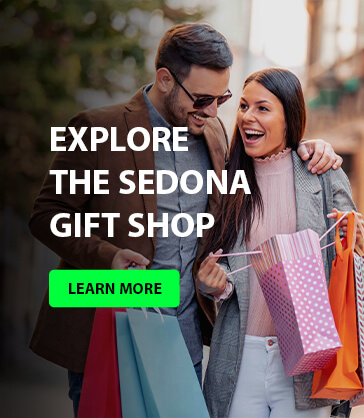 The Sedona/Arizona Collection also includes many jewelry pieces made in a similar faux red rock and turquoise style. Some of the images incorporated into the designs include a saguaro, Kokopelli, prickly pear cactus, roadrunner, black stallion, lizard, wolf, dragonfly, hummingbird and butterfly.
"I'm very proud of my Sedona/Arizona collection," says Anita, "because my heart has belonged to Arizona for a very long time. My husband (composer, Sy Brandon) and I did our graduate studies in Tucson and even though we ended up living in Pennsylvania, we visited the southwest several times a year." Brandon has resided in Cottonwood for four years. Now retired from her career as an oboist and university music professor, Brandon has been a polymer clay artist for fifteen years. Her work has been featured in PolymerCafé magazine and Polymer Clay Daily. In February 2013, she was the featured artist in Britain's Making Jewellery magazine.
MelodyODesigns also offers a wide variety of other colorful original design handmade jewelry and ornaments. In addition to Sedona and Arizona themed pieces, one can also find baseball, softball, cat, butterfly, nature-inspired and faux Bakelite cherry jewelry reproductions for sale at the online shop.