Sedona News – The Sedona Heritage Museum has announced that one of their almost 50,000 historic images of the greater Sedona area has been selected for inclusion on the 2022 Arizona Archives Month poster.
October is Archives Month, and each year, the Archives and Records Management Division of the Arizona State Library, Archives, and Public Records produces a poster highlighting materials from archives around the state.
This year the state chose to look back at the lost buildings and architecture of Arizona through old photographs.
The local Museum's submission was a photo of a 'shack' built by Harry Templeton, a man who claimed "squatter's rights" on a piece of Forest Service land between Sedona and the Village of Oakcreek in the 1930s. While the Museum submitted several photos that featured examples of homes built by local stone masons of Sedona's signature sandstone, the early color photo of Templeton's home and garage built entirely of salvaged and recycled materials was the image chosen.
Templeton worked for Carl Mayhew of the historic Oak Creek Lodge when he arrived in Sedona in the 1920s, and then rancher Otto Hallermund. Not filing for homestead, but obtaining "squatter's rights" on the Forest Service land, local grocer Walter Nelson helped Harry negotiate a long-term lease on the land, good until his death. After Templeton passed away, the structure was demolished. The Templeton Trail is named for the man who built the ramshackle structure featured on the latest state-wide poster.
This is at least the 7th time that a photo from the Sedona Heritage Museum's collection has been selected to appear on an Archives Month poster.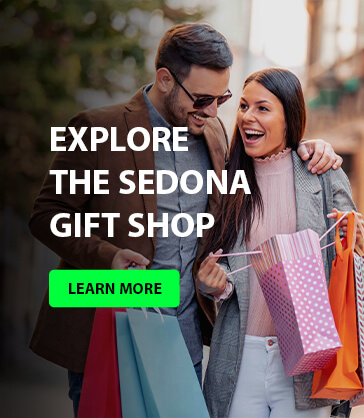 Arizona Archives Month posters are meant to represent the collections of both large and small Arizona repositories. Over a thousand posters will be distributed to state legislators, schools, family history and genealogy groups, museums, archival repositories and government offices throughout the state. Archives Month posters are made possible through generous funding from the Arizona Historical Records Advisory Board.
The Museum is located at 735 Jordan Road in Jordan Historical Park in Uptown Sedona and is open daily 11:00 a.m. to 3:00 p.m. For more information, call 928-282-7038.