Sedona AZ (October 8, 2015) – Most fine artists will happily agree that their relationship to their work is an endless odyssey.  No matter how much they have mastered their craft and no matter how many accolades they have received, there are always new artistic or spiritual directions to explore.
The careers of the two artists featured this month at Sedona Giclée Gallery in West Sedona are excellent cases in point.  Monika Hilleary and Heather Molans can both tell many tales about their long and varied careers, but their respective journeys are clearly still very much in progress.
The artists and their works will be celebrated at the venue's Artist Reception on Saturday, October 10 at 4:00 – 7:00 PM.  The public is cordially invited to attend, chat with the artists, and hear about their recent works and the trajectories of their careers
Monika Hilleary began her career as a very successful commercial photographer, and then moved on to the fine arts by embracing mixed media and photographic manipulation and compositing techniques.  Her works have always expressed a strong rapport with native cultures and their spiritual roots in the Southwestern landscape.
But a life-threatening medical issue, and its ultimate resolution, have given her a much renewed appreciation for the gift of life and for the many gifts from the natural world that so enrich our lives.  In response, she has made several difficult treks to seldom-visited wilderness locations, in search of the intense concentration that enables her to capture the spirit of unspoiled natural settings.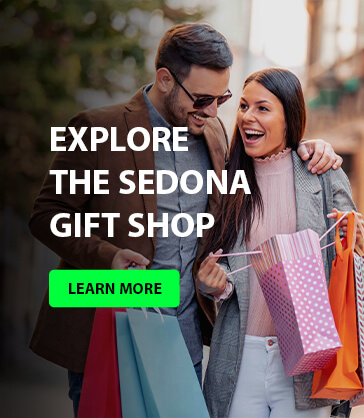 One result of Hilleary's quest that will be on display at Sedona Giclée is "Angel Heart", a light-painted night photograph in which an ancient and elegant juniper tree appears to be clutching its own heart.  This piece is a fine complement to her popular earlier work titled "Ancients".
Heather Molans holds a BA degree in art and had a lifelong career in Florida as a teacher and watercolorist.  After retirement and moving to Sedona, she became attracted to jewelry design and quickly developed techniques and a style that are uniquely hers.  Her jewelry can be seen in stores and galleries in Colorado as well as Arizona.
Molans is also a dedicated community servant, having served as a City of Sedona Arts and Culture Commissioner, a Sedona Art Museum board member, and a member of the Sedona Culture Collaborative.  In addition, she is a signature member of the Miami Watercolor Society and a juried member of the Northern Arizona Watercolor Society.
Molans is the recipient of many awards in both painting and jewelry, and her jewelry has been featured in Sedona Monthly magazine.  As a published artist, her work has appeared in brochures, on billboards, in magazines, and on magazine covers.  At Sedona Giclée, she will be showing a variety of her latest jewelry creations. 
Sedona Giclée Gallery is located at 2055 W. State Route 89A, Suite B, in the Harkins Theater Plaza.  The venue is open Monday through Friday from 11 AM to 6 PM and Saturday from 1 to 5 PM.  For more information, contact Justin or Jodi Whittaker at 928-282-4708 or visit http://www.sedonagicleestudios.com .