Sedona AZ (January 13, 2012) – Sedona's Historic Preservation Commission was tasked with the mission of creating projects or events to commemorate Arizona's Centennial, the day that Arizona celebrates 100 years of statehood.
The Commission thought it would be interesting and meaningful to find Sedona Centenarians, those individuals who, like the state, are celebrating their 100th birthdays. The Centenarians' memories of the growth of Sedona would parallel the developing complexity of the state over the past century.  There would be a need to develop a method of creative expression of a century of individual lives coming together to make a statement unique to Sedona.  Because artists have been such an integral part of Sedona's history, a work of art would be an appropriate outcome for the project.
After months of research, newspaper notices, and phone calls, the Commission was able to identify five Centenarians who were able and willing to participate.  Those five individuals worked to create one painting, "Circle of Life", which recognizes Sedona's Centenarians and succeeds brilliantly in making that unique statement.  Each centenarian participated in this project by adding colorful brush strokes to a white canvas.  Because each participant was celebrating 100 years of life, and because all of their brush strokes were circular, the name for the painting was immediately obvious.  It became "Circle of Life".  Local artist Rachel Lombardi completed the painting by adding five doves representing the lives of the five centenarians whose stories follow.
The painting is on display at Sedona City Hall, 102 Roadrunner Drive in the City Manager's Conference Room.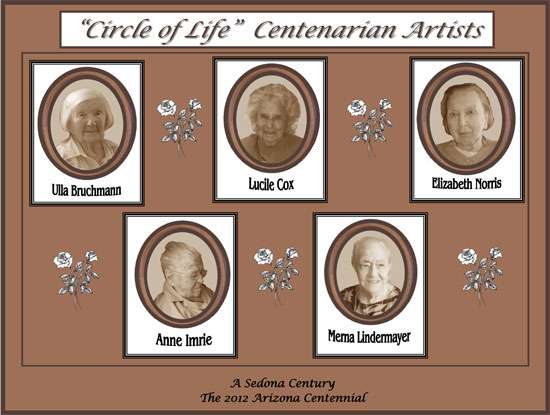 Ulla Bruchman was born on May 9, 1910, in Germany, and moved to Sedona at a young age.  Ulla became an accomplished artist, and was very active at the Sedona Arts Center.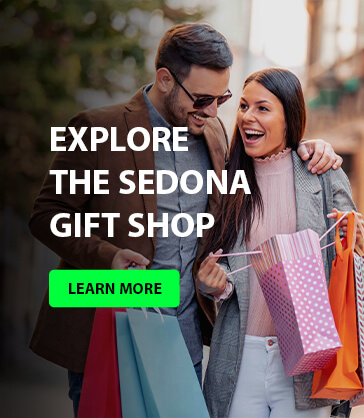 Lucile Cox was born on November 23, 1911, in Oklahoma.  Following her career as a teacher in a one-room school and her husband's career as a trumpet player in big bands, Lucile moved to Sedona in 1967.  Lucile's memories of Sedona include "lots of apple trees," visiting the Jordan family, lunch at Briar Patch, parties at Garland's Lodge, birthday parties at Judy's, and going to the top of the switchbacks to watch the llamas.
Anne Imrie was born on December 15, 1911, in Maryland.  She worked as a bacteriologist, and met her future husband, an orthopedic surgeon, while working at a hospital in New Orleans.  Anne moved to Sedona in 2008 to be with her daughter, though she visited frequently in prior years.  Her love of Sedona was due to, among other things, her fascination with the history and folklore of the area, and her interest in geology.
Merna Lindermayor was born on January 17, 1910, on a farm in Nebraska.  She studied art in New York, became a professional artist and illustrator, and married and artist who became an animator for Disney Studios.  She worked for various advertising agencies, and had her illustrations published in magazines such as Look and Life.  Merna first moved to Sedona temporarily in the mid-1970's, living in a home near Oak Creek, and then settled permanently in West Sedona in 1995.  She has enjoyed her many friendships in her neighborhood.
Elizabeth Norris was born on August 2, 1912, and became a seventh and eighth grade teacher in California.  She moved to Sedona in 1993 to be with her daughter, and always enjoyed the restaurants and library in Sedona.
For more information on Sedona's celebration of the Arizona Centennia,l go to www.SedonaAZ.gov/AZCentennial or contact Kathy Levin at 203-5035 or Klevin@SedonaAZ.gov.