Sedona AZ (May 5, 2013) – The seventh annual Sedona Bluegrass Festival, with headliner David Grisman and his FolkJazz Trio, will include programs designed to broaden the appreciation of bluegrass during the span of June 5-9. "We're pleased to have entered into a partnership with the Sedona International Film Festival that continues to blossom," said Festival Director Bert Harclerode.
"Wednesday, June 5 at 7pm in partnership with SIFF we will present 'Grateful Dawg' that explores the friendship between David Grisman and his musical colleague Jerry Garcia of the Grateful Dead," said Harclerode "You don't have to be a Deadhead to enjoy "Grateful Dawg" said the New York Times. "Sure, it is a tribute to Jerry Garcia, the lead guitarist and embodiment of the Grateful Dead, who died at 53 in 1995; but this documentary film, which sketches his long friendship and fruitful music-making collaboration with the mandolin and banjo player David Grisman, is quite simply a treat for the ear. Made by Mr. Grisman's daughter Gillian Grisman, who calls it 'a homemade patchwork quilt,' the film is an affectionate compilation of home video, old photographs, interviews and unreleased concert film that blessedly emphasizes music. And what a pleasure that music is. From their days as youngsters — they met in 1964 at a folk festival in Pennsylvania — Garcia, originally a banjo aficionado, and Mr. Grisman, whom he nicknamed Dawg, shared a passion for bluegrass. For a time they went their separate ways, and when they met up again after a dozen or so years, they played a lot of bluegrass and traditional music for fun," stated the NYT.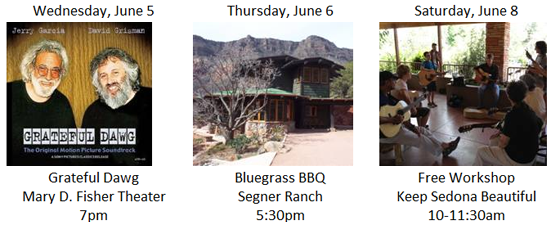 "Grateful Dawg" is built around ten so-called chapters that embrace a dozen songs rendered in their entirety, though broken gracefully at times for illuminating reminiscence and commentary. The songs range from a banjo duet on "Sweet Sunny South" to the folk song "Off to the Sea Once More" to "Jenny Jenkins," a silly children's duet from the Grisman-Garcia album "Not for Kids Only," to the captivating "Dawg's Waltz" and the sophisticated 17-minute "Arabia." "Grateful Dawg" is rated PG-13 (Parents strongly cautioned). It includes grown-up language.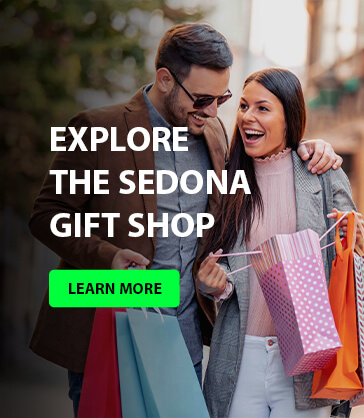 Thursday, June 6 at 5:30pm the annual Bluegrass BBQ will be presented at the Segner Ranch adjacent to the original Thompson Homestead in Munds Canyon, an off shoot of Oak Creek Canyon. Featured are two of Arizona's most celebrated artists, singer/songwriter/guitarist Peter McLaughlin and mandolinist/singer Mark Miracle who as members of the Sonoran Dogs will entertain guests. "This is a wonderful event that gives guests a very close up and personal experience," said Harclerode. The evening includes dinner and beverage along with a 45-minute performance. "The views from the ranch are spectacular, the acoustic is intimate and friends meet new friends. This is the final year for Chef Barron Unger – and promises to be a superlative evening and we will pay tribute."
Saturday from 10am to 11:30am at Keep Sedona Beautiful, McLaughlin and Miracle will hold a free community workshop. "Last year we had nearly fifty participants and we anticipate a big turn out this year. Everyone that attends and signs up will receive a $5-off coupon for both Saturday and Sunday's Festival concert's," said Harclerode. Mark is an official instructor of the Doctor Banjo technique plays mandolin and guitar, and has taught at many workshops including the Sorrento, British Columbia Bluegrass Week. With Sawmill Road he has toured the US & Europe, and won Band of the Year at Huck Finn Jubilee. Peter McLaughlin is a National Flatpicking Guitar Champion and his solo recording, Cliffs of Vermillion, was produced by Laurie Lewis. He has toured and recorded extensively as a member of Laurie Lewis and Grant Street. While an Artist in Residence with the Arizona Commission on the Arts, McLaughlin toured in the United States and Mexico with Flying South. McLaughlin is a frequent instructor at festival workshops, including the Rockygrass Academy and Oregon's Bluegrass at the Beach.
Chamber Music Sedona's 30th Anniversary Season is made possible with underwriting support from Aspey, Watkins & Diesel, P.L.L.C., Attorneys at Law. Additional support comes from The City of Sedona, The Arizona Commission on the Arts with funding from the State of Arizona and the National Endowment for the Arts, the Verde Valley Medical Center, The Margaret T. Morris Foundation and WESTAF.
The Sedona Bluegrass Festival is sponsored by the City of Sedona Arts & Culture Commission and Los Abrigados Resort and Spa. For additional information visit www.SedonaBluegrassFestival.org or call 928.204.2415.