"Coming together is a beginning, staying together is progress, and working together is success."  -Henry Ford
Sedona AZ (November 30, 2016) – On Thursday evening, November 10th, over 80 artists, educators, and arts supporters "packed the house" at the Yavapai College Sedona campus.  At a public forum hosted by the Sedona Culture Collaborative, they began the process of incubating ideas on growing and enhancing arts education in Sedona.
In addition to gathering ideas across the full range of artistic disciplines, the forum also unveiled the results of a second survey conducted by the Collaborative to assess current arts education offerings in the area.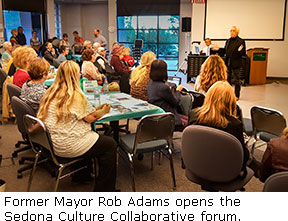 "It was an amazing event," said Rob Adams, President of the Collaborative. "We had top local creators in most art genres working together for a common purpose.  And the ideas they generated will provide the foundation for future program development."
Russell Fox, former conductor of the Verde Valley Sinfonietta, opened the evening with a brief history of the Collaborative and its goals. He then revealed the results of the group's latest survey, outlining "the big picture" of the arts education programs and classes presently available in the Sedona area.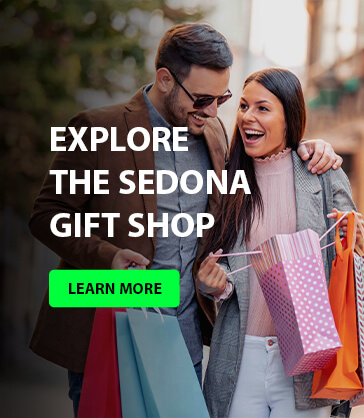 "The scope of arts classes and programs has never before been collated," said Fox. "We need to understand what we have before we can determine where the opportunities exist for growth and enrichment."
Three more speakers followed. James Perey, Dean of the Verde Valley Campus of Yavapai College, Dave Lykins, Superintendent of the Sedona/Oak Creek Unified School District, and Eric Holowacz, Director of the Sedona Arts Center all spoke about their visions for growing and enhancing arts education in their respective sectors.
The audience was then invited to visit twelve breakout tables hosted by well-known artists representing various genres of the arts. The discussions focused on the resources and partnerships needed to achieve the Collaborative's mission, which is to "establish Sedona as an internationally recognized learning community for arts education."
At the conclusion of this discussion, the table hosts summarized the many ideas they collected. The Sedona Chamber Ballet Company then treated the audience to a very well-received children's dance presentation previewing upcoming performances of The Nutcracker.
"The Collaborative has taken a giant leap forward in understanding the scope of what arts education programming currently exists in the Sedona area, and what sort of action plans we need to take to achieve our mission," concluded Adams. "We are now working together towards success."