Sedona AZ (November 24, 2015) – Hillside Sedona's  Movin' On Gallery can always be counted on to introduce the latest and most original works from the region's creative community, and the featured artists for December attest to the success of the venue's efforts.
Painter Carol Starr Stanley and metal sculptor Andre Renard will be exhibiting a robust collection of their recent works, and along with the 18 other artists represented at the gallery, will be hosting Movin' On's First Friday reception at 5-8PM on the evening of December 4.  The public is cordially invited to attend, meet the artists, and learn the stories behind their latest works.
Guest artist Carol Starr Stanley is widely known for her colorful acrylic paintings.  She has also been a very successful Astrologer, with syndicated newspaper and magazine columns and TV and radio shows, as well as the owner of a gift basket business and the author of a best-selling book on succeeding in this type of niche enterprise.
But no matter how busy she was with other endeavors, she has always found time for painting.  Her favored subjects are landscapes and nature, to which she usually adds her unique semi-abstract treatment.  She makes liberal use of bold palette knife strokes when creating her pieces, which adds texture and character to the surface of her canvases.
Stanley has also experimented with oils, watercolors, and pastels, but she settled on acrylics as her preferred medium because of the wide range of colors it affords.  "Color is the vision of the soul," she believes, and her works are very convincing testaments to the power of that idea.
Originally from France, featured artist Andre Renard first made a name for himself as an internationally celebrated master chef.  Specializing in pastries and desserts, he founded an artistic pastry school in Sedona, and also served as a culinary consultant on several continents and throughout the U.S.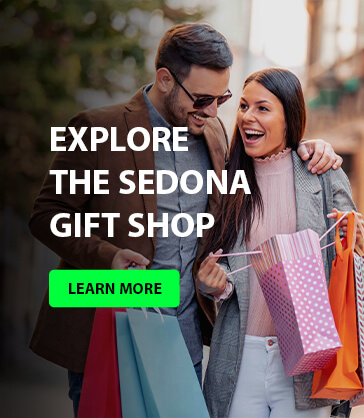 After moving to Arizona, he began to make artistic metal sculptures, initially just for friends who were chefs at high end resorts and restaurants.  The popularity of these pieces led him to expand his efforts and exhibit his metal works in galleries and art shows, where they have been warmly received.
Renard works with copper, brass, and steel, and creates both two dimensional bas-relief sculptures and whimsical three dimensional pieces.  "For many years, I created artwork with chocolate and sugar, which have a short life," he notes.  "Now I'm happy to be applying my skills in a medium that lasts indefinitely."
Movin' On Gallery is located on the second level of Hillside Sedona Center at 671 State Route 179 (about ½ mile south of the "Y" in Sedona).  It is dedicated to introducing new artists and to showing recent works by some of the best-known artists working in Sedona and the Verde Valley.  
Movin' On currently features  a wide array of resident artists, including: Lorraine Fexas, glass;  Richard Barnwell, iron sculptures; Andre Renard, copper & brass sculptures; Pat Priolo, gourds & jewelry; Sharon Hall, clay sculptures; Luke Metz, pottery; Mary Ratner, photography; Jodie Ball, oils; Patty Miller, pastels and mixed media; Harriet McInnis, oils; Helen McLuckie, oil pastels; Terry Davis, wood carving; David Soto, recycled material sculptures; Teree Settembrino, wind chimes; Rick Gandolofo, acrylics; Carol Gandlofo, photography; Jim Peterson, photography; Sandee Kinnen, fused Glass; and Karen Reed, mixed media and metal collages.
The gallery is open from 10:00 AM until 6:00 PM daily.  For more information, call (928) 282-8143 or visit www.MovinOnGallery.com  .