By Mark TenBroek
Sedona, Arizona – The major draw to Sedona for residents and visitors alike are the Red Rocks and the many trails that provide an up close look to the wonderful formations.  Unfortunately, there are times in the Spring and Fall when so many people visit the area that these trails can become overwhelmed and you can see the degradation on the trails and trailheads as well as roadways that are over capacity.  Not a good experience for visitors or residents as shown in the photo.
While some may not like the single lane SR-179 that extends from I-17 to the Y, those of us that can remember what it was like before this was built can recall the unorganized random roadside parking, social trails, and overuse that took place before this scenic byway was built.  The US Forest Service (USFS) was wise to construct limited parking for Bell Rock, Little Horse, and the Yavapai Vista Point to manage the number of hikers that could access the trails from these trailheads.  Since the rest of the roadway was listed as no parking, had curbs and bikeways, there were no other locations for hikers to start from.
North of USFS land in Sedona things got more complicated with an existing trailhead for Cathedral Rock on the Back O'Beyond Road, Mystic Trail in the Chapel area, Broken Arrow at the end of Morgan Road and Soldiers Pass.  These neighborhoods and their roads became places where visitors would flout the no parking rules and park illegally.  So this turned into a problem that the City of Sedona needed to manage.
Over the past year, Sedona has managed the Back O'Beyond problem by building a parking lot on SR-179 and deployed Trailhead Transit along with Traffic Control Assistants (TCAs) to manage traffic in the area and move hikers to the Cathedral Rock trailhead during peak times.  No parking is also enforced on Morgan Road and in the Chapel area.  Now the City is considering providing an automated gate at Back O'Beyond to help manage entry to the trailhead.
Another Approach for Cathedral Rock
What if there was another better approach to the trailheads in Sedona?  Lars Romig of the Sedona Fire District and a member of the Verde Valley Cyclists Coalition recognized the limited access for rescue operations via the Cathedral Rock trailhead and proposed another way.  They understood that just south of Back O'Beyond is USFS land on the Cathedral Vista Mesa that extends all the way to the existing trailhead on Back O'Beyond.  This provides an opportunity to build a new Cathedral Rock trailhead that could be accessed directly off SR-179 and a set of new overlook trails for Cathedral Rock that could better manage both the visitors wanting to climb Cathedral and those less athletic who simply want a better view from level trails.
This would provide a new Cathedral Rock trailhead accessed only from a new roadway connected to SR-179 and would eliminate the existing trailhead and parking on Back O'Beyond. This concept is shown in the figure to the right would include construction of additional trails along the Cathedral Vista Mesa for better viewing opportunities for hikers.  The access on SR-179 would be directly across from the Little Horse Trailhead parking lot.
This approach would allow better transit access to the new trailhead for Cathedral Rock and would better manage overall traffic to this area while moving hikers out of Sedona residential areas that cause safety problems. This would also contribute to enhancing the overall experience of the scenic corridor by better dispersion of users and removing conflicts between hikers and City TCAs from roadways.
Lars Romig also noted that "These congestion and parking problems degrade the resident and visitor experience while showing no regard to jurisdictional boundaries. The ideal solutions also span these boundaries. Sedona residents should urge the City of Sedona, Yavapai County and the Coconino National Forest Red Rock Ranger District to prioritize this solution to better manage parking and user traffic. In the meantime, our sensitive landscape suffers further Environmental, Archeological and Visual Damage."
Dry Creek Road Improvements
When one drives Dry Creek Road West of Sedona on busy days there is a stark contrast with the current SR-179 Scenic Byway.  Dry Creek Road has no parking limits North of the Sedona City Limits and you can often see bumper to bumper roadside parking that significantly exceeds the capacity of the USFS parking at the established trailheads.  This random parking and social trails has caused degradation of the area in general and also impacts the many archeological and historic sites in the area.  This dispersed parking and hiking also makes the area more difficult to find injured or in trouble hikers as they start from many different areas, delaying rescues.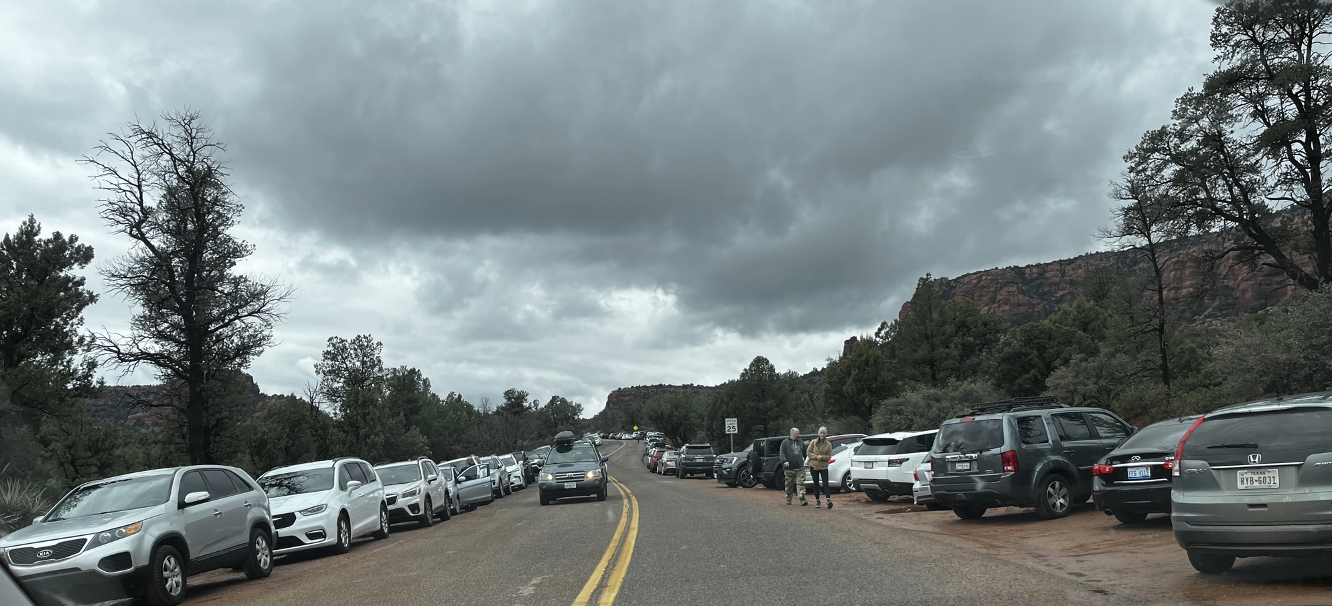 The photo  is another example of this parking overload taken over the Christmas Holiday on Boynton Pass Road, a time that sees far lower pressure than in the Spring and Fall peak periods.
The roadside parking also causes problems with conflicts between the auto traffic in the area and hikers walking in the roadway to the trailheads that will inevitably result in injury or death to these hikers.
Some would say that even if no parking was posted in this area, there would still be those that would park along the roadway since visitors would gladly pay the parking fines for a good parking location.  To respond to that concern one only needs to look at Boynton Canyon Road near the Boynton Canyon Trailhead that is posted No Parking.  This photo shows that at the same time as these other photos, there was no parking taking place on this section of the roadway.
This No Parking approach could be used to eliminate or at least control roadside parking along the entire length of this roadway system from SR-89A to the Doe Mountain trailhead.  Existing USFS trailhead parking lots could remain open at all times to allow the appropriate numbers of hikers on the trails.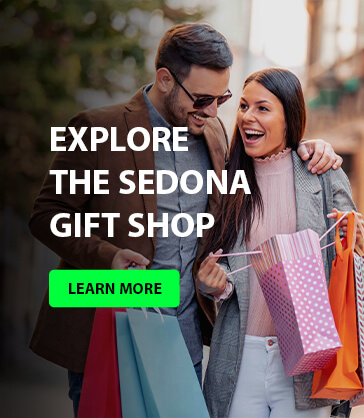 The areas recommended for No Parking is shown in the diagram below.  It is understood that the City and Yavapai County are already evaluating the use of different methods to prevent parking along these roadway segments up to Boynton Pass Road.  It is recommended that this No Parking approach be provided all the way to Doe Mountain in a single phase to prevent continued problem parking along Boynton Pass Road.
To encourage the access to these areas by other than cars, it would also be recommended that the shoulders of these roadways be extended to provide completely separated bikeways on either side of the roadway all the way to Doe Mountain.
This would significantly extend the bikeable pathways outside of the City and would encourage visitors to use their bikes and ebikes to explore these areas without the use of cars.  Providing adequate separation for these bikeways and the roadway would also discourage the illegal parking in this area.
Why These Changes are Important to Sedona
The Cathedral Rock and Dry Creek upgrades described are outside of the City of Sedona.  So why are these changes important to the residents of Sedona?
It is important to remember that while these areas are outside the City, the people that are using these trails are probably staying in Sedona, buying food and other things in Sedona, and most importantly are driving their cars in Sedona.  During peak visitation periods the current Cathedral Rock trailhead requires the City to run a Trailhead Shuttle year round to limit traffic to the Back O'Beyond neighborhood.
If a new trail access was built, the use of the Trailhead Shuttle could be adjusted to peak periods only.  No TCAs would be needed at SR-179.  And safety for hikers would be improved.
If the No Parking improvements on Dry Creek Road were built, there would be a significant reduction in excess parking during peak visitation periods in this area.  This would limit how many visitors could come to Sedona during peak visitation periods, acting like a reservation system.  This would help reduce traffic in town during peak periods and should convince some that visit to come during less busy times.
How to Make these Improvements a Reality
The biggest challenges to making these two changes are the fact that these areas are outside Sedona.  Both Yavapai County and the USFS need to be convinced that these changes are needed and that they need to support their construction.
For the USFS, it needs to be understood that a NEPA study may be needed for both areas and that this will take time.  For Yavapai County, while they may support these changes, they likely do not have the funding to support these improvements or provide the enforcement that comes with No Parking requirements.
The community that has the most to gain from these changes is Sedona.  These improvements are precisely the reason Sedona collects sales and bed taxes from businesses in Sedona so that the City can mitigate the damage that is caused by peak visitation by using these funds for making these changes.
So everyone in the community needs to work to convince the USFS that these are projects they should support.  And everyone needs to work to convince Yavapai county that these will also work to benefit the County that also is impacted by the overuse of these trail systems.  And finally, the City Council needs to support these changes and provide funding to make it happen.
Thanks to Lars Romig and the Verde Valley Cyclists Coalition for the concept and layout for the new Cathedral Rock Trailhead access off SR-179 as well as the ideas for improving the Dry Creek Road with reduced parking and bicycle access.
Editor's Note:
Mark is a retired Professional Civil Engineer who graduated from the University of Michigan in 1977 and worked as a consulting and design engineer in the Midwest for over 40 years.  He worked primarily on Water and Wastewater projects for municipalities and utilities.  Mark and his spouse arrived in Sedona in 2017 to design and build a home in Uptown where they now live. He understands Sedona's unique place as both a sacred and spiritual center. Researching how the local economy can be effectively managed to protect our quality of life, the natural world, the tourist experience, and reasonable profits for local businesses, has become his passion.