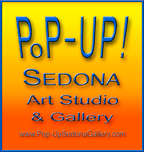 Sedona AZ (October 27, 2013) – For an artist, finding a distinctive "voice" – a recognizable style or look – is the key to becoming recognized as established and collectible.  Hillside's Pop Up Sedona Gallery in November features two prominent examples in highly divergent mediums – artists whose sophistication and proficiency are unmistakable and whose stature is solid and enduring.
Marian Ward is nationally known as a preeminent fine art jeweler, working in precious metals and gemstones.  Photographer Carol Gandolfo, meanwhile, first gained renown when one of her images turned into one of the best-selling posters in history.
Both artists will be showing a selection of their newest works at Pop Up Gallery during November, and both will be on hand at the venue's First Friday Reception, 5-8 PM on November first.  The public is cordially invited to come by, meet the artists, and enjoy refreshments and conversation.
Marian Ward moved to Sedona from New York in 2001. Although jewelry has always been a passion for her, she did not start working on jewelry full time until Sedona's inspiring red rocks surrounded her.  In her work, she uses a range of precious metals – gold, fine silver, sterling, bronze, and copper.  Her designs are intricate, imaginative, and refined.
Ward's precious metal clay pieces have received national awards and recognition from the Precious Metal Clay Guild.  The innovative techniques she has developed have been published in Art Jewelry magazine and adopted by other artists worldwide. 
In addition, she shares her love of her craft by teaching jewelry making throughout Arizona, drawing on her training and long career in education.  Her work is shown in several Arizona galleries and has been acquired by private collectors around the world.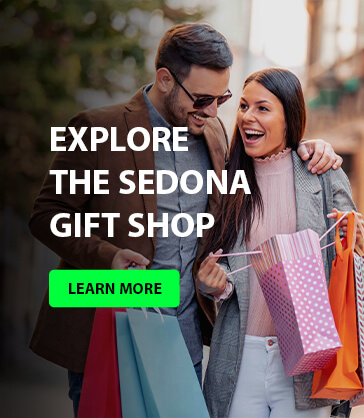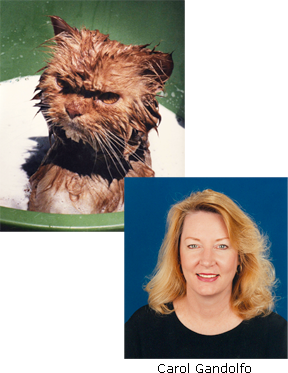 Dr. Carol Gandolfo first became noticed as a photographer in the 1980s when her striking image of her cat Cinnamon was called, by the Los Angeles Times, "the all-time classic shot of a cat's distaste for water".  The image subsequently appeared on the cover of Petersen's Photographic magazine and became a hugely popular poster, selling tens of thousands of copies worldwide.
At the time, however, Gandolfo had relatively little time to pursue her art, being in the midst of a long career in the aerospace industry in Southern California.  She left that career after two decades to work on a PhD in Clinical Psychology, and then, after receiving her degree in 2000, launched a second career helping people with developmental disabilities.
A few years later, she and her husband (and cats) moved to Sedona, where she continues to run a company providing services to the developmentally disabled but also makes sure that she saves plenty of time for the arts.  In addition to photography, she also works with sculpture, pastels, acrylics, and oils.  And although that famous image of Cinnamon continues to be popular (in the form of cards and prints), she has diversified her subject matter to include other animals, children, and a variety of other subjects.
Pop-Up is a co-op of local artists representing a wide variety of visual art.  The venue provides a unique opportunity for art enthusiasts to meet local artists and learn about their art.  Visitors and locals alike flock to Hillside for the gallery's monthly First Friday celebrations.
In addition to showcasing the work of local painters, sculptors, jewelers, photographers, potters, and gourd and glass artists, Pop Up is committed to giving back to the community.  Thus, a portion of all sales helps to support Camp Soaring Eagle or other local charities.
Pop-Up Sedona Gallery is located on the upper courtyard of Hillside Sedona Center, 671 State Route 179 (about ½ mile south of the "Y" in Sedona).  The venue's hours are 10:00 AM until 6:00 PM daily.  For more information, call (928) 282-8143 or visit www.pop-upsedonagallery.com .