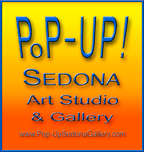 Sedona AZ (April 29, 2014) – During May, Pop Up Sedona Gallery features two fine artists who work in two very different three dimensional mediums.  Luke Metz works in ceramics and Richard Barnwell works in metal arts.
Both of these artists will be present during the Pop Up's First Friday's reception (May 2, 5-8 PM) to show their work and chat with visitors and fans. The public is cordially invited to attend and get to know these two masters.
In the last couple years, Luke Metz has rapidly become known for his increasingly refined and colorful ceramic pieces.  In his first show as an emerging artist at the Sedona Arts Center, in 2012, he won First Place in Pottery/Ceramics.  He has continued winning awards as a professional artist here in Sedona as well as in Colorado at the Contemporary Clay 2014 show in Grand Junction.
By exploring alternative firing techniques such as raku, saggar, and pit-firing, Metz enjoys bringing the unexpected, spontaneous and whimsical to his creations.  Metz is expanding the range of his work by showing a new line of dinnerware for the first time at Pop Up Sedona Gallery; it will be available for purchase and to order.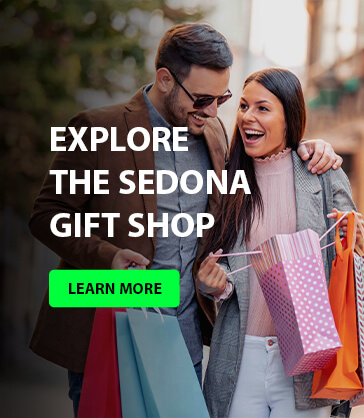 Richard Barnwell was first introduced to the arts through a woodworking class while he was a teenager.  But he soon moved on to the metal shop, and it was there that he found his true passion.
Now, after a thirty year career in print media and broadcasting, he has returned to his artistic roots.  He fashions decorative and functional works of art from metal, wood, granite, and other materials.  His unique sense of line and form are reflected in pieces ranging from small tabletop sculptures and candle holders to large metal gates, tables, chandeliers, and free standing or wall sculptures.
Pop Up Gallery is a co-op of local artists representing a wide variety of visual art.  The venue is also committed to giving back to the community.  Thus, a portion of all sales helps to support Camp Soaring Eagle or other local charities.
Pop Up Sedona Gallery is located on the upper courtyard of Hillside Sedona Center, 671 State Route 179 (about ½ mile south of the "Y" in Sedona).  The venue's hours are 10:00 AM until 6:00 PM daily.  For more information, call (928) 282-8143 or visit www.pop-upsedonagallery.com .