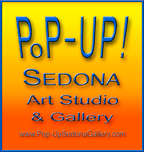 Sedona AZ (December 2, 2013) – On Friday, December 6, Pop Up Sedona Gallery will be highlighting recent works by two of its longstanding artists, Lorraine Fexas and Pat Priolo.  Many other artists will be on hand as well, to meet the public and talk about their work.  The First Friday reception will include wine and refreshment and will take place December 6 from 5-8 p.m.  
The evening will also kick off Pop Up's holiday food drive, which will help the Sedona Community Food Bank ensure that nobody in the Verde Valley goes hungry over the holidays.  Visitors are thus encouraged to bring canned or non-perishable food items for donation, either on First Friday or any other time during the month.
Originally from New York, Lorraine Fexas never tires of creating wonder and beauty in her fused glass pieces.  She is always willing to experiment with new techniques, and generates functional pieces for the home along with fun artwork to decorate offices and personal spaces.
Fexas has exhibited and sold her works in the Sedona Arts Center, in various shows and exhibitions, and in galleries in Sedona, Flagstaff and Jerome.  She has also been featured on the television show "Your Life A to Z", demonstrating her glass cutting and fusing methods.  
In 2006, she was featured in the Artists Invitational during the Sedona Arts Festival and produced one of the 50 sculptures for "Javelinas on Parade," a project on display throughout Sedona.
Born and raised in the San Francisco's Bay Area, Pat Priolo attended Oregon State University.  She remained in Oregon for 7 years working in Child Welfare before returning to the Bay Area.  During a 4 decade career, she held positions ranging from a social worker investigating child abuse to upper management of social service programs.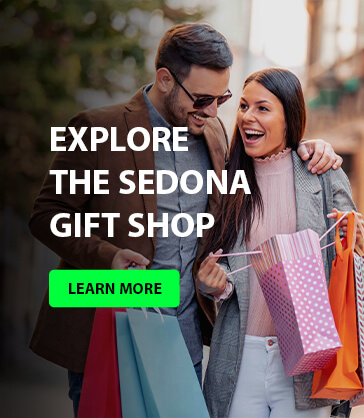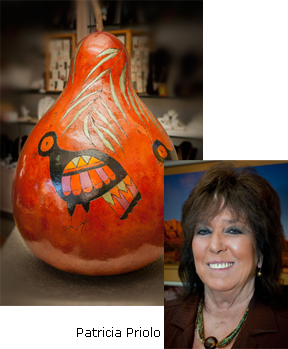 But she was always interested in creative endeavors as well.  From an early age, she was involved in a wide variety of arts and crafts, including drawing, painting, glass sculpture, candle making, crocheting, knitting, and furniture painting.  Even in the midst of her career, she made and sold clothing, quilts, and an assortment of hand crafted, one-of-a-kind teddy bears, to stores and at craft shows in the Bay Area.
After retirement, Priolo left the big city behind and moved to Sedona.  She now makes original jewelry as well as stylish, Southwestern-themed decorated gourds and dream catchers.  Her mastery of paints, dyes, and inks, developed through many years of experimenting in various media, is evident in the flowing designs and entrancing colors of her works.
Pop-Up Gallery is a co-op of local artists representing a wide variety of visual art.  The venue provides a unique opportunity for art enthusiasts to meet local artists and learn about their art.   A wide variety of works suitable for holiday giving are on display, and gift certificates in any amount are also available.
In addition to showcasing the work of local painters, sculptors, jewelers, photographers, potters, gourd, and glass artists, Pop Up is committed to giving back to the community.  Thus, a portion of all sales helps to support Camp Soaring Eagle or other local charities.
Pop-Up! Sedona Gallery is located on the upper courtyard of Hillside Sedona Center, 671 State Route 179 (about ½ mile south of the "Y" in Sedona).  The venue's hours are 10:00 AM until 6:00 PM daily.  For more information, call (928) 282-8143 or visit www.pop-upsedonagallery.com .