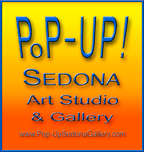 Sedona AZ (February 26, 2014) -On Friday, March 7, Pop Up Sedona Gallery will be highlighting a popular local jeweler and fabric artist, Kelly Patton.  In addition, many of the gallery's other artists will be on hand to meet and greet the public and talk about their work. The First Friday reception will include wine and refreshments and will take place from 5-8 p.m.
Kelly Patton has always had art in the background or foreground of her life.
Her father, an award winning silversmith, taught her to cut stones after college. Many hours a day were spent cutting custom cabochons in her first business as a wholesale turquoise distributor.  Later, she added other precious materials to her inventory, such as malachite, lapis, coral, and ivory.  She produced many pieces of scrimshaw which are in private collections across the United States.  She began importing pearls and opened a fine jewelry store but continued trying different mediums – winning awards for her photography, drawings, and fabric portraits.
Patton's love of brilliant color and movement shows up often in her work; earrings and pendants move as if they are small mobiles. Each piece reveals her love for variety in design and form.
In the past year, she has added original, one-of-kind glass pieces to her jewelry collection. Known for her whimsical and colorful earrings, she is now creating a new collection of glass pendants of both fused and slumped glass.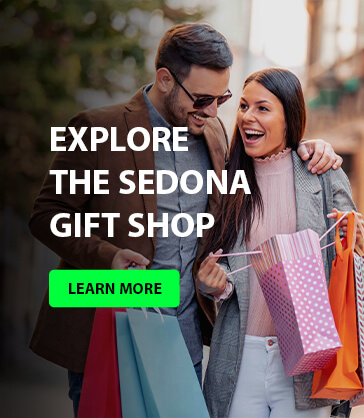 Some of Patton's designs are hard-edged – what she calls her architectural pieces. Others are flowing and soft in form with many of the bright colors she is known for. She is also exploring the softer earth tones and greens inspired by the Four Corners region. Her iridescent glass pieces offer the collector the deep, rich blues, purples, and greens that suggest mystery and shimmer.  
Pop-Up Gallery is a co-op of local artists representing a wide variety of visual art.  The gallery provides a unique opportunity for art enthusiasts to meet local artists and learn about their art.  Visitors and locals alike flock to Hillside for the venue's monthly First Friday celebrations. 
Pop Up is also committed to giving back to the community.  Thus, a portion of all sales helps to support Camp Soaring Eagle or other local charities.
Pop-Up! Sedona Gallery is located on the upper courtyard of Hillside Sedona Center, 671 State Route 179 (about ½ mile south of the "Y" in Sedona).  The venue's hours are 10:00 AM until 6:00 PM daily.  For more information, call (928) 282-8143 or visit www.pop-upsedonagallery.com .