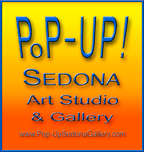 Sedona AZ (September 25, 2014) – Illinois is a long way from Arizona, in more ways than one.  But Pop Up Sedona Gallery's two featured artists for the month of October both have roots in Illinois, and though they have taken vastly different paths, those paths have now converged in Sedona.
The featured artists are painters Wayne Knowles and Helen McLuckie.  They, along with several other Pop Up artists, will be on hand at Pop Up's monthly First Friday reception on October 3, 5-8 PM, to meet the public and discuss their latest works.  Everyone is cordially invited to stop by, enjoy a glass of wine, and chat with the artists.
Wayne Knowles is a contemporary landscape painter who loves to depict mountains, desert vistas, mesas, and wetlands. With delicate strokes and a subtle color palette, he captures the beauty of Sedona and other locales in his paintings.
Originally from Chicago, Knowles attended college in Florida to study architectural design.  After three years of study, however, a road trip convinced him to leave college and turn to creating art.  He settled in Oregon and found inspiration through exploration of national parks and wilderness areas, and he was particularly drawn to the Southwest.
He eventually returned to college and completed a degree in Art at Oregon's Marylhurst University.  He then established himself as a landscape painter, doing much of his work on location.  He also taught art for 14 years at Chemeketa College in Salem, Oregon.  Upon retirement from that career, his love for the Southwest brought him to Sedona, where he now lives full time.  Knowles' works are included in various collections in Salem and elsewhere, and in 2013 he won first place at the Sedona Wine Festival for his painting Wetlands.
Helen McLuckie is also from Illinois, having been raised and educated in Joliet.  She got her artistic start as a carver and sculptor of wood pieces and achieved considerable success in that medium, receiving several "Best of Show" and First Place awards.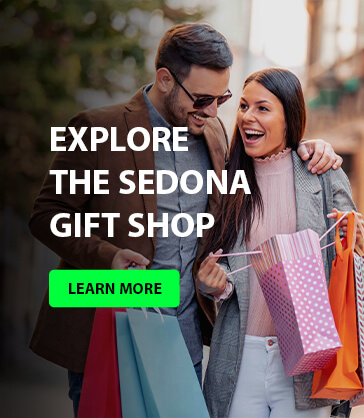 About eight years ago, McLuckie developed an interest in painting.  She studied several different branches of painting under noted teachers in Illinois, and ultimately settled on oil pastels as her medium of choice.  She has enjoyed considerable success in that medium since then, receiving a long list of awards for exhibits and juried shows in Illinois and nationally.  She has also been accepted into an impressive number of galleries in Illinois.
Until recently, McLuckie spent her entire adult life in Illinois.  But after retiring from a career as a medical practice administrator, she and her husband moved to Sedona early this year.  She was drawn here by the climate, the scenery, and the robust community of artists.  She finds Sedona to be the ideal place to paint the subjects she loves, which include landscapes, abstracts, and floral subjects.
Pop Up Sedona Gallery is a co-op of local artists dedicated to offering a wide variety of original artistic styles and mediums.  The venue is also committed to giving back to the community.  Thus, a portion of all sales helps to support Camp Soaring Eagle or other local charities.
Pop Up is located on the upper courtyard of Hillside Sedona Center, 671 State Route 179 (about ½ mile south of the "Y" in Sedona).  The venue's hours are 10:00 AM until 6:00 PM daily.  For more information, call (928) 282-8143 or visit www.pop-upsedonagallery.com .