By [Concerned Sedona Resident]
(June 11, 2021)

This is the fifth and final article in our current Selling Sedona series.  We've looked at criteria for evaluating proposed new "road" solutions, weighed the most commonly-proposed ones against those criteria and examined the fallacy of transit as a solution to Sedona's traffic woes. 
We concluded that none of the "road" proposals are likely to ever be implemented and would be of little benefit individually if they ever were.  Analysis also shows that expanded public transit cannot remove enough cars from our roads to even measure.  Transit seems headed for expansion in some form despite cautionary warnings from several sources and, if done, will likely suffer the same fate as the Roadrunner in the long run.
The notion of a traffic "solution" implies that the problem is solved and disappears.  The simple answer to Sedona traffic is that there are no actual solutions among the traditional roads-and-transit approaches.  Some combination of these proposals could probably make a measurable difference but at a cost of several hundred million dollars. 
There are, however, some actions that can be taken outside those outmoded approaches to lessen tourist traffic.  Some of these actions won't please those who only see Sedona's beauty and attraction as a cash cow or who espouse the fiction that tourists pay some exaggerated amount of our city budget, cost us nothing in return and that we can't survive with fewer of them.
The reality is that tourists actually cost residents plenty.  They not only disrupt our lives in numerous ways but also force us to support a larger and more expensive police department, fire department, sewer system, city management and city maintenance staff.
So, let's look at a few affordable and simple actions that could potentially change tourist traffic and make life for residents better than what we are enduring now. 
Stop paying to be overrun
Virtually everyone in the know, including the mayor, Chamber of Commerce, Sedona city staff, news media and knowledgeable residents has openly admitted that tourists are going to flock to Sedona whether the city pays for advertising or not.  Larger businesses will continue to promote Sedona at a rate higher than what the city has been kicking in.  And so the obvious question:  Why are we still paying the Chamber of Commerce for anything if the tourists are coming anyway?
One answer is that seven years ago, the Chamber of Commerce coerced the City Council into passing an ordinance giving 55 percent of the city's bed taxes to the Chamber.  That would have amounted to $2.4 million this fiscal year.  We could start by simply repealing that ordinance and letting those who benefit directly from the Chamber's activities pay for them. 
True, the city directed the Chamber last February to stop marketing Sedona.  More recent budget discussions have extended that order.  That doesn't mean the city has stopped paying the Chamber, however.  City tax dollars still go to the Chamber for things like operating the uptown visitor center and other "non-promotional" uses.  Even though tourists pay most of the bed taxes, these funds still belong to the city and city residents, regardless of who pays them. 
Chamber staff and most members still oppose a complete halt in public funding, and why not?  Nice staff salaries, expensive trips to conferences and other travel funded directly or indirectly with public money are all powerful incentives to continue. 
Chamber members, and especially their spokesperson who regularly comments on this site, can be expected to contend that without city funding tourism will decline and Sedona will come up short of funds.  These are the same people who, when criticized for the tourist invasion, say their advertising isn't responsible.
Reality is, that city residents were never getting a return on the millions handed over to the Chamber each year anyway.  Rather than detailing that again here please read the first article in our 2016 Selling Sedona series for the documentation.  Find it at: https://sedona.biz//editorial-and-opinion/opinion-selling-sedona-one-year-later/.  Tourists are not going to stop coming regardless of our desire to stifle the flow, but at least we should permanently stop paying millions and losing money in the process for the privilege of being overrun.
Sedona exit sign at Camp Verde

Sedona has two roads leading into town from I-17, but only the Highway 179 exit has a "Sedona Exit" sign.  That is part of the reason for the heavy 179 traffic.  Some of that flow could be spread to Highway 89A.  Only ADOT policy prevents having a "First Sedona Exit" sign on I-17 at Highway 260 leading to Cottonwood and on to Sedona.  Signs are a whole lot cheaper and easier than a new road or bus system.  The risk is that more tourists entering Sedona via 89A may make the backups on Cook's Hill worse.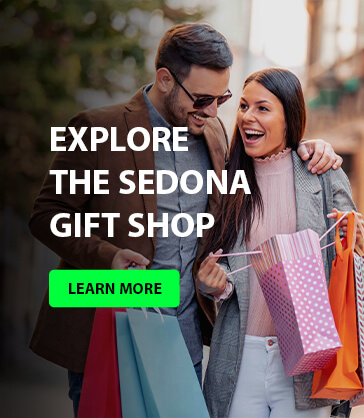 Cool off Social media

The Chamber's claim that their advertising is not responsible for the tourist masses has some actual data to support it.  Informal surveys conducted at the Chamber's uptown visitor center reveal that family, friends and especially social media are the prime information sources bringing visitors to Sedona.  Chamber advertising is virtually never mentioned. 
The city-funded uptown Chamber visitor's center has also grown increasingly obsolete in this social media age.  Most of the tourists that actually stop there have already used social media to identify Sedona's offerings and compiled that  information on their cell phone apps.
What brings those visitors to Sedona could also send them away.  It may already be doing so.  Discouraging reviews about our terrible traffic, overcrowded trails, overpriced services and unavailable parking are showing up on various social media sources with growing frequency.  The golden goose may already be in the oven.
A concerted effort by even a few individuals steadily posting negative stories about Sedona on social media outlets could add to that trend.  No need to fabricate anything.  There are plenty of real stories to tell about Sedona's degradation by tourists.  Imagine a steady stream of reports about overcrowded and overpriced Sedona appearing regularly on Facebook, Instagram, Twitter, Trip Advisor, Snapchat and others.  
Given how most tourists get their information, it could be a simple and cheap way to reduce tourist numbers and their impacts on our overtaxed infrastructure. 
Conclusion
This article concludes our current (Over) Selling Sedona series.  We looked at the five criteria governing the viability of proposed Sedona traffic solutions including ownership of the land, public access to publicly-funded sites, funding, efficacy of the proposed solution and negative considerations. 
In the first of a two-part discussion, we evaluated some of the most commonly-proposed traffic solutions against those five criteria.  Those "solutions" included roads for locals only, bridging Red Rock Crossing, paving Schnebly Hill Road, widening Highway 179, bypassing Uptown and neighborhood connectors.  Finally, we examined public transit as a way to take cars off the road.
We found all of the proposed solutions impractical and/or ineffective.   But there are some actions we can take that, while not "solutions," may help stem the tourist traffic tide.  Now we hope our City Council will act by permanently repealing the Chamber funding ordinance, pressing ADOT for a "Sedona Exit" sign at Camp Verde and lobbying the legislature to modify the short term rental rule.   Finally we hope social media truly is starting to expose the reality of overcrowded and overpriced Sedona and encouraging people to consider other places for their vacation. 
We would now like to again retire from this reporting effort after what is our 14th article about the selling of Sedona.  If you have followed this new series to this point, thank you for caring enough to do so.  We hope you gained some new information and insights that will be useful.
(Over) Selling Sedona: Decision Points
How Do They Measure Up? Part 1 • Part 2
The Fallacy of Transit
Simple Solutions

Selling Sedona – One Year Later: Part 1 • Part 2 • Part 3
Selling Sedona, 2015: Part 1 • Part 2 • Part 3 • Part 4 • Part 5 • Epilogue