Verde Valley AZ (November 6, 2013) – It is common knowledge that the Verde River and its tributaries are critical to the economic and environmental health of our communities. We also know that these valuable, spring-fed water resources are under threat as the Verde Valley continues to grow.
Now, businesses across the area are stepping forward to support the efforts to restore and preserve our water, the Verde River and its natural areas. "One for the Verde" is an innovative program that creates financial resources from thousands of small donations made by customers during common transactions. This concept was borrowed from similar successful programs underway across the country.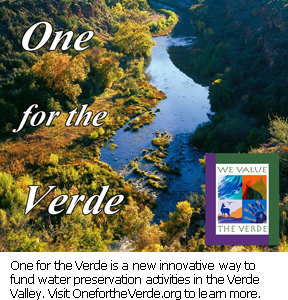 "Before trying the program here, we surveyed the idea all over the Verde Valley," recalled Steve Estes, outreach director for Verde Valley Land Preservation. "Almost without exception, residents and visitors liked this way of supporting water preservation. They were really enthusiastic, so we responded with our local approach that makes it easy for businesses to join."
Here's how "One for the Verde" works. Let's say a person buys a cup of coffee at a local restaurant. The restaurant may add a voluntary 1% donation to the cost of that cup of coffee. So on a $2.00 cup of coffee, the customer is donating just 2 cents help pay for local water preservation projects. That 2-cent donation gets added to hundreds of other similar donations all across the area. Before you know it, there's real money available to help finance local nonprofits working on the Verde River, Oak Creek or other natural areas.
"We love the Verde River and, of course, we support protecting it," said Annie McMahon, owner of the River's Edge shop in Old Town Cottonwood. "We called our shop 'River's Edge' to remind us where we live."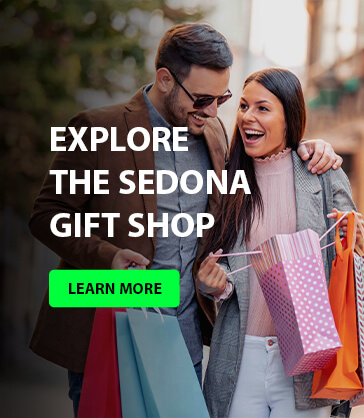 "One for the Verde" has a website (www.OnefortheVerde.org) where businesses can learn how to participate, and residents and visitors can see what businesses support local water resource and environmental preservation. "We've made it easy for businesses to sign up," said John Neville, program coordinator. "They can participate any level they feel their customers would like. Orion Bread Company is making a special bread. Fire Mountain Winery includes a donation with each wine tasting. DeTar Construction adds a voluntary donation to some of their work orders. Whatever works for the businesses and their customers, we can handle."
On the website, people can get an idea of the types of projects their small donations will support. For example, volunteers are working hard to restore natural areas along the Verde River that have been overrun by invasive plants. They need equipment and supplies to do their work, and funds raised through "One for the Verde" could help meet that need. Other projects will include increasing water flows, protecting the water from pollution, nature trail development and maintenance and others.
"We were excited to have this opportunity to get involved in helping preserve the Verde River," said Mike Bower with Design Group Architects. "This watershed is as important to our clients as the views of the red rocks. With "One for the Verde," they have the chance to contribute a small part of their construction budget to protecting the natural environment, and that's good for all of us."
Look for the blue "One for the Verde" sticker in the windows of participating businesses. They also have information cards that explain the program. For more on the "One for the Verde" program, visit www.OnefortheVerde.org.