By Annabel Sclippa
Cottonwood AZ (August 5, 2015) – Come one, come all for a very special evening at North Bend Studio in Old Town Cottonwood on August 8th. The OPEN MIRRORS/BOUNDLESS ART Opening Show is during Old Town Cottonwood's 2nd Saturday Art Walk, August 8th from 6 to 10 pm at North Bend Studio. With 17 artists, food and beverages, there will be much ado about everything.
To celebrate their 1-Year Anniversary, the Studio is featuring their debut artist Annabel Sclippa's "Summertime" Series, plus 16 artists from Eliphante Village as a fundraiser for the local Artists Community.
Eliphante Village
Eliphante was founded by artist Michael Kahn and his partner Leda Livant. They spent 30 years pioneering and creating Eliphante on the shores of Oak Creek in Cornville. This past year Eliphante was finally able, with help from many friends starring caretakers Ryan Matson and Tracy Schinagel, to purchase Eliphante's three acres. Today Eliphante is revitalized with a talented Board of Directors and is continuing to focus on art, ecology, community-minded projects and services, and the needed restoration of the sculptural structures originally created by Michael Kahn.
About the OPEN MIRRORS/BOUNDLESS ART artists
Leda Livant Kahn, born 1925 in NYC, has been creating art all of her life. When she and Michael Kahn connected in 1970 she stepped deeply into it. Leda aided Michael in the creation of Eliphante in Cornville, AZ until Michael's death in 2007. For this show, she will be presenting two abstract pieces: one oil on canvas and the other, mixed media framed under glass.
Roland March has had his sculptures and paintings collected by major corporations across the US, and was the featured artist at North Bend Studio in December, presenting dozens of large canvasses and the biggest sculptures they have carried, including one you might have seen from the road: TESLA. Mr. March is main sponsor of the OPEN MIRRORS/BOUNDLESS ART opening night.
The works of Liz March will be presented. Mrs. March was a long time Arizona artist, who's career started with scholarships to Walt Disney's Graphic Art School and Art Center in LA. Her works are now in private and corporate art collections nationwide.
Annie Alexander is displaying her hand-made art papers; surprisingly ceiling-hung space changers. After practicing graphic design for over 30 years, relishing the process of choosing the papers and winning design awards, Annie began to make handmade paper utilizing materials from her environment, be they repurposed blue jeans, milkweed, iris, bugs and blossoms from her garden. The paper-making process of destruction and resurrection is a constant fascination for the artist.
Stephanie Phelps uses pastels, watercolors, acrylic, ink, fabric, newspaper, magazine, maps and vintage text to, as the artist says, "keep things interesting." Stephanie's career in art began working in galleries as a consultant. In 2014 she curated the 48 hour Art Gallery at Sedona's Gumption Fest. The artist currently lives at Eliphante Village as a Caretaker and is constantly inspired by the vast works of Michael Kahn and Leda Livant. "I hope to one day be as effective in my environment as they were." Stephanie will present two abstract mixed media/acrylic pieces from a series called "I See Flowers."
Alna Laurel was raised in the backwoods of Northern Arizona, home schooled by an artist father (Leeson Mather) and a teacher mother. She received art training from her father, who had attended Art Student's League in New York during the 30's. The Art Spirit by Robert Henri and The Natural Way to Draw by Kimon Nicolaides were the chief resources for her drawing and painting. Eventually modeling clay served for miniature sculptural practice. In 2012, inspired by the works of local sculptor John Waddell, Alna started work in papermache. Her portrait busts will be shown during this event.
Ellen Whitefield Kamerling's professional career as an artist began in Chicago in 1976 with a show of sculptural paintings at the University of Chicago's Center for Continuing Education. Since then she has had countless one person and group exhibitions, co-founded Art Encounter, became a founding member of the Sedona Visual Artists Coalition and Gardens for Humanity, and became Art Encounter's Travel Director, initiating travel to art enclaves in France, Mexico, Canada, Spain, Ireland, England, Brazil, Argentina, Croatia, Vietnam, Germany, Italy, South Africa and Cuba. Ellen explores painting, photography, sculpture and installations in her multi- media artwork. Underpinning all of Ellen's artwork is her desire to communicate about the world in which she travels. She strives to create spaces and places that touch on personal and public issues in contemporary art.
Bonnie Hartenstein has been exhibiting her paintings and mixed media work internationally for 35 years. The artist explained "I think of painting as a dialogue between the artist and her materials: a compositional interaction. I leave space for the energy of the painting to 'tell me' where to go, where to make my mark, when to activate an area, when to be still. The painting leaves me space to offer my experience, and also to exercise control. This to me, is actually the way life works."
Mary Brogna's large acrylic, watercolor and mixed media paintings are expressive abstractions filled with energy and vibrant color. Born and educated in the Boston area, she holds a Masters of Arts degree from Lesley College. She has worked extensively with artists and clients to free the creative process in their work and lives. A professional artist since early twenties, Mary has exhibited and won numerous awards on the East Coast. Her work is about the creative process itself, a personal response to the organic processes in nature and life.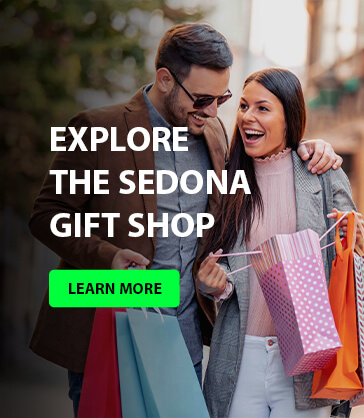 Sally Bree Stryker was born in Jerome, AZ and her roots are found in her metal sculptures created from up-cycled materials. "My creations might be called found art, southwest folk art, or assemblage. I guess I would call them transformed art." The materials that were once used to serve a particular utilitarian purpose and were then discarded, have been transformed into intriguing statements about the human condition.
Oouida Dorr works in all artistic mediums, but currently creates in painting, drawing, photography and glass-on-glass mosaics. She also has, "enjoyed 16 years as an educator. I spent 5 years in Austin working with inner-city Middle School students and now I am in my 11th year here in rural Arizona working with the amazing Mingus students. I love teaching and have devoted my life to it." For the show, Oouida will present photo/glass pictures (a diptych) and a glass 'quilt.'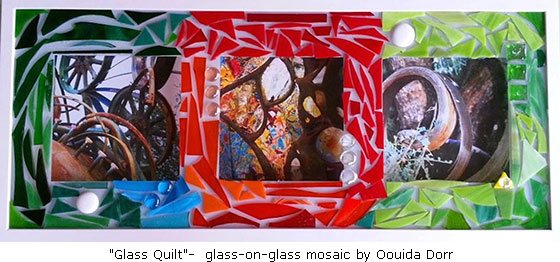 Pam Fullerton thinks of herself as an illustrator, whether it's drawing, painting or taking a photograph. She is the barrel artist on the Verde Valley Wine Barrel Trail for both the Verde Lea and Burning Tree Cellars locations. We are looking forward to what she will present for this show.
Paul Gazda explores the interaction of concepts, ethics, language and symbols in a visually rich and unusual context. Mr. Gazda's art career began with photography and over the years evolved to photo-collage, to a fusion of photo-collage and painting, and finally to mixed media assemblage. Gazda's work has been widely exhibited across the United States and Canada, including solo exhibitions at Arizona's West Valley Museum and New York's Phoenix Gallery. His art has been published in numerous books and magazines, and can be found in museum, corporate and private collections in the United States, Canada and Europe.
Cathy Gazda has been an avid photographer for over 40 years, capturing animals and landscapes to use as reference material for paintings and sculptures. Before obtaining a degree in psychology, she studied at The New School of Art and Ontario College of Art. The artist's bio states, "Creating with various mediums is exciting to me and I will often mix them together in one artwork." Her work has won numerous awards, been featured on book covers and displayed in numerous national shows and museum venues including the internationally renowned Leigh Yawkey Woodson Art Museum's "Birds In Art."
Jessica Laurel Reese has been figure drawing and welding since the year 2000, when she began her art school education at College of Marin in California. She transferred to California College of the Arts in Oakland, CA, and received a BFA in Sculpture in 2006. She continues to create work today, inspired by the human form and the beauty of the world around her, and incorporates these into uniquely metal-framed figure drawings, stitched with hemp and hung.
Tracy Schinagel, one of the primary Eliphante Village caretakers, is a multi-media artist that gathers inspiration from her surroundings. Tracy's most recent creations come in the form of watercolor paintings of the cosmos. This has stemmed from her losing many loved ones in the past few years. She feels at peace while expanding her consciousness through the canvas into the grand beauty and majestic colors of space. Creative in atmosphere concepts as well, she develops events at Eliphante. At this show she will be presenting two of her "Neblousness" series.
With a bio that starts with Scripps College, Ecole de Beaux Arts, University of California at Los Angeles, Institute of Art, San Miguel de Allende, Mexico, includes a professional life as Writer, Artist, Sculptor Painter, Illustrator and tops off with a couple of project leads and publications, we are please to announce artist Theodosia Green. Theodosia will be presenting painted sculptures for this month-long show.
Steve DeVol has an equally impressive resume that starts with Thoroughbred Photography at multiple California Racetracks, one image of which went 'viral,' back then meaning to all of the AP newswire and worldwide. He has since owned his own Photo Shop, become involved on the Sedona Historic Society to help catalogue all of their volumes of photography, and moved into a video career from Sedona to China, then back again, to his current ownership of Sedona.biz. We are excited to see what artistic, photographic, historic or new images, Mr. DeVol will have at the show.
Annabel Sclippa was North Bend Studio's debut artist when they had their Grand Opening in August of 2014. She is returning for their One Year Anniversary to display her newest "Summertime" series of liquid acrylics on watercolor paper. Following her trademark theme of the female figure reflecting her current life experiences, expect to see bikinis and sundresses, tires and wheels, and in excitement of Old Town's upcoming Thunder Valley Rally, perhaps some skulls and crossbones.
Fundraising Celebration
10% of the show's proceeds will go to supporting Eliphante Village, a place for inspiration. From their website eliphante.org, "Guests often say there's no other place like it. Many are filled with a renewed sense of enthusiasm for the natural world and how we can creatively design our buildings artistically within in it." The Verde Valley is fortunate to have such a resource and we our proud to support it.
Also, please mark your calendars ahead, as there will be a Closing Show on August 29th. It's another opportunity to meet the artists, and support Eliphante with a Last Chance to Purchase night. >From 6-9pm enjoy featured ambient performance artist Murray Archimedes' music and poetry.
The OPEN MIRRORS/BOUNDLESS ART Opening Show is during Old Town Cottonwood's 2nd Saturday Art Walk, August 8th from 6 to 10 pm. With 17 artists, food and beverages, there will be much fanfare and we do look forward to seeing you there. North Bend Studio is located across from the Hippie Emporium, on the 89A towards Clarkdale, at 1124 N Main St in Cottonwood.