By Elisa Andreis J.D.
Russ Lyon Sotheby's International Realty.
Sedona AZ (August 4, 2013) – The supply of single family homes in Sedona is getting very tight. As of the end of July, inventory of listed homes was 7.5% lower than the previous month and 25% lower than a year ago. Home Inventory is back at 2004 levels when prices were gaining momentum.
The number of new construction permits issued for single family detached homes in Sedona is at its highest since 2007. Home buyers increasingly opt to build a brand new home instead of buying one that often requires remodeling or if they cannot find the home that is just right for them.
Meanwhile, prices for sold vacant land in July stood at a median of $176,250 compared to $139,250 a year ago, a price increase of 26.5%. Land prices are now where they stood in 2004, before an unprecedented run up that saw median prices nearly triple in three years. This is not to say this scenario is likely to repeat itself any time soon, but the stage is set for a healthier price point for land in the near and medium term.
For vacant lots above 0.25 acres with red rock views in Sedona prices now ranges between $80,000 and $300,000. In addition the cost of borrowing and mortgage rates have declined in the last 2 years, making a compelling case for new construction – see graph below illustrating the number of permits issued by the city (up to June 2013) versus the mortgage rates since 2005 in Sedona.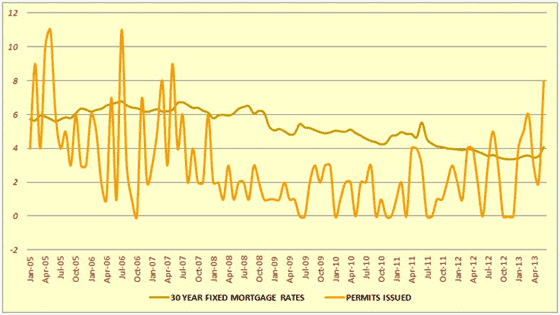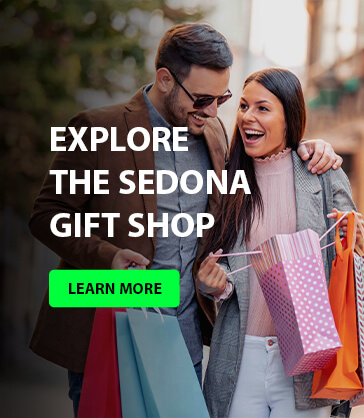 Here is an excellent example of a lot for sale on Soldier's Pass Rd. The lot is listed at $275,000, 0.4 acre with great red rock views, an ideal spot for a custom home.
Lot owners building custom homes and local builders and developers building spec homes are breaking ground all over Sedona. A new community called Rimstone, off of Hwy 89A in West Sedona is under development, and new homes are being built on Whippet Way and Hozoni Dr, a reflection of renewed activity in vacant land sales.
The cost of building new is now beginning to compete with the cost of buying an existing home.
Prices of new homes ranging between $380,000 and $750,000 depending on size and finishes, have an average price per sqft of $260. By comparison, existing homes are listed at an average of $200/sqft. The economic case for building new versus buying an existing home becomes more compelling at the high end of the market as it commands higher prices per square foot.
For more information about Sedona Real Estate and to search for properties, visit www.SedonaFineHome.com or call Elisa Andreis J.D. (928) 274 1521.