Sedona Arts Center and Sedona Culture Collaborative Deliver Innovative Cultural Programming at 2013 Plein Air Festival
Sedona, Arizona – November 4, 2013 – From its inception, the Native American Legacy Series promised a leap from the status quo in its diversity of programming, quality and impact, and according to the Series' inaugural participants, it did not disappoint.
According to a sampling of the post-event participant surveys, 81% rated their experience of the Legacy Series EXCELLENT, and the remaining 19% rated it GOOD.
Hosted by the Sedona Arts Center and co-presented by the Sedona Culture Collaborative (SCC), the Native American Legacy Series took place October 20–26, as part of the 9th Annual Sedona Plein Air Festival. A new dimension of the Festival, the Series aimed to incorporate and honor Native American art and was composed of five innovative, interdisciplinary programs: A Pit Firing Soiree, a Montezuma's Well tribal presentation and live plein air demo, an intimate evening with distinguished Navajo artist Tony Abeyta, a courtyard exhibition and a Festival wrap party hosted by Lanning and Turquoise Tortoise Gallelries.
Native American Legacy Series Highlights
Earth and Fire, the first event of the Series, proved to be a rousing Series highlight. Dr. Edwin L. Wade, former deputy director of the Museum of Northern Arizona, and his wife Carol Haralson opened their home to host a ceramic pit-firing and private tour of their extraordinary collection of historic Native pottery. Guests enjoyed the rare privilege of browsing and examining an impressive array of personal treasures from around the world without the usual barrier of glass or stanchions. Dr. Wade took guests back in time, relaying the traditions of nomadic hunter-gatherer society and the resulting pottery traditions that emerged. Crafted by only a handful of women potters, it is remarkable that pieces of this ceramic artistry have survived to today.
Dr. Wade and wife Carol indulged guests with an unforgettable fine dining experience, creating their own alchemy in the preparation of succulent roasted meats, colorful antipasto platters and a multitude of salads and savories. Friends added offerings to their table and a moving feast of desserts later that evening. Guests engaged in a convivial atmosphere, making new friends and catching up with others.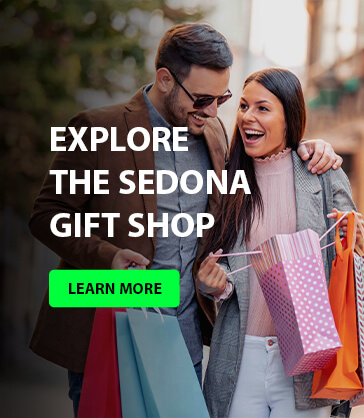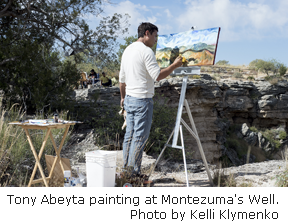 Another notable highlight was "Creation Stories" at Montezuma Well National Monument on October 24, where Yavapai Culture Manager Gertie Smith offered a rare, authentic account of Yavapai history, including heartwarming stories and a gourd song chanted by her brother. Four Native American artists, Williamson Tapia, Shonto Begay, Gretchen Lopez, and Tony Abeyta, painted plein air landscapes before an eager crowd, sharing their personal histories, tribal traditions and techniques for bringing the images to life. "Tony really knows how to move a big brush," commented artist Will Tapia, "Like Shonto, he incorporates aspects of a subject's spirit when he paints."
A collaboration with the Sedona International Film Festival yielded an exciting Evening with Tony Abeyta at the Mary D. Fischer Theatre. New Mexico–born Navajo artist Tony Abeyta moved the audience with an intimate retrospect of his evolution and artistic development. SIFF's Executive Director Patrick Schweiss states "It was an honor to partner with the SCC and SAC to create such an extraordinary evening that enhanced the experience of the Plein Air Festival. Tony's talk crossed artistic mediums and created a truly immersive cultural experience for art lovers of all kinds." Poised to shift the landscape of indigenous art, Abeyta continues to share his passion with Native American students and explore avenues of contemporary painting, collage, drawing, sculpture and jewelry making.
Objectives Met: A Shift in Cultural Programming
The Native American Legacy Series was the first of many collaborative partnerships initiated by the Sedona Culture Collaborative to establish Sedona as an internationally recognized learning community for arts and culture. Relative to the goals set forth by the Collaborative and the Sedona Arts Center, the inaugural project was a success. Says Pam Frazier, Executive Director of the Sedona Arts Center, "I am thrilled with the outcomes of our collaboration. It met all of the goals we had identified: engaging a broader audience, pooling resources to accomplish something significant together that we could not have done on our own and adding educational value by designing immersive experiences for both intellect and spirit. Our audiences loved these experiences and will be looking for more."
The Legacy Series met the three objectives defined by the collaboration:
To increase participation: Surveys showed 57% of the participants attended the Sedona Plein Air Festival for the first time.
To inspire deeper connection to Sedona: The Pit Firing Soiree and Creation Stories program at Montezuma's Well took place on the land and featured experts Ed Wade and Gertie Smith, respectively. Through each, participants gained knowledge and appreciation of the indigenous cultures native to Sedona.
To encourage visitors to return and invite friends: Roughly 40% of the participants hailed from out of town, a marked increase from previous years. This represents a dramatic increase in the Festival's economic impact, as 75% of Legacy participants stayed in Sedona for more than 5 nights and 100% participated in other Sedona activities such as shopping, land tours, air tours, sightseeing, art galleries and museums, hiking/biking and energy work.
The program achieved measurable results in other areas set forth by the Sedona Culture Collaborative, such as deepening the educational value of cultural programming, calling attention to the citywide mission of the Collaborative, and generating revenue for participating organizations. Survey results showed that 75% of participants gained a new understanding of the artistry of Plein Air painting. One hundred percent of those surveyed connected with the vision of the Collaborative, opting to receive information on future SCC events. One participant, inspired by the vision of a new cultural paradigm for Sedona, felt the Collaborative was "the best thing in Sedona in 15 years." Excitement mounts as new windows of culture await.