Sedona AZ (December 29, 2015) – One thing that is obvious to art lovers and critics alike is that the work of the most original and productive artists never stops evolving.  The intense creativity with which these individuals are blessed is incapable of sitting still — it perpetually motivates the artist to explore new techniques, media, and subjects.
To inaugurate the New Year, Hillside Sedona's Movin' On Gallery is featuring new works by two artists who very convincingly embody this model.
Featured artist Dave Soto, a Sedona resident known for his work with recycled and unconventional raw materials, will be showing a remarkable new series of pieces created from sheet metal and using novel techniques he has developed to impart color and textures to this medium.
Meanwhile, guest artist Pat O'Brien, a relatively recent transplant to Surprise, Arizona, will be exhibiting her latest collection of oil paintings inspired by the subjects, textures, and hues of her new, surroundings.
Both artists will be on hand at Movin' On's First Friday reception at 5-8PM on the evening of January 1, 2016.  The public is cordially invited to stop by to meet the artists, hear about the inspirations and techniques behind their latest works, and celebrate the start of a new year of groundbreaking exhibits at the gallery.  Many of the venue's 18 other artists will also be on hand to host the evening and greet the public.
Dave Soto, a retired Firefighter and Fire Station Commander from California who was just appointed to the Board of the Sedona Fire District, is a self-taught artist who has never been constrained by artistic convention.  He has embraced oil painting, metal working, wood carving, and working with recycled materials such as metal rebar, old horse shoes, and used clay roof tiles.
But he hasn't stopped searching for new materials and methods, and his latest innovation is sheet metal art.  Unique to this art form is the manner in which the shapes and textures of his subjects are created. Using various sanding discs and heat, colors are drawn from the metal to compose the subjects, and textured metal surfaces are layered to provide an iridescent, 3-D effect.
"What I find especially appealing about these works is the way they respond as the viewer moves around them," he notes.  "The shimmering textures and colors of the metal surfaces really make the piece come alive."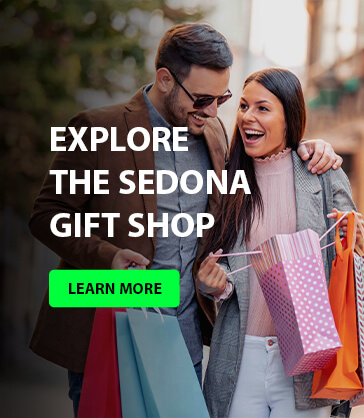 Originally from Cincinnati, Pat O'Brien grew up in an environment rich in cultural and educational resources, and even as a young child aspired to a career in the arts.  She received a Bachelor of Fine Arts degree from the University of Cincinnati, and then a Master of Arts from Miami University in Oxford, Ohio.
For many years, her art was focused on intimate details of scenes and colors in the Midwest – porches, doors, courtyards, and windows – and the mysteries that might be lurking within them.  But since moving to Arizona, she has been exploring the colors and character of Southwestern subjects such as horses and abandoned cars.
"It has been really fun exploring and creating compositions that define the personalities of these beautiful creatures and relics," she says.  "It has been an exciting and challenging journey for a Midwesterner."
Movin' On Gallery is located on the second level of Hillside Sedona Center at 671 State Route 179 (about ½ mile south of the "Y" in Sedona).  It is dedicated to introducing new artists and to showing recent works by some of the best-known artists working in Sedona and the Verde Valley.  
Movin' On currently features  a wide array of resident artists, including: Lorraine Fexas, glass;  Richard Barnwell, iron sculptures; Andre Renard, copper & brass sculptures; Pat Priolo, gourds & jewelry; Sharon Hall, clay sculptures; Luke Metz, pottery; Mary Ratner, photography; Jodie Ball, oils; Patty Miller, pastels and mixed media; Harriet McInnis, oils; Helen McLuckie, oil pastels; Terry Davis, wood carving; David Soto, recycled material sculptures; Teree Settembrino, wind chimes; Rick Gandolofo, acrylics; Carol Gandlofo, photography; Jim Peterson, photography; Sandee Kinnen, fused Glass; and Karen Reed, mixed media and metal collages.
The gallery is open from 10:00 AM until 6:00 PM daily.  For more information, call (928) 282-8143 or visit www.MovinOnGallery.com  .