Sedona AZ (February 28, 2015) – Movin' On Gallery, in Hillside Sedona center, is pleased to announce that Lorraine Fexas and Pat Priolo will be the featured artists for March.  In addition, the venue will exhibit a selection of works by special guest artist Janise Witt during the month.
The public is cordially invited to meet the artists and view their latest creations at the venue's First Friday reception on March 6, 5-8 PM.
Originally from New York, Lorraine Fexas is a longtime Sedona resident who has developed a strong following for her infinitely varied fused glass pieces.  Her work has been shown in many galleries in the region, and she has received commissions for numerous art installations from private collectors nationwide.
Fexas' works include functional plates, bowls, and jewelry items as well as decorative pieces for wall or tabletop display.  They are distinguished by a strong sense of design and by the imaginative use of colors, textures, and sheens, including those imparted by dichroic and iridized glass elements.
Pat Priolo, after experimenting for years with a wide range of artistic mediums, settled on gourd art and jewelry making as her specialties.  She crafts her pieces with a passion that reflects a lifelong love of art and an aesthetic eye springing from her experience with drawing, painting, glass sculpture, candle making, crocheting, knitting, and furniture and clothing design.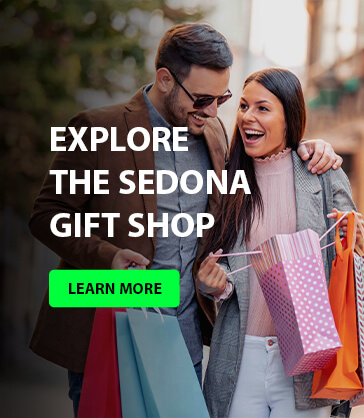 Her pieces have been featured in many shows and galleries around the area and are sought by visitors from around the world.  They often embody the colors and designs of the West, and make use of unique natural materials that ensure that each piece is a one-of-a-kind creation.
Guest artist Janise Witt has long been known as a premiere wedding, portrait, and pet photographer in Sedona.  She also creates exquisite fine art images, many of which reflect her deep spiritual attachment to the Southwest and its cultures and environment.
"My work embraces a rich tapestry of love, joy, beauty, and wonder," she notes.  "Through it, I want to convey the glorious life force which surges through all creation."  A rich collection of her pieces will be on display at Movin' On through March.
Movin' On Gallery is in the space that Pop Up Sedona Gallery formerly occupied, on the second level of Hillside Sedona Center at 671 State Route 179 (about ½ mile south of the "Y" in Sedona).  Although the name is new, the venue's focus has not changed – it remains dedicated to showing the latest works by some of the finest artists working in Sedona and the Verde Valley.
The gallery is open from 10:00 AM until 6:00 PM daily.  For more information, call (928) 282-8143 or visit www.MovinOnGallery.com  .