Sedona AZ (May 30, 2017) -As always, the month of June is bustin' out right on schedule, and this year Hillside Sedona's Movin' On Gallery is celebrating with a June of its own.  Specifically, the stunning wildlife paintings of guest artist June Payne Hart will be featured in the venue during the month.
In addition, Movin' On is proud to introduce its latest resident artist, Hawaiian jeweler Mona Knittle, whose colorful works embody the rich cultural heritage of her childhood.
Hart and Knittle will be on hand to meet the public at the venue's popular First Friday reception, 5-8PM on the evening of June 2, 2017.  Many of the gallery's other resident artists will also be present to host the evening's festivities and greet visitors and fans, and the public is cordially invited.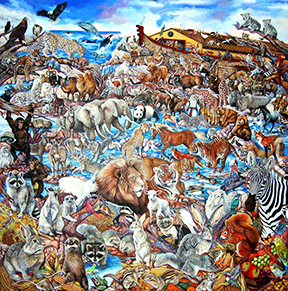 Although she was scolded for her earliest artistic endeavors (at the age of three), June Payne Hart persisted and eventually became the youngest student ever accepted to study art at the Birmingham College of Arts in her native England.  She graduated with honors and later went on to get an additional degree in Art History.
She became a design consultant for Harrods of London and chief designer for Accord Publications greeting cards, which were distributed worldwide.  She subsequently left the corporate world, moved to Arizona and then San Francisco and, as her work became more widely recognized, exhibited in art shows and galleries there as well as in Monterey Bay and Carmel.
Hart and her husband Ron moved to Sedona over two decades ago, and her paintings have continued to receive ever greater accolades and honors.  In the last two years, for example, her works have taken first and third place awards at the prestigious Phippen Art Museum show in Prescott.
Hart's paintings have been acquired for private collections worldwide, including that of the British Royal Family, and have been licensed for greeting cards, puzzles, cross-stitch, fabrics, and many other products.  In addition, her moving wildlife images are used to support the missions of organizations such as Colorado's Morris Animal Foundation and The Hummingbird Society.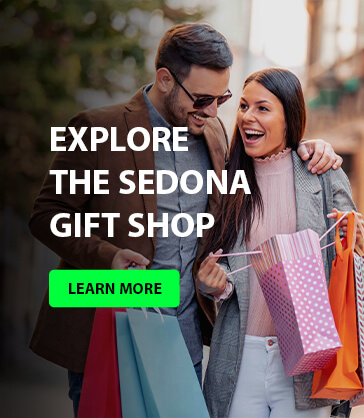 Jeweler Mona Knittle is Movin' On's newest artist, and also one of the most inventive.  She combines meticulously hand crafted paper beads with other materials to create striking, one-of-a-kind necklaces and bracelets.
Even though she developed her bead making methods long after moving to Sedona, Knittle's art is ultimately inspired by her experiences as a young girl growing up in Hilo, on the Big Island of Hawaii.  "In my home state," she notes, "beauty is found in the simplest of things – shells on the beach, flowers in bloom, even the gentle caressing of waves on the shore.  In that spirit, I try to keep each of my creations simple and unique."
Each individual bead is fashioned from a piece of colored paper that is precisely cut to give the bead its final size and shape.  The beads are finished by coating them with two layers of epoxy, ensuring that they retain the colors, designs, and textures of the original paper.  They are then assembled with other materials, such as metal beads, cultured pearls, and miniature figures, to create captivating pieces that can be worn with any wardrobe.
Movin' On Gallery is located on the second level of Hillside Sedona Center at 671 State Route 179 (about ½ mile south of the "Y" in Sedona).  It is dedicated to introducing new artists and to showing recent works by some of the best-known artists working in Sedona and the Verde Valley.  
Movin' On features an impressive array of resident artists, including: Lorraine Fexas, glass art; Pat Priolo, gourds and jewelry; Sharon Hall, clay sculptures; Jodie Ball, oils; Harriet McInnis, oils; Terry Davis, wood carving; Teree Settembrino, wind chimes and painting; Rick Gandolofo, acrylics; Carol Gandlofo, photography; Jim Peterson, photography; Sandee Kinnen, fused Glass; Rachel Bulisky, mixed media on stone; Clark Sheppard, paintings; Lenore Hemingway, glass artist; Judith Victorson, ceramics; Monte Voepel, ceramics; Karl Williams, ceramics and metal; and Mona Knittle, jewelry.
The gallery is open from 10:00 AM until 6:00 PM daily.  For more information, call (928) 282-8143 or visit www.MovinOnGallery.com  .