Sedona AZ (October 17, 2017) – The Sedona Chamber of Commerce & Tourism Bureau is caught between a rock and a hard place.  On the one hand, their members want visitors as customers.  On the other, local residents want traffic-free roads. 
The Chamber tries to satisfy both desires.  Although that's a tough balance to maintain, Michelle Conway, the Director of Marketing and Kegn Moorcroft, the Director of Communications, do their best to achieve it.
How do they go about it?  What philosophy guides their efforts?  What techniques do they use?  Find out on Wednesday, October 25, from 1:00 – 2:00 p.m. at  Osher Lifelong Learning Institute's (OLLI's) Lunch and Learn program, in room 34 of Yavapai College's Sedona Center (on Cultural Park Place, across Rte 89A from Red Rock High School).
Find out how the Chamber practices sustainable destination management, which seeks maximum benefits to the local economy, community, and our visitors, while minimizing negative impacts on natural resources and our social systems. 
Ask them about Sedona's off-season marketing efforts, how they protect the beauty of Sedona's built and natural environments, preserve local sensitive sites, historic landmarks, and wildlife, support development of diverse employment opportunities, and facilitate local organizations in cooperating to keep our tourism sustainable.
Discover how they promote Sedona as the "most beautiful place on Earth " by highlighting how visitors can enjoy our outdoor adventure, wellness/personal enrichment, and arts/culture experiences.  Learn about their Visitor Intercept Survey, Walk Sedona, Public Art brochure, Performing Arts Center, Sedona Trailkeepers, and National Geographic geotourism projects.
Bring your lunch (or come for complimentary coffee, tea, water, and a little snack) and join the conversation at 12:30, or come from 1:00 – 2:00 to hear from and ask questions of these two dynamic Sedona Chamber of Commerce & Tourism Bureau executives.
Michelle Conway became Director of Marketing in 2009 with the goal of positioning and promoting Sedona as a premier destination for visitors and the best place to live, work and play as a resident.  She is a specialist in branding, advertising, direct marketing, and public relations.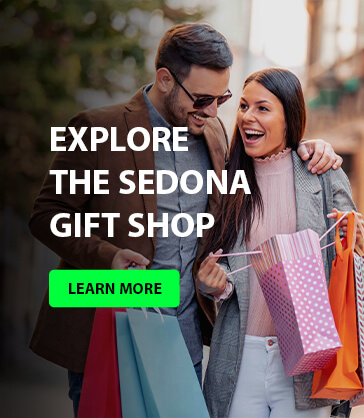 She supplemented her Bachelor's Degree in Marketing with professional training from Desert Sands Chapter of Public Relations Society of America, Dale Carnegie, Toastmasters and the Advertising Agency Management Institute. 
Her day-to-day job involves strategic planning, content and creative development, brand and vision leadership, and project management.  In her free time, she enjoys visiting art galleries, attending various city events, and savoring the local cuisine.  
Kegn Moorcroft was born and raised in Sedona, where she developed a love of swimming, horseback riding, yoga, dancing, cycling, hiking and her husband Eric.   
She became Director of Communications after studying Marketing at Northern Arizona University, serving as the Event Manager at an all-inclusive resort in Saipan (the largest of the Northern Mariana Islands, a commonwealth of the United States in the western Pacific Ocean) for three years, and several years of experience working closely with media, film and event professionals.
Her areas of expertise include social media, website maintenance, and writing/editing newsletters, blogs, newspaper articles and press releases.
OLLI's  Lunch & Learn is an enjoyable, informative, weekly community event that is free and open to all!
OLLI is a local, volunteer, peer-to-peer, adult education program (part of Yavapai College) that offers many learning groups and workshops each term for a nominal fee.  Its Fall term is underway, and the catalog is available on line at www.ollisedonaverde.org.   For more information about OLLI or the Lunch & Learn program, please call: 928-649-4275.